We have already looked at some free antivirus software and some free stand-alone firewall software for Windows. But if it is an integrated, multi-layered protection software you are looking out for, you might want to consider having a look at some of these free Internet Security Suites available for your Windows 11/10/8/7 PC.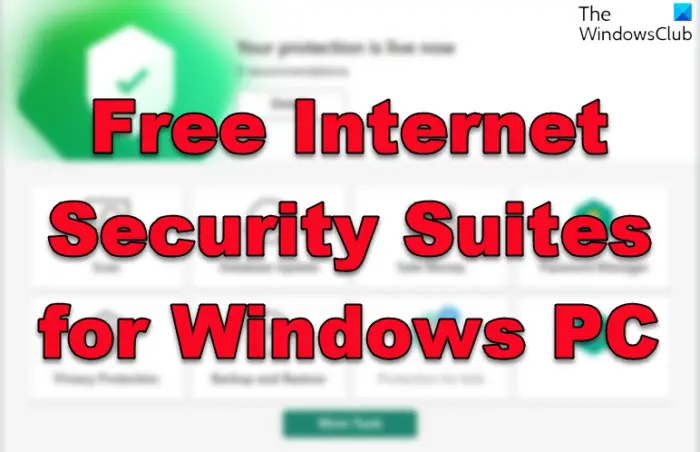 Free Internet Security Suite Software
Here are some of the best free Internet Security Suite Software for Windows 11/10 computers:
Comodo Internet Security
Avira Free Security Suite
Outpost Security Suite
Roboscan Internet Security
ZoneAlarm Free Antivirus + Firewall
360 Internet Security
TACHYON Internet Security.
Let us take a look at them.
1] Comodo Internet Security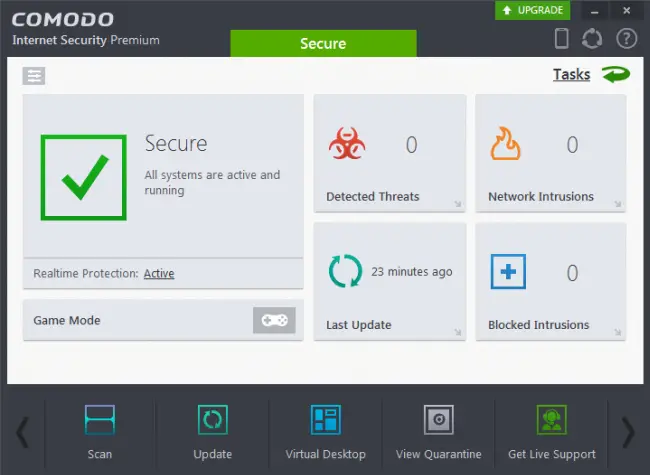 Comodo Internet Security is arguably the most popular free security suite available, offering multi-layered security for your Windows computer. It promises to keep hackers and malware out, and your personal information in and safe.
It includes an antivirus module, anti-bot, anti-rootkit, an award-winning firewall, host intrusion prevention, a sandbox for untrusted software, anti-malware and buffer overflow protection to deliver comprehensive protection against today's diverse range of threats. It has a nice UI and is quite easy to use and configure.
We highly recommend Comodo Internet Security Free!
2]  Avira Free Security Suite
Avira Free Security Suite is a software bundle provided to you by Avira for free, which consists of Avira Free Antivirus for Windows along with some other useful products to help secure your computing environment.
It includes Avira Free Antivirus, System Speedup, Scout browser, etc.
3] Outpost Security Suite
Outpost Security Suite is one fine security suite for your Windows computer. It has the distinction of being the first full-functional free Internet Security Suite for Windows and includes a second anti-malware engine, this one specifically focused on spyware, adware, and Trojan horses. This unique combination of two modules as an integral part of Agnitum's comprehensive anti-malware, along with its award-winning firewall, brings more targeted security to Windows users.
Outpost Security Suite FREE includes antivirus, firewall, and proactive protection technologies. The free solution employs the latest techniques to prevent infections, data corruption, and PC intrusions. It offers free virus curing, free spam protection and ImproveNet – free cloud-based services. It is a lightweight solution, full compatibility with Windows, 32-bit, and 64-bit.
4] Roboscan Internet Security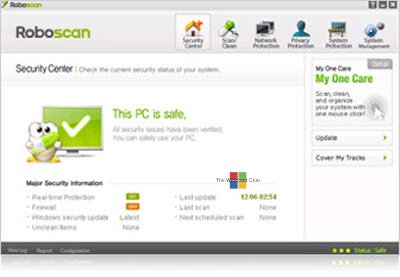 Roboscan Internet Security is yet another integrated security program for protecting your computers from outside online threats. The free version includes antivirus and anti-spyware protection, a personal firewall, a System Protectant module, and Privacy protection. Roboscan Internet Security uses a Dual Engine security system – the BitDefender engine and it's Tera engine– that provides Multi-Layer filtration for more thorough detection and deletion of online threats.  This free version of the security suite is ad-supported, so if you don't like the ads (who does!), you might want to consider the first three options instead. Thanks for the heads-up about this one, Samit Tandukar.
5] ZoneAlarm Free Antivirus + Firewall
ZoneAlarm Free Antivirus + Firewall combines the power of ZoneAlarm Firewall and Kaspersky AntiVirus engine. ZoneAlarm's own powerful  Firewall along with the Kaspersky antivirus makes it a potent combination.  ZoneAlarm Free Antivirus + Firewall is full of features and is great to keep your Windows computer fully protected.
6] 360 Internet Security
360 Internet Security includes multiple antivirus engines. Its triple antivirus engine helps you keep your system safe from all sorts of latest malicious threats.
It claims to be fast in detecting various viruses and removes them quickly. It offers real-time protection with the help of these multiple antivirus engines. It also secures your internet browsing sessions, thereby protects your online privacy.
7] TACHYON Internet Security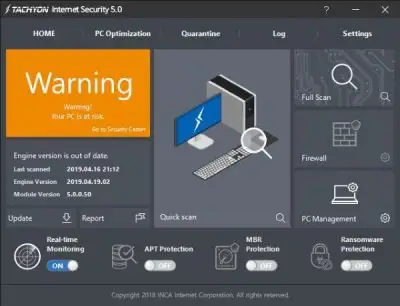 TACHYON Internet Security for Windows PC uses a dual engine (nProtect developed engine Tachyon + BitDefender engine). What we have here is a free security tool that protects the user's computer from malware, anti-virus, spyware, scamming, and more. Interestingly enough, it takes advantage of the Bitdefender engine, so it should do a splendid job overall.
Do let us know which one you recommend.