Malware are a real problem for Windows users. Due to the popularity of this operating system, everyone wants to target it. Many websites and programs with malafide intent, automatically install malicious programs on our computers. These malware modify our Windows PC's start-ups and automatically allow the hackers to take over our computer system. Although most of us use some of the other antivirus software, Crystal Security is a security tool you may want to have additionally on your computer.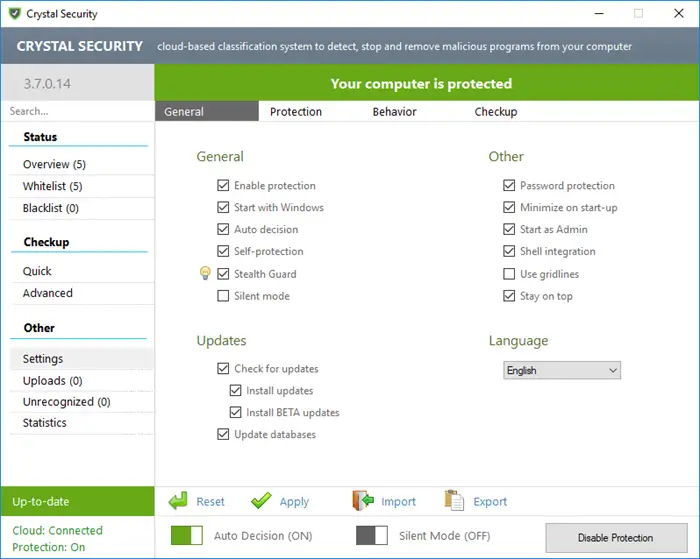 Crystal Security Cloud-Based Malware Detection Tool
Crystal Security is cloud-based system specially designed using VirusTotal and Comodo File Intelligence, to detect, stop and remove malicious programs from your computer system. It is a Windows application that runs directly from its .exe file without any installation. Crystal Security is compatible with all Windows versions and works for both 32/64-bit systems. The program takes less than a minute to download and runs directly from its download file without asking for the installation.
Crystal Security uses cloud-based technology to analyze the unknown malware in your system. Cloud-based systems provide fast detection against malware and keep you posted about the changes on your computer instantaneously. It helps you in defending against, the latest viruses and malware attacks on the basis of data gathered from millions of users participating in the system worldwide.
The simple and up-front interface of the program makes it easy to use even for the new internet user. Just click on the 'Checkup' tab and the program will start scanning your system. It scans the system thoroughly and detects malware if any. The program alerts the user for malware in real-time. If it finds anything suspicious in the system, you will get an instant alert.
Users can then respond to the alert by allowing or aborting the program. If you are not sure about the safety of any program on your system, you can add it to the blacklist of Crystal Security. All this is displayed in a simple, clean and user-friendly interface, which makes it easy for users to access the program's different features and functionality.
Features in a nutshell:
Crystal Security is an easy-to-use application that was created in order to help you quickly detect and remove malware that might affect your computer.
The cloud-based Crystal Security gathers data from millions of participating users systems around the world to help defend you from the very latest viruses and malware attacks.
Cloud-based malware detection, easy to use, user-friendly interface, automatic/manual updates, no installations, supports multiple languages and many other features.
Crystal Security anti-malware free download
Crystal Security is free for everyone. and you can download it here. There are a lot of changes in the latest such as new Dynamic engine which can detect 0-day malware and unknown ransomware without any signatures.