Even though most of us may have antivirus software installed on our Windows 11/10/8/7 computer, there may be times of doubt where you might want a second opinion. While one can always visit online antivirus scanners from well-known security software to scan one's PC – or get a particular file scanned with an online malware scanner using multiple antivirus engines, some prefer to have a standalone on-demand antivirus scanner installed locally.
In this post, we will see some of the free on-demand, second-opinion antivirus scanners that you can use. Some of them are standalone, while some of them, you may need to install. Let us have a look at the standalone virus scanners first.
Free Standalone Antivirus Scanners for Windows
Here are some standalone antivirus scanners. You do not need to install them. Simply download the full file and run the scan. The first 10 are portable, whereas the others need to be installed but can be used on demand:
Microsoft Safety Scanner
Dr.WEB CureIt
ClamWin Portable Free Antivirus
Kaspersky Virus Removal Tool
Norman Malware Cleaner
Metascan Client
Avira PC Cleaner
eScanAV Anti-Virus Toolkit MWAV
Sophos Virus Removal Tool
Emsisoft Emergency Kit
Malwarebytes' Anti-Malware Free
Windows Defender Offline
Emsisoft Anti-Malware
EMCO Malware Destroyer.
1] Microsoft Safety Scanner
The Microsoft Safety Scanner is a free downloadable security tool for Windows user and provides on-demand scanning and helps remove viruses, spyware, and other malicious software. The Microsoft Safety Scanner expires 10 days after being downloaded.
Read: CatchPulse free AI-powered antimalware protection for Windows
2] Dr.WEB CureIt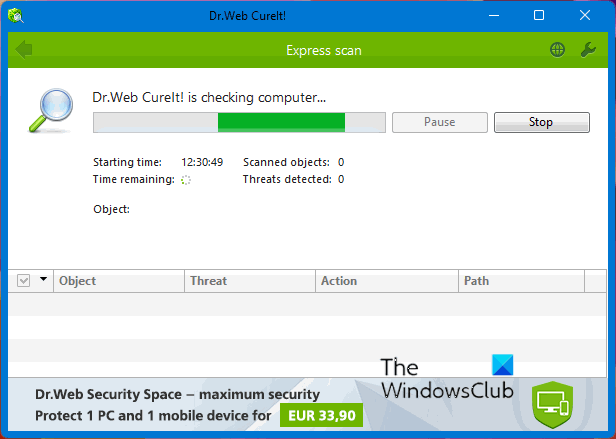 Dr.Web CureIt! is one fine scanner to use when you feel the need for a second opinion. The latest version also scans for rootkits and the BIOS for Bioskits. Its advanced custom scan features allow scanning a computer memory, boot sectors, startup objects, etc. You can get it here at free.drweb.com. The download link will be sent to you via email. It's a 250MB download.
3] ClamWin Portable Free Antivirus
ClamWin is a Free Antivirus program for Microsoft Windows. ClamWin Free Antivirus does not include an on-access real-time scanner. You need to manually scan a file in order to detect a virus or spyware. Get the portable version here.
Read: List of free Malware Removal Tools to remove Specific Virus.
4] Kaspersky Virus Removal Tool
Kaspersky Virus Removal Tool is a free portable on-demand software, designed to scan for infected files and malware and disinfect a computer. The application does not provide anti-virus databases update feature. It is an approximately 130MB download. You need to register here first in order to get access to the download link.
5] Norman Malware Cleaner
Norman Malware Cleaner is another standalone on-demand malware remover that does not need to be installed. It can detect and remove viruses and all other types of malware from your computer. You need to give out your email ID in order to get the download link here.
Read: Crystal Security is a free cloud based Anti-Malware for Windows PC
6] Metascan Client
Metascan Client is for endpoints running Windows 8, Windows 7, and Windows Vista. Its is a server application for scanning files with multiple antivirus software.
7] Avira PC Cleaner
Avira PC Cleaner is also another second opinion malware scanner for the Windows operating system.
8] eScanAV Anti-Virus Toolkit MWAV
eScanAV Anti-Virus Toolkit (MWAV) is a free software that lets you scan and remove detected viruses, spyware, adware, rootkits and any other malware. It is a portable tool that requires no installation.
TIP: McAfee Malware Cleaner will remove virus on Windows PC
9] Sophos Virus Removal Tool
Sophos Virus Removal Tool includes the same security features available in our Sophos Enduser Protection solution – User memory scanning and cleaning, Kernel memory scanning and cleaning and File scanning.
10] Emsisoft Emergency Kit
Emsisoft Emergency Kit is a free portable anti-malware with dual-engine. This standalone on-demand antivirus scanner consists of four powerful tools.
Most of the standalone on-demand antivirus scanners do not offer automatic updates, you have to download the latest versions manually. eScanAV Anti-Virus Toolkit (MWAV) however, allows you to update the definitions only, even though it is portable.

Free On demand antivirus scanners
These on-demand antivirus scanners are not portable apps as is understood – that is, they need to be installed.
11] Malwarebytes' Anti-Malware Free
Malwarebytes' Anti-Malware is a popular on-demand antivirus scanner can detect and remove malware that even the most well-known anti-virus and anti-malware applications fail to detect. Malwarebytes' Anti-Malware Free version, does not, however, include real-time protection, scheduled scanning, and scheduled updating. You can, however, update the program manually.
12] Windows Defender Offline
Windows Defender Offline Tool is the new name for Microsoft Standalone System Sweeper. The purpose of the offline version is to help start an infected PC and perform an offline on-demand scan to help identify and remove rootkits and other advanced malware. It can also be used in situations where an antivirus software fails to install the program that is installed is unable to detect or remove malware from the computer.
Read: Norascan is an anti-malware scanner for Windows PC
13] Emsisoft Anti-Malware
Emsisoft Anti-Malware detects Spyware, Trojans, Backdoors, Worms, Dialers, Bots, Dialers, Adware, Keyloggers and a lot of other destructive pests, which makes it dangerous to surf the web. After installing it, it performs as a full version for 30 days after which it switches to a free on-demand scanner. The freeware mode still allows you to scan and clean infections, but it doesn't provide any real-time protection to guard against new infections. It includes two scanning engines, the second of which is provided by BitDefender. The dual-scanner is actually much faster and lighter than most single-engine products.
14] EMCO Malware Destroyer
EMCO Malware Destroyer is yet another free second-opinion antivirus with a high-speed scan engine. It helps you to organize personal malware protection and effectively find and destroy various threats.
There are more!
You might also want to check out herdProtect, a new free cloud-based, on-demand, second-opinion malware scanning software for Windows, which is powered by 68 anti-malware engines.
Trend Micro Anti-Threat Tool Kit is another standalone second-opinion malware scanner and remover that will help remove Boot, MBR malware too.
Zemana AntiMalware Free is another free second opinion antivirus you want to check out.
If you think I have missed some on-demand antivirus scanner, please do share its link below in the comments section.
Go here if you are looking for free standalone Malware Removal Tools to remove specific complex virus and malware infections.