Avira has launched a standalone antivirus scanner, Avira PC Cleaner, which can be used as a second-opinion on-demand antivirus scanner, should you feel the need to, and if you think that you might have a malware infection that your main security software may be missing.
Avira PC Cleaner
Avira PC Cleaner can be used in parallel with other anti-malware software. It is a mere 2.17MB download and doesn't require installation or registration – nor does it install any drivers. But once you run the downloaded installer file, it will first download updates, definitions, and other files of over 100MB. It installs these files in a temporary folder.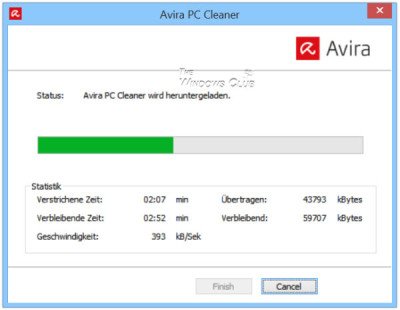 It will create two shortcuts on your desktop. One to open the scanner, and the other to delete the downloaded files folder. So to remove this product from your computer, you have to click the second icon. Once you do that, the temporary files will be deleted, plus these two shortcuts disappeared in my case.
The scanner is rather featureless. It will either perform a quick scan or a full scan, which is quite time-consuming. There is no way to scan only a particular drive.
Once the scan is completed, you will be presented with the results. All the entries found in my case were false positives for sure, and hence I chose not to delete them. So do examine the results before you decide to delete any file.
Whenever you are using a second opinion scanner, it is recommended that you first deactivate the main installed security software temporarily and then run the scan so that the files will not be scanned twice, and your scan will complete faster.
You can download the Avira PC Cleaner English version by clicking here.
Need more options? Check these links:
How to regularly clean your Windows PC?
Windows offers a built-in storage cleaner that can delete pre-configured folders every 30 days. Go to Windows Settings > System > Storage Sense. Expand to open the configuration and choose the Automatic User content cleanup. Apart from this, you can also check out the Cleanup Recommendations section. Here you can view categorized files based on size, cloud sync, temporary files, and a list of unused apps.