If you suspect your PC has been infected by malicious software or a virus, McAfee Malware Cleaner will remove it from your Windows PC. McAfee Malware Cleaner (MMC) is a free malware removal tool from McAfee that scans a Windows PC for adware, spyware, trojans, and other threats, and keeps it free from prevalent malware.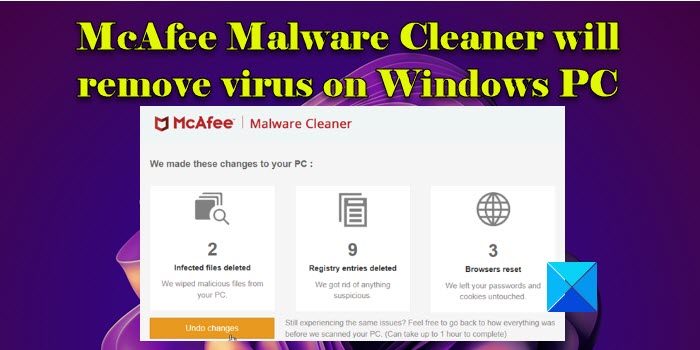 All Windows PCs are vulnerable to malware attacks. Malware can enter a system through infected websites, email attachments, and other applications and online tools, to expose financial data and other sensitive information to cybercriminals who use it for personal gains. In this post, we will show you how to use McAfee Malware Cleaner to remove malware from a Windows 11/10 PC.
McAfee Malware Cleaner will remove virus on Windows PC
McAfee Malware Cleaner is a simple and easy-to-use software. It removes infected files from your PC, deletes registry entries that were modified by the malware, and resets web browsers (Microsft Edge and Google Chrome) to their default settings to prevent identity theft. While resetting the browsers, MMC leaves your cookies, passwords, and website login details untouched.
Download McAfee Malware Cleaner
McAfee Malware Cleaner can be downloaded free from McAfee's official website or by clicking this link.
Once the download finishes, double-click on the McAfee_Malware_Cleaner.exe file to launch the software. Click 'Yes' in the User Account Control prompt that appears.
Since MMC is portable, you don't need to install it and you can also put it anywhere in your system for quick access.
Note:
Before launching the software, make sure to save all the work you might be doing in your browsers. McAfee will automatically shut your browsers (without any warning) to fix browser-specific issues.
MMC doesn't support automatic updates at present. So you need to download a fresh copy of the tool if you wish to use it frequently, to make sure it always detects the newest threats.
Read: Internet Security article and tips.
Run McAfee Malware Cleaner
The home screen of MMC shows the actions that the software will take during the scan. In the beginning, it takes a 'system snapshot', which is basically the creation of a restore point to undo changes done by MMC. Then it scans and cleans the PC and finally applies the changes during a reboot.
To run McAfee Malware Cleaner, select the checkbox for the terms of agreement and privacy notice and then click on the Scan & Clean button.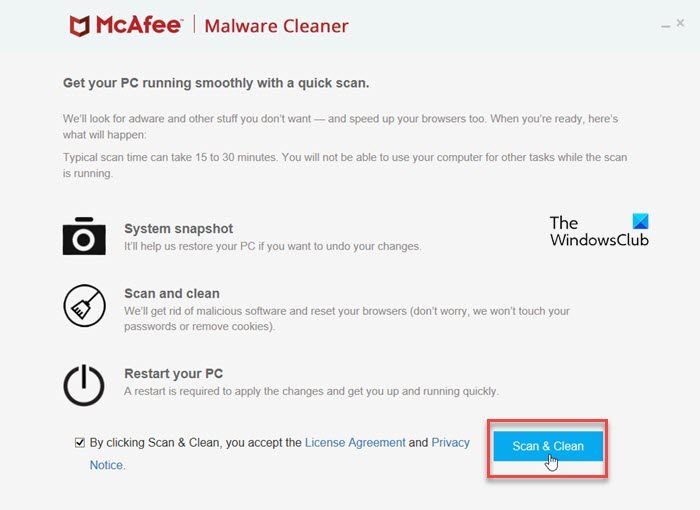 Be patient while the scan is in progress, as it may take about 15-30 minutes to complete. During the scan, your browsers will close abruptly, and you may not be able to see your desktop. Though, you may switch to other open apps and continue working on them.
At any point in time in between the scan if you wish to stop it, click on the Stop scanning link.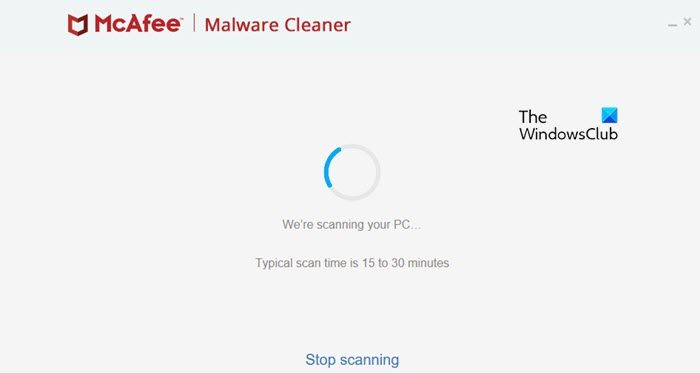 Once the scan finishes, MMC will show you a summary of actions performed during the scan. This summary includes:
The number of infected files deleted
The number of registry entries deleted, and
The number of browser resets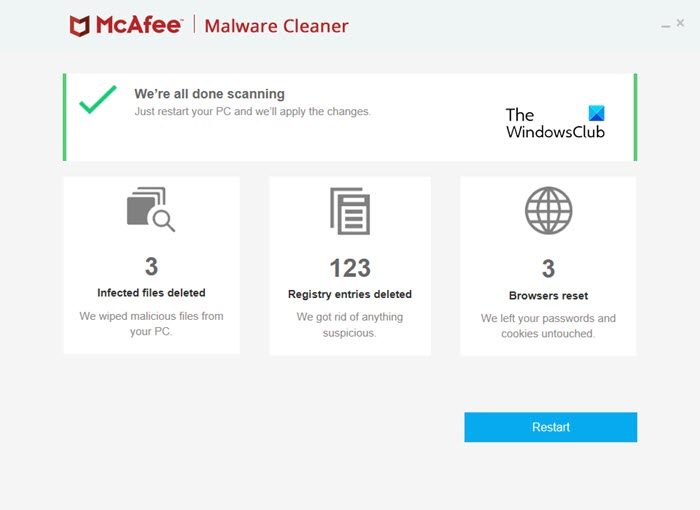 To view details of these actions, you may click on the respective icon on the summary screen. For example, to view which registry entries have been deleted by MMC, you may click on the second icon on the screen.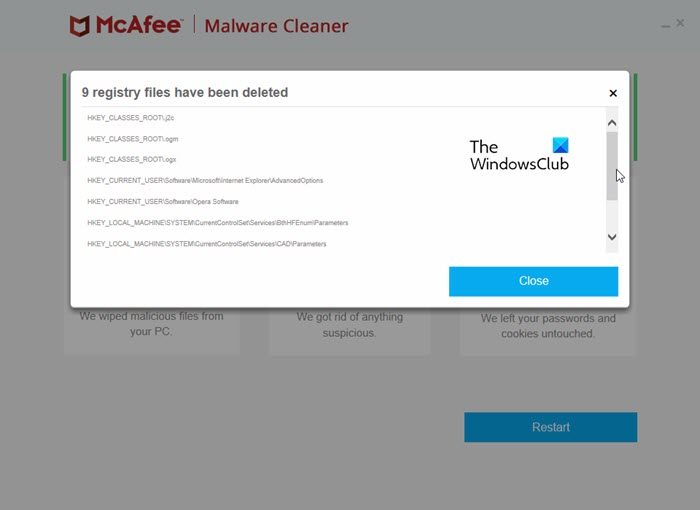 Related: How to remove virus from Windows PC.
Reboot your PC
To finish applying the changes MMC made to your system, you need to click on the Restart button. But before doing that, make sure you've saved all the files or projects that you've kept opened on the PC.
Your system will take a moment to reboot. And then, the McAfee screen will appear. The screen show 2 buttons this time. The Undo changes button will take you back to the state when your PC was not scanned by MMC. The Done button will exit the McAfee Malware Cleaner app. If you wish to undo changes, MMC may take up to an hour to finish the entire process.
That's all about McAfee Malware Cleaner. I hope you find this useful.
Also Read: McAfee Ransomware Recover (Mr2) can help in decrypting files.
Is McAfee good for malware?
McAfee is one of the well-known antivirus software brands used worldwide. Its premium products are capable of detecting malware in real-time. However, it also offers a dedicated malware removal tool for free. Also known as McAfee Malware Cleaner, the tool helps detect and fix malware, adware, spyware, viruses, and other threats on a Windows PC.
Read: McAfee TechCheck scans for PC problems for free
How do I check my computer for malware?
When a Windows PC gets infected with malware, it slows down all of sudden, crashes, or shows repeated error messages. Look for signs such as ads that pop up everywhere, unfamiliar URLs in the address bar of your browser, unfamiliar browser toolbar or icons, extensions that you didn't install intentionally, fake social media posts or DMs, inability to remove software, etc.
Read Next: Fix McAfee installation Error Code 0 on Windows PC.