On your Windows 11 or Windows 10 computer, you may get Error Code 0 when you attempt the installation of the McAfee Security Suite. This post offers the most suitable solutions affected PC users can apply to effortlessly resolve the issue and ensure their PC stays protected!
When this error occurs on your system, the installer displays a red banner with either of the following error messages.
Unable to Continue Installation. We are having trouble completing your McAfee software installation because of this error: 0
Something went wrong with the installation. We are having trouble installing your McAfee software. Contact McAfee Support and mention problem code 0.
What is problem code 0?
Usually, error code 0 means there is no response. If McAfee is not installing on your Windows PC, it might be because your PC is infected with a virus. If your computer is infected with a virus or malware, you might be prevented from installing any security software. So, you can run a scan using any of the free Standalone On demand Antivirus Scanners for Windows 11/10 and afterward try the software installation again.
Listed below are a few of the common reasons you may encounter the error code when installing McAfee on your device:
Incomplete application download or installation.
Malware or virus infection is already present in the system.
Corrupted registry files.
Restrictions for the pre-existing antivirus.
Fix McAfee installation Error Code 0
If the evolution of malware and viruses is anything to go by, once your computer or laptop is infected or compromised, the malware/virus can steal your data, encrypt it so you can't access it, or even erase it. For this reason, you must always use antivirus software and keep it up to date to protect your data and devices. So, if you prefer not to use the inbuilt Microsoft Defender, and when installing the McAfee Security Suite on your Windows 11/10 PC you get the Error Code 0, then the suggested fixes presented below should help you fix the problem on your device.
Run the McAfee Pre-Install Tool
Run the McAfee Removal Tool and redownload the McAfee installation package
Resolve any DNS issues
General troubleshooting for app/program installation issues on PC
Install and use another AV solution
Let's look at the description of the process as it relates to each of the listed solutions.
1] Run the McAfee Pre-Install Tool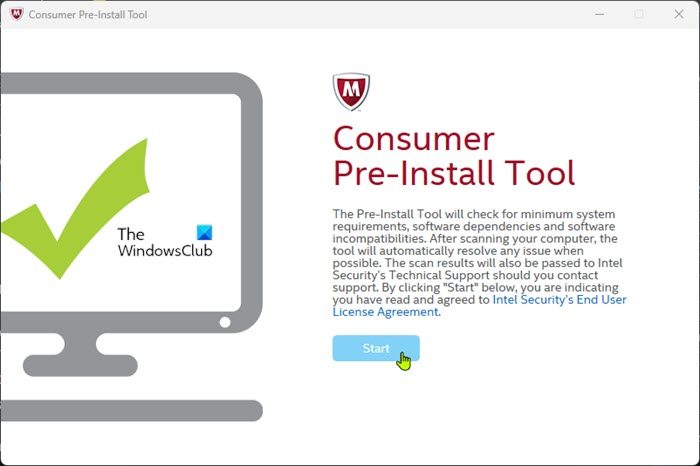 Every other thing being equal, this is the simplest and most common fix to the McAfee installation Error Code 0 that is triggered on your Windows 11/10 device. You can use the McAfee Pre-Install Tool to help prepare your Windows computer to download and install McAfee products and you will have to verify that your computer meets the minimum requirements to use this tool.
Do the following:
When you see the error, click Done to close the dialog.
Download the Pre-InstallTool directly from McAfee.
Double-click the downloaded executable file to launch the utility.
Click the Start button on the home page and follow the prompts.
Restart your PC once the procedure completes.
On boot, you can try to install your McAfee security software again. If the installation fails again, continue with the next solution.
2] Run the McAfee Removal Tool and redownload the McAfee installation package
You may have downloaded a corrupted McAfee installer package and running the installation deposited corrupted registry files for the software in the Windows registry hence the botched installation and failure to continue or complete. In this case, to resolve the issue, you can download the Antivirus Removal Tool for McAfee and use it to completely uninstall McAfee. Run the tool and reboot when prompted. On boot, download the McAfee Windows Security Suite installation package again and retry the installation using the newly downloaded package.
3] Resolve any DNS issues
Installation issues might occur if name resolution (DNS) is slow. In this case, changing the DNS setting on your network card to a public server might help to resolve these issues. Likewise, if the DNS settings are corrupted, it can prevent certain applications from making contact with the internet which could be the case here for the McAfee software installation failing on your Windows 11/10 computer. In this case, you can flush the DNS.
4] General troubleshooting for app/program installation issues on the PC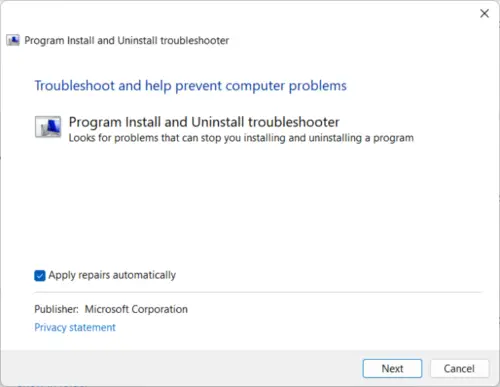 Corrupted operating system files or configuration or interference by third-party software can potentially cause problems with some program installations, McAfee Security Suite in this case. The general troubleshooting in the guide Cannot install or uninstall programs includes running the handy Program Install and Uninstall Troubleshooter that will automatically diagnose any problems that you may be facing while installing or uninstalling programs or software on your device. This tool will help you fix problems that block programs from being installed or removed.
5] Install and use another AV solution
If none of the McAfee installation issue-specific solutions or the general troubleshooting for software/program/app installation issues on Windows 11/10 PC as presented above did not work for you in resolving the error you're currently dealing with, then you can consider installing and using another AV solution on your device — or better still, configure the inbuilt Windows Defender to your requirement. If you are unable to or cannot start Windows Defender, then one of the suggestions provided in this guide is sure to help you!
Hopefully, this post helps you!
Read next: Error 5, Access is Denied while installing software
Is McAfee not compatible with Windows 11/10?
Your McAfee security software for Windows is compatible with Windows 10 if the version of the SecurityCenter is version 14.0. 1029 or later. McAfee security products for Windows (such as LiveSafe, and Total Protection) are fully supported on Windows 11 and Windows 10. To set up your McAfee account and activate your software, open your McAfee security software, click Account > My Subscription > Go to My Account. You'll be taken to the McAfee website to complete the remaining steps.