Emsisoft the developers of Emsisoft Anti-Malware have released an updated version of Emsisoft Emergency Kit. The free program consists of four powerful tools. Emsisoft Emergency Kit includes the world's only free dual-engine scanner and is able to reliably detect and remove malware on Windows-based computers.
Emsisoft Emergency Kit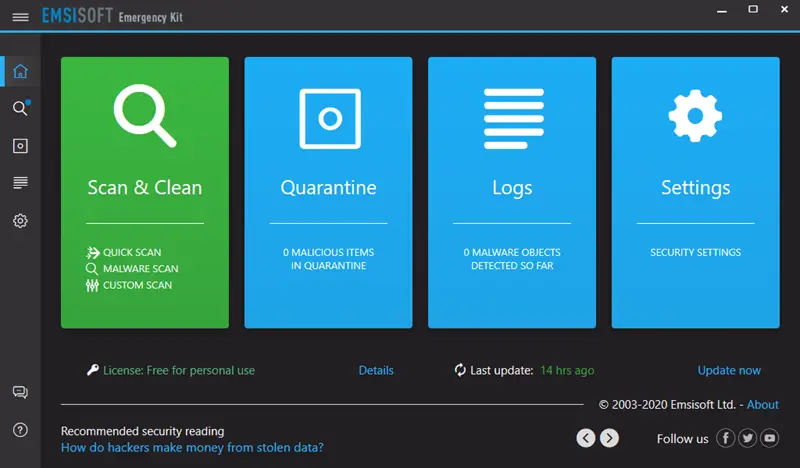 Many times, apart from having our security software installed on our Windows computers, we do feel the need for another stand-alone malware scanner, to get a second opinion. Using this tool you can scan your Windows PC for Viruses, Trojans, Spyware, Adware, Worms, Dialers, Keyloggers, and other malware. If you are looking out for one, you might want to download and check out this feature-rich free offering from Emsisoft.
The features of Emsisoft Emergency Kit are:
Free portable and complete package against malware infections.
The only free dual-engine malware scanner which has been winning awards in numerous tests.
Up to 450 percent faster scans thanks to optimization for multi-core systems and the completely revised scanner unit.
Less consumption of resources through efficient programming.
Improved rootkit detection thanks to Direct Disk Access scan mode. Both the classic file-based rootkits such as TDL-3 and ZeroAcces as well as increasingly popular Master Book Records infectors such as TDL-4 and Sinowal are detected and removed.
A new internal evaluation system means significantly fewer false alerts in practice.
Completely new second scan engine from BitDefender
Significantly less false alerts
New performance settings let you control the CPU usage of the scanner
Optimized malware cleaning makes it possible to restore affected or corrupted registry entries
Faster online updates via small incremental downloads.
The new version boosts performance and detection rates by replacing one scan engine, which now uses Emsisoft + BitDefender scan engines. The rescue package includes Emsisoft Emergency Kit Scanner, Emsisoft Commandline Scanner, Emsisoft HiJackFree, and Emsisoft BlitzBlank. It can be used as a portable tool to detect and remove malware by simply starting it directly from a USB stick or CD without the need for installation.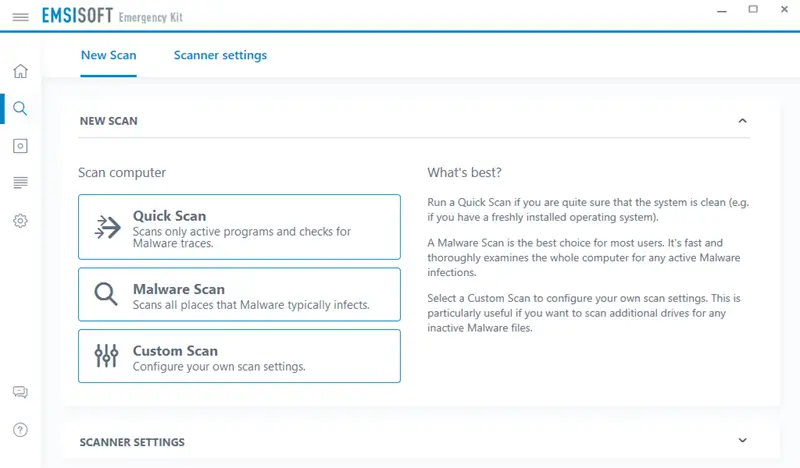 With the Emsisoft Emergency Kit Scanner you can scan the infected PC for Viruses, Trojans, Spyware, Adware, Worms, Dialers, Keyloggers and other malign programs. Great to have a second antivirus scanner on your computer.
New dark mode in Emsisoft Emergency Kit.
Emsisoft Commandline Scanner does the same job as the Emergency Kit Scanner but without a graphical user interface. It is meant for professional users and can be used for batch jobs.
Emsisoft HiJackFree will help advanced users to detect and remove Malware manually but going through all the active processes, services, drivers, autoruns, open ports, hosts file entries and more.
Emsisoft BlitzBlank will help you delete files, registry entries, and drivers at boot time before Windows and all other programs are loaded.
Improved usability. The user interface in version 9 is optimized for Windows 8 and based on Emsisoft Anti-Malware 9.
Faster scans with better detection with the dual-scanner
The website HaveIBeenPwned.com provides a quick way to check whether any of your user account passwords have been stolen in a hack and leaked online.
Several improvements for a better user experience.
Advanced Evaluation of Logs section now provides more insight into a variety of different processes, like scans, quarantines, and updates.
Emsisoft Emergency Kit is the only free malware scanner in the world with a dual-engine. It utilizes almost 12 million signatures and runs as fast as a single scan engine due to the removal of redundant signatures.
Emsisoft Emergency Kit runs on  Windows 10/8/7, both 32 and 64 bit. t is a portable tool and so can be run from a USB too. You can download it here. (Post has been updated on 2nd March 2020).
Related reads:
More free Standalone On-demand Antivirus Scanners here.