Some malware cannot be removed from your computer easily, once they get past your anti-virus protection and integrate themselves deeply in your system – sometimes making it unbootable. In such a situation,  it may be advisable to use Rescue CDs. A Rescue CD will help you recover your system by removing nasty threats that resist removal by regular antivirus software.
These CDs perform a scan and remove computer viruses without booting the computer system. They then allow you to launch the operating system directly from the CD so that you don't need Windows to be running on your PC. It is from this CD-based operating system that you are allowed to access and launch your hard drive and all your files.
Most bootable Rescue CD builds are usually based on Linux Live CD distribution, which loads a simple operating system to scan malware threats without writing any system files on your hard drive. Some use DOS or a DOS clone such as FreeDOS while some use a cut-down version of Windows called the Windows pre-installation environment. Rescue CD's are usually available in the .ISO image file format and are required to be burnt to a media.
Windows Defender Offline is one such application capable of detecting malicious and potentially unwanted software, and then notifying you of the risks, possibly involved.
Of the half-dozen or so rescue CDs, you may find few as useful. Please note that all the tools mentioned in the list are completely free for use.
Free Bootable AntiVirus Rescue Disks for Windows 11/10
Here is a list of some of the best free Bootable AntiVirus Rescue Disks for Windows computer:
Kaspersky Rescue Disk
AVIRA AntiVir Rescue System
BitDefender Rescue Disk
Norton Bootable Recovery Tool
Comodo Rescue Disk
ESET SysRescue Live.
1] Kaspersky Rescue Disk
The virus removal tool scans and removes threats from an infected computer without the risk of infecting other files or computers. All you need to do is burn the ISO image to a CD, insert the CD into the infected system's CD-ROM drive, enter the PC's BIOS, set it to boot from the CD and reboot the computer.
After a quick loading process, you are greeted with the interface of Kaspersky Rescue Disc. Simply select the objects to be processed and hit the scan button. The tool then thoroughly scans your system and presents a report of all suspicious objects found. These objects can then be can be quarantined, disinfected, or removed.
2] AVIRA AntiVir Rescue System
AVIRA AntiVir Rescue System cuts short the lengthy procedure of creating a rescue CD. If the application finds your drive compatible, it automatically creates the rescue CD for you. All you need to do is simply insert a writeable CD in the drive and double-click the Avira rescued icon.
If the drive isn't compatible, Avira will offer to save an .iso copy that you can burn with the help of a desired CD burning software. Once created, Avira's rescue system is not only capable of scanning and removing malware from systems made unbootable by malware, but also provide a mean for you to safely copy the desired data from the affected drive.
3] BitDefender Rescue Disk
It is a tool that will try to restore Windows if you are not able to reboot it any longer. Once you have the Rescue CD with you, boot the affected PC from it, and follow the instructions. The Rescue CD will scan your system and resolve issues that it finds or comes across, along the way.
BitDefender Rescue CD includes a handful of useful extras, including GParted, TestDisk, Thunar File Manager, Firefox web browser and Foxit PDF reader. Also, there is ChkRootkit present to scan for rootkits.
4] Norton Bootable Recovery Tool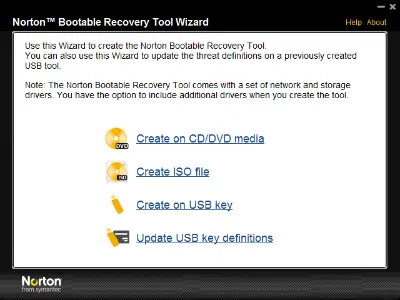 The Norton Bootable Recovery Tool is a downloadable ISO file that allows you to create a bootable CD that you can use to remove viruses in situations where Windows cannot be booted, even after repeated attempts, and when the ability of a virus scanner to fully remove the threat may be insufficient. The program incorporates a version of Windows PE, which is its own separate and isolated OS. With it, you can either create a CD/DVD, ISO file or a USB.
5] Comodo Rescue Disk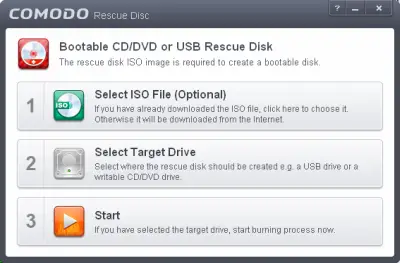 Comodo Rescue Disk will boot your computer scan your entire system for viruses before Windows loads. Includes full AV scanning engine capable of removing rootkits embedded so deeply they cannot be removed with CCE for Windows.
6] ESET SysRescue Live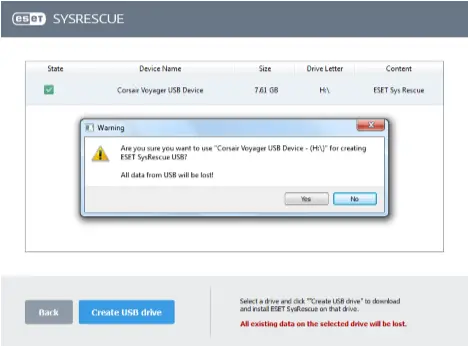 ESET SysRescue Live bootable CD/USB is a free utility that allows you to create a bootable rescue CD/DVD or USB Drive. You can boot an infected computer from your rescue media to scan for malware and clean infected files.
Trend Micro Rescue Disk will let you use a CD, DVD, or USB drive to examine your Windows computer without launching the operating system. It can scan hidden files, system drivers, and the Master Boot Record (MBR) as well.
While on the subject, you may want to check out these posts too:
Do let us know if you have any other recommendations.