From time to time, you must make a habit of looking at your browser add-ons, extension, and plugins. The reason this is recommended is because, over a period of time you may have installed browser add-ons for which you may have no use now. It is also quite possible that some software or website may have without your knowledge, installed some add-on. In such a case, you may want to disable or completely uninstall these add-ons. This will also improve your browsing experience.

Add, Remove or Disable browser extensions in Chrome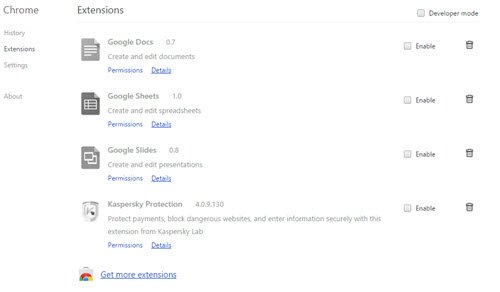 Chrome users can type chrome://extensions in the address bar and hit Enter to open the Extensions page.
You can also access it via Chrome Options > More Tools > Extensions.
You will be able to enable, disable or delete the browser extension, and also get more extensions, should you want to add some.
You can also visit the Chrome Web Store to add extensions.
Read: How to install, add, remove, disable Extensions in Microsoft Edge.
Add, Remove or Disable browser add-ons in Firefox
Firefox users can open the Menu and select Add-ons. The Addons settings page will open.
On this page, you can get more add-ons and extensions, and remove or disable them.
If any options to tweak the add-on settings are available, they will be offered here.
If you want to manually add or install an add-on in the Firefox browser, then in the Extensions section of the Add-ons Manager page, click on the Settings icon, and select the Install Add-on From File… option. Now, if you have a *.xpi file or JAR or ZIP file of an add-on on your PC, then select that file and press the Open button to install the add-on.
Add, Remove, Enable, Disable browser plugins in Opera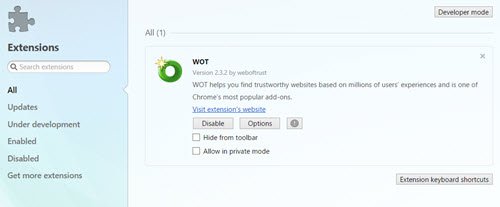 If you are an Opera user, after you open it, click Ctrl+Shift+E to open the browser extensions settings.
You can also open this page via Settings > Extensions.
You can add, disable or remove the extensions and tweak their Options.
You can also set keyboard shortcuts for them.
Manage Browser add-ons in Internet Explorer
To manage browser add-ons in Internet Explorer, open IE and press Alt+X to open Tools. Here you will see Manage add-ons. Click on it and the following box will open.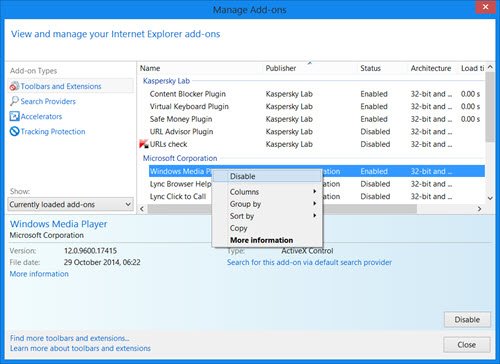 Here, you can select the browser add-on which you wish to disable and right-click on it. You will see several context menu options, one of which is Disable. Select Disable to disable the add-on. This panel also lets you find more add-ons, toolbars and extensions. A link for this appears in the bottom left corner.
We hope that this post helps you manage your browser add-ons and consequently, keep your browser running smoothly. I would also like to say that you must always make sure that you update your browser plug-ins, extensions, and add-ons regularly.
How do I find Chrome extensions in Firefox?
Earlier, there used to be an add-on named Chrome Store Foxified to install Chrome extensions in Firefox, but that add-on is no longer available to use. So, if you want to find or use a Chrome extension in Firefox, then check the Firefox Add-ons Store and search for the same extension. If the developer has developed the same Chrome extension for the Firefox browser, you will be able to install and use it.
TIP: BrowserAddonsView is a small freeware that lets you easily manage browser add-ons.