Software updates are very crucial. While many of us have now learned the importance of keeping all our system software up-to-date, there is one place that is still not getting enough traction. Sadly, that is by far one of the most used and vulnerable places – the browser extensions, plug-ins, add-ons. Fortunately for us, browsers like Chrome, Edge & Firefox update add-ons and extensions automatically. Nevertheless it is always a good idea to know how to update them manually as well, should you ever need to.
Updating Browser extensions, add-ons, plug-ins, themes
Not only using the latest version of a browser is recommended, the extensions and plug-ins you have installed on it must get the same treatment. The problem, however, is that there could be any number of such scripts and tools installed on one's browser. Keeping track of all of it is somewhat a jarring task. Here are some tools and services which will help you keep them updated.
How to update Edge extensions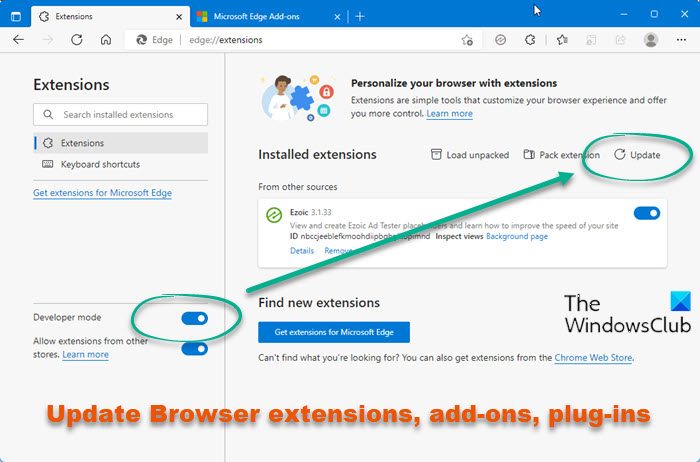 Open Edge browser
Copy-paste edge://extensions/ in the address bar and hit Enter
Enable the Developer Mode from the left side
The Update button will appear.
Click on the Update button to update all the installed extensions or addons.
Read: How to install, add, remove, disable Extensions in Microsoft Edge browser
How to update Chrome extensions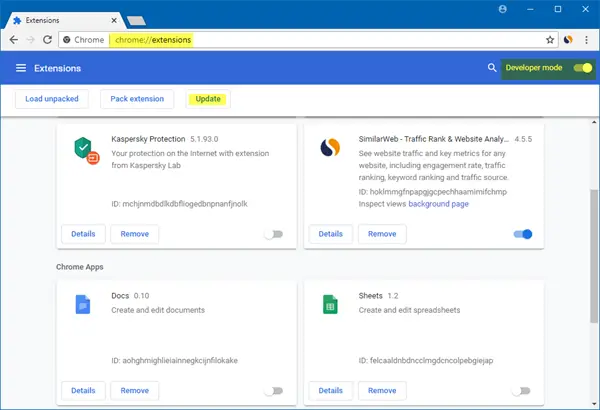 With Google Chrome, you don't essentially need any 3rd party tool or service to update all the installed extensions.
Just go to chrome://settings/ click on Extensions, and select the 'Developer mode' button.
Once done, this will enable the button "Update". Click on it, and you are done.
You can also access it via 3-dots Settings > More Tools > Extensions.
Read: How to Add, Remove or Disable Browser Extensions and Add-ons in Chrome, Firefox, Opera
How to update Firefox Plugins & Add-ons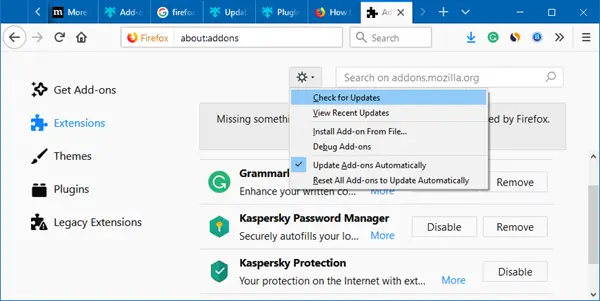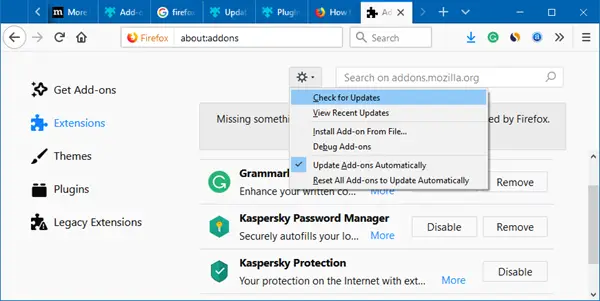 Open Firefox Settings menu > Addons.
Click on the wheel icon, and you will see the Check for Updates item.
Click on it to check for updates.
It would be a good idea to ensure that the Update Add-ons Automatically option is selected.
You can do so similarly for Plugins and Themes as well.
There is also another way to monitor and update add-ons on Firefox browser as well. Visit Mozilla, and this web page will check if you have any outdated plug-in installed.
Qualys BrowserCheck for all browsers
Qualys BrowserCheck is yet another tool that not only keeps all your browser up-to-date but also checks the browser, extensions and the OS for any security breaches. Available on cross-platform, once installed, Qualys BrowserCheck runs a very quick scan and lets you know if there is anything which requires your attention.
It is highly recommended that after the scan in 'Basic Scan', you re-scan your browser in 'Advance Scan'. In Advance Mode, it will scan all your browsers (not just the one you were currently using) plug-ins installed on every browser, Anti-Virus, Firewall, and Windows update.
Also, it also checks if your computer has missed any critical Security Update from Microsoft. Besides, if you turn the Automatic scans toggle to ON, Qualys BrowserCheck will scan your system periodically. Please note: 'Advance Scan' may take a few minutes. Go here for to get a check-up!
SurfPatrol for all browsers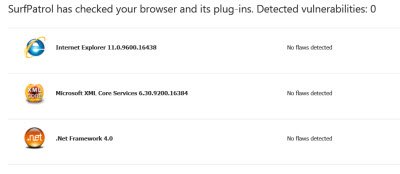 If you don't want to install any utility to check if your computer has any outdated plug-in installed, surfpatrol.ru is an online service that does everything without any installation. It has a user-friendly interface which without taking any of your time, directly in single-click prompts you to check the status of your browser.
It does come with extensions, so if you want you can have the extension installed as well, that way, you won't have to visit the website every time you want to check the status of extensions.
How do I fix plugins not supported in Chrome?
Google Chrome has blocked the NPAPI plugin on the stable channel. This is because the NPAPI plugin was found causing crashing and security issues in Chrome. This is the reason why some extensions show the "This application is not supported on this computer" error on Chrome. There is a workaround that may disable this error on Chrome and let you install the desired extension. If you install Chrome under compatibility mode for Windows 7, Chrome may not show this error message.
Are Chrome and Firefox extensions compatible?
No, Chrome and Firefox extensions are different, and they are not compatible with both browsers. Although some extensions are available for Chrome and Firefox, you need to download them separately on each browser. On the other hand, you can install Google Chrome extensions on the Microsoft Edge browser.
Lets us know how you make sure that all your Browser plug-ins, extensions, add-ons are up-to-date!