Crowned as the best Windows junk and temporary file cleaning and optimizing tool, CCleaner has received an update from its developers. CCleaner 6 is available for download. Besides improved performance, better cleaning speeds, and a changed UI, it offers better compatibility for Windows 11/10/8/7 systems.
CCleaner is one of the best tools to remove PC junk files and clear disk space on Windows 11/10. This very popular tool has been with us for a very long time, and now it has come with an updated version, CCleaner 6, to speed up and clean users' computers. It's a PC cleaner and optimizer suite with PC Health Check, Performance Optimizer, Windows Registry Cleaner, Driver Updater tool, and many other features for overall optimization.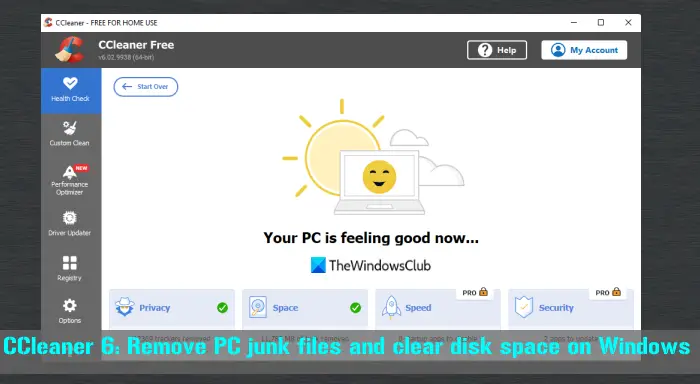 CCleaner Review
While its standard version (free for home use) comes with basic but many effective features, the pro plan (with a 14-day free trial) has some advanced features. We will check the features included in its free plan and other options in detail. Before that, it is advised to create a system restore point before using this or any other software on your system. Let's begin.
Use CCleaner to remove PC junk files and clear disk space in Windows 11/10
While the built-in Disk Cleanup utility does a good job, this utility cleans more and is safe to use! It removes unused files from your system and frees up valuable hard disk space. It also cleans traces of your online activities, such as your Internet history. Additionally, it contains a fully featured registry cleaner. But the best part is that it's fast!
To remove PC junk files and clear disk space in Windows 11/10 using this tool, you can grab it from its official website and start the installation process. You should use the custom installation process so that you can set options that are needed and uncheck the unwanted options.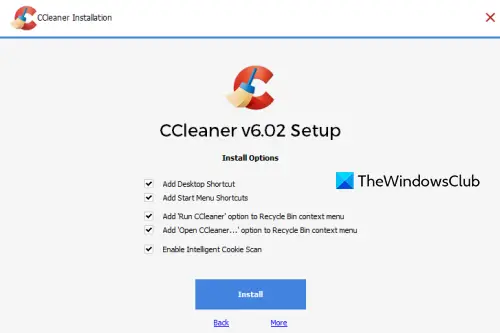 The very first time you open its interface, it provides an optional offer (to keep this tool free) which is CCleaner Browser (based on Chromium) which comes with a built-in an extension guard (to block installing untrusted browser extensions), anti-fingerprint protection, etc. You can decline this offer.
Open the tool interface, and then you will have access to all the features of this tool located under different categories. The entire tool has 7 sections that include various PC optimization tools and options. Let's check the important sections and options.
PC Health Checker tool
The Health Check section lets you find and remove cookies (tracking files by websites), history (visited sites, typed URLs, etc.), temporary internet files, application files, system files, and more.
Once you have completed the analysis process, it will show the number of trackers under the Privacy section and how much junk will be removed under the Space section.
You can also access each section separately and uncheck options you don't want to clean. For the best results, you should keep all the options checked. When you have set the options, press the Make It better button, and the tool will do the work.
There are two more important sections Space and Security, that are helpful to disable programs that make your PC slow and update the outdated programs, but those are included in the pro plans.
Custom Clean for Browsers and System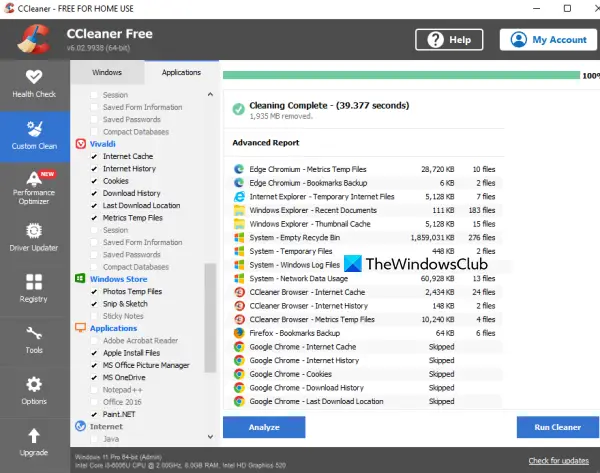 It is one of the important sections present in this tool that you can use to delete temporary files and other junk data. There are two main categories in the Custom Clean section called Windows and Applications. Under each category, you will see different menus like System, Advanced, Windows Explorer, Applications, Multimedia, and menus with browser names where multiple cleaning options are present. Each option is considered as a cleaning rule.
You can access these categories to clear cache, cookies, browsing history, etc., in Chrome, Firefox, Microsoft Edge, and other browsers installed on your Windows 11/10 computer. While the browsers already come with this feature natively, this tool provides a single platform to clean the browsers without any need to open them.
In addition to that, these categories also help to clear:
Memory mumps
Thumbnail cache
Network passwords
Windows event log
Old prefetch data
Recent documents
DirectX Shader Cache
Temporary files of the Photos app
ChkDsk file fragments, and more.
While some cleaning rules are marked as checked automatically for analysis, others are unchecked as those should be checked and cleaned only when you are sure enough.
When the cleaning rules are selected by you, press the Analyze button and wait. After completing the analysis process, you will see the details of files (based on the options set by you) and how much disk space can be saved by cleaning such data. You can also right-click on a particular result to view the path or location of each file and save the entire list as a TXT file.
Finally, when you are ready, press the Run Cleaner button, and the tool performs the cleaning.
Registry Cleaner
As the name indicates, this category helps clean the Windows Registry. In this Registry section, it looks for unnecessary Registry keys and values (String Value, Binary Value, QWORD (64-bit) Value, etc) that were created or used for different applications, Windows services, SharedDLLs, etc., and are still present in the Windows Registry and other issues. Once you find such entries and issues, you can clean the Registry with a few mouse clicks. Before starting the cleaning part, it also lets you backup the Registry, which is a good feature.
For using this Registry Cleaner, select items to scan (for finding associated Registry entries) such as Missing Shared DLLs, Obsolete Software, MUI Cache, Help Files, Installer, Unused File Extensions, Application Paths, Windows Services, and more.
Hit the Scan for Issues button. When the scanning is completed, you will see issues including problem name, Registry Key, etc. Check items you want to clean and then use the Review selected Issues button to fix the selected issues.
Read: Windows Registry tweaks to improve Performance and Experience.
Driver Updater
This section shows a list of updated drivers and lets you perform a scan for outdated drivers. But, in the free plan, you can't update drivers using this tool. You can only see driver type (Audio, Bluetooth, Connectivity, Mouse, Storage, etc.), driver version, release date, etc. It will prompt you to upgrade to update the programs.
There are many other ways to update drivers in Windows that would be good before you think about upgrading to its paid plan. In addition to that, some best free driver updater tools are also available that you can try.
Performance Optimizer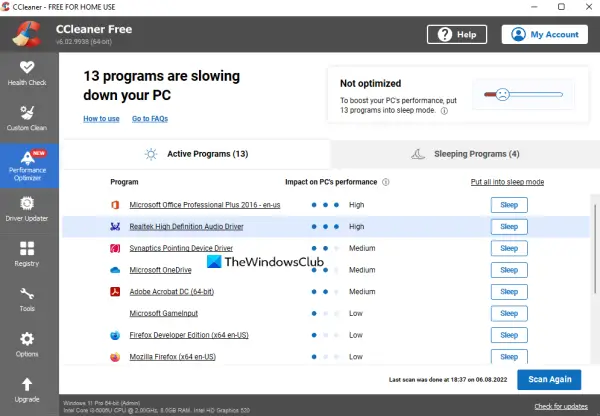 There are some programs that, even after closing, keep running in the background. Other activities and scheduled tasks also run silently in the background consuming your system resources which, as a result, slows down your system. This is where the Performance Optimizer feature of the CCleaner tool comes as handy.
It finds such programs that run unnecessarily in the background and generates a list of all such programs to let you take action, i.e., put them into sleep mode. It doesn't close the programs; rather, only unnecessary background activity is stopped by the tool. While there are many other ways to improve or fix performance issues in a Windows computer, putting programs or applications to sleep mode is one such good option provided by this tool.
The feature is quite helpful in improving system performance and speed, but again, in the free plan, you can only view a list of active programs and sleeping programs but can't put programs to sleep mode. You can either close such programs manually (using Task Manager, Services, etc.) or need to upgrade with its pro plan. What I find is at least the free plan is a pretty good option to check which programs run in the background without your knowledge, and then you can take the necessary action.
Read: How to stop apps from running in the background in Windows.
Other important features present in CCleaner
There is a Tools section in CCleaner that include some really useful features divided into separate categories or sections. These include:
Program Uninstaller: You can see the list of all installed programs and then uninstall, repair, or delete a particular item. It is also helpful to remove pre-installed Microsoft Store apps (like Sticky Notes, Movies & TV, etc.). The feature to bulk uninstall programs and apps is not present, but the purpose to uninstall programs and apps is served pretty well. In addition to that, you can also use it to get a list of installed programs and apps and save them as a TXT file
Disk Analyzer to check disk space occupied by items stored in your system. The items are categorized as Music, Documents, Video, Other files, etc. You can further narrow down the results to check disk usage by a file type or extension such as MP4, AVI, WAV, MP3, DOCX, PDF, etc. That is a rare feature not present in many other free disk space analyzer tools
Enable/disable Startup programs. You can also delete the leftovers of those programs that were once on the list of Startup programs.
View the list of scheduled tasks and enable/disable or delete them
Enable or disable items present in the context menu of your Windows 11/10 system. It could be very helpful when you don't want some item to appear in the right-click menu temporarily. You can also remove context menu items that you no longer needed
Duplicate Finder to search for duplicate items in multiple drives and remove them in one go. You can set conditions like ignore zero-byte files, system files, hidden files, files with a size under 100 MB or 200 MB, etc., exclude a drive or folder from the scan, and then begin the search process
Manage system restore points
Drive Wiper to erase only free space of a drive or the entire drive with advanced overwrite (3 passes), complex overwrite (7 passes), etc.
Browser Plugins section to help you enable/disable and delete installed plugins/extensions. The tool wasn't helpful for me as it showed that all items are protected by browsers. But it helped me to access folders of those plugins/extensions that I had removed a long time ago but their entries (or leftovers) were still there on my system.
Customize CCleaner Settings
This tool works well with default settings. But there are many settings that can be customized as per user needs. Access the Options section of this tool and then you can set options. These include:
Add CCleaner to the context menu of Recycle Bin
Set Secure Deletion level for cleaning. Normal file deletion which is by default or Secure file deletion with complex overwrite
Enable/disable the Smart Cleaning feature to let CCleaner run in the background and alert you for cleaning the junk data. Automatic browser cleaning (for all installed browsers) is also a part of this feature that can be unlocked using the pro plan
Add browser cookies to a list that you want to keep. The tool won't clean them
Exclude custom files and folders from deletion
Show/hide prompts to backup Registry issues, etc.
That's all about this PC cleanup tool. No doubt the tool has some amazing features and that's why it has over 2.5 billion downloads. But, if you have some PC optimizer tool that is working just fine for you, you can continue using that tool. Or else, if you want to improve your system performance and optimize it well, then CCleaner is a good option to go with.
CCleaner free download
CCleaner is one of the best free registry cleaning software for Windows. It is one of the most preferred junk temporary files cleaner and free registry cleaning software for clearing disk space and removing invalid registry entries from your Windows PC.
The basic version of CCleaner is free to download and use and is more than enough for a computer that is being used as a personal machine. To download CCleaner Free, visit its official product website. Apart from the regular Installer version, it also offers a Portable version.
Apart from the free version, CCleaner also offers three paid options:

CCleaner Professional version offers more cleaning options, real-time junk monitoring, automatic history cleaning, and automatic updating options.
CCleaner Professional Plus version offers all these and even Defragmentation, File Recovery & Hardware Analysis functions. Also included in this 4-in-1 cleaning and recovery toolkit are Recuva, Defraggler, and Speccy.
CCleaner Business Edition is designed for any size business that wants an on-premise version of our award-winning product installed on multiple endpoints.
You might want to also check out CCEnhancer. It is an add-on that lets you add some 1000+ programs to CCleaner.
Any CCleaner users here? Do let us have your feedback and observations about this freeware for Windows.
How do I get rid of junk files on Windows 11?
You can use Storage Sense to automatically delete junk files on your Windows 11/10 computer. Or else, you can try some good and free third-party tools with such a feature. CCleaner is one of those tools that lets you get rid of junk files as well as speed up the performance of your computer.
Does Windows 11 have a cleaner?
Yes, both Windows OS has a built-in Disk Cleanup tool. You can run this tool to delete temporary files, set up log files, Windows error reports and feedback, thumbnails, delivery optimization files, etc. It also lets you remove Previous Windows Installations that can help you gain disk space with size in GBs.
Read next: Improve Windows 11 Performance by tweaking these settings.