In this post, we will show you how to update Drivers in Windows 11/10. You can use Device Manager, Windows Update, third-party software or update it manually. As an example, we will see how to update the USB drivers. A device driver is essentially a piece of software designed for a specific operating system like Windows 10. The OS uses it to communicate with other hardware devices. While Windows Update will update your computer system including the Device Drivers automatically, there may be a time when you may have to, on your own, update your drivers, if you are facing issues.
How to update Drivers in Windows 11/10
You can correctly & properly update device drivers in Windows 11/10 in the following ways:
Using Windows Update
Using Device Manager
Using Driver Update software
Manually download & run the driver update setup file.
Let us take a look at these four ways.
1] Using Windows Update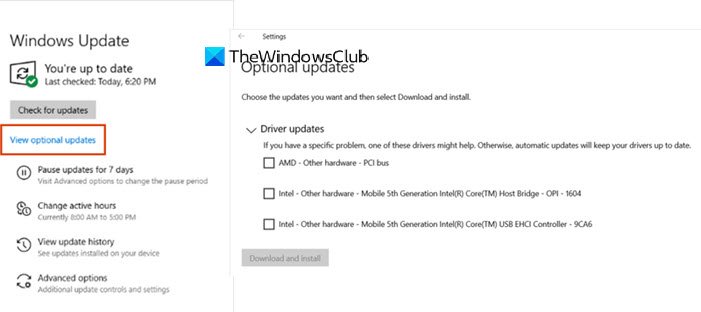 You can now run Windows Updates and see if any driver updates are available under Optional Updates. It's a quicker and easier way.
To check the Driver and Optional Updates available to your system:
Open Settings (Win + I)
Navigate to Settings > Update & Security > Windows Update
Right under it, look for a clickable link—View optional updates.
Under Driver Updates, a list of updates will be available, which you can choose to install if you are facing an issue manually.
This feature is useful as you can see all the driver updates that are available for your system here in one place. If you have a specific problem because of an outdated driver; then, you can choose to install it from here.
2] Using Device Manager
Right-click on the Start button to open the WinX Menu.
Select Device Manager to open the following tool.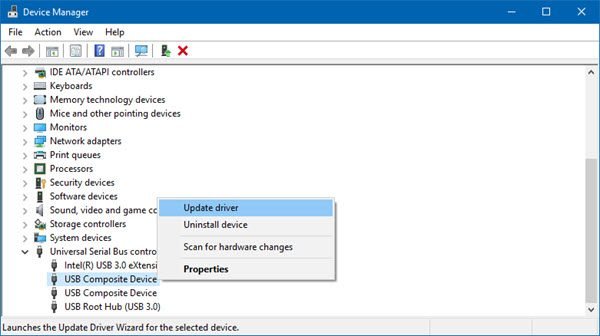 Here you can uninstall, disable, rollback or update Device Drivers.
Now identfy the Driver you want to update. As an examplae here, we will opt to update the USB Driver.
So locate the Universal Serial Bus controller and double-click on it to expand it.
You will see various USB drivers installed. Select the one you want to update and right-click on it.
The menu will show you the option to Update driver. Select it to open the following wizard.
You may opt for either one of these:
Search automatically for updated driver software
Browse my computer for driver software.
It is recommended to select Search automatically for updated driver software and let Windows identify, download and install the driver.
If an update is found, Windows will download and install it. But if no update is found, you will see the following screen.
You may click on OK and exit or select Search for updated drivers on Windows Update.
If you have the driver file on your computer, you can select Browse my computer for driver software.
Select the driver software file on your hard disk and click OK to proceed.
There is another way. You can right-click on the Driver and select Properties to open the following window.
Click open the Driver tab, and you will see the button to Update Driver. You can use this way too.
Read: How to manually install a Driver using a .INF File.
UPDATE: In Device Manager, when a user selects Update driver:
In Windows 10, version 1909 and earlier, Windows installs the highest-ranking driver from Windows Update, regardless of whether it is classified as Automatic or Manual.
Starting in Windows 10 version 2004, Windows only searches the local computer. When it fails to find a driver, Device Manager shows a button labeled Search for updated drivers on Windows Update, which opens the Settings app to the Windows Update page. To find this button, right-click a device and select Properties. On the Driver tab, select Update Driver and then Search automatically for drivers.
3] Using Driver Update software
While there are several free Driver Update software available that will help you update all drivers at the same time, we do not recommend this method, as things have been known to mess up. In any case, should you opt to use this method, do create a system restore point first.
4] Manually download & run the driver update setup file
This post shows where to download drivers for Windows 11/10 from the official manufacturer's websites. It also links to official tools you can use to download driver updates. This is also a safe route to use.
So in short:
Follow one of the methods below to update your device drivers:
I hope you find this post helpful.
These posts will show you how to: