MyASUS is an app available for ASUS desktop computers and laptops. It is a very useful app that helps users keep their systems up to date. In addition to this, it also has a lot of additional features that will help you manage your ASUS computer. It comes pre-installed on ASUS computers. However, if you do not find it on your system, you can download and install it. In this article, we will talk about how to download and use the MyASUS app on ASUS computers.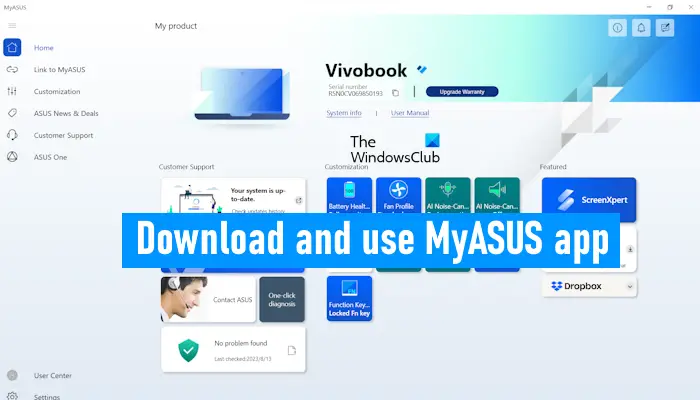 How to download and use MyASUS app on ASUS computers
As we have explained above, the MyASUS app comes pre-installed on all ASUS computers. But if you do not find it on your system, you can install it from the official website of ASUS or Microsoft Store.
After downloading and installing MyASUS app on your system, when you open it for the first time, you have to register your product by entering your email ID. After that, the MyASUS app is ready to use.
MyASUS app has the following tabs or menus:
Home
Link to MyASUS
Customization
ASUS News & Deals
Customer Support
ASUS One
Let's talk about each of these tabs one by one.
1] Home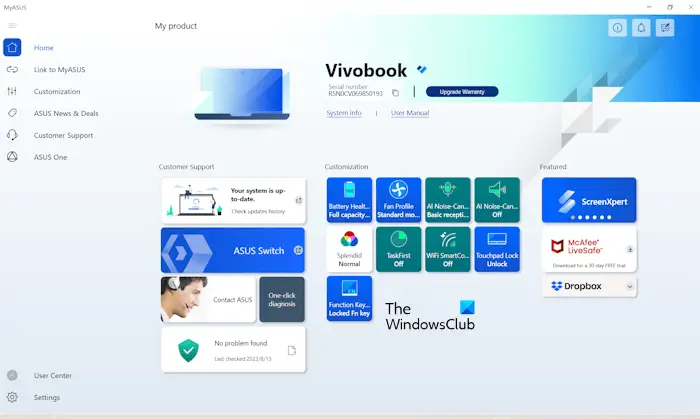 The Home screen of MyASUS shows some useful options for quick access. You can view your product name and serial number here. The Copy icon next to the serial number copies the serial number. A link to upgrade your product warranty is also provided on the Home page of the MyASUS app. Some quick access options are also available here, like product updates, customization options, etc. You can also run One-click diagnostics directly from the Home page of the MyASUS app.
2] Link to MyASUS
The Link to MyASUS app is available for both Android and iOS devices. You can connect your smartphone to your computer via the Link to MyASUS app. Here, you can use the following features.
File Transfer
You can transfer files easily between your ASUS computer and your Android or iOS phone. To transfer files from your computer to your phone, select the Send tab and click on the Select Files button. When you are done, click Send. You will see the following two options:
Select nearby device
Enter the pairing code displayed on the receiving device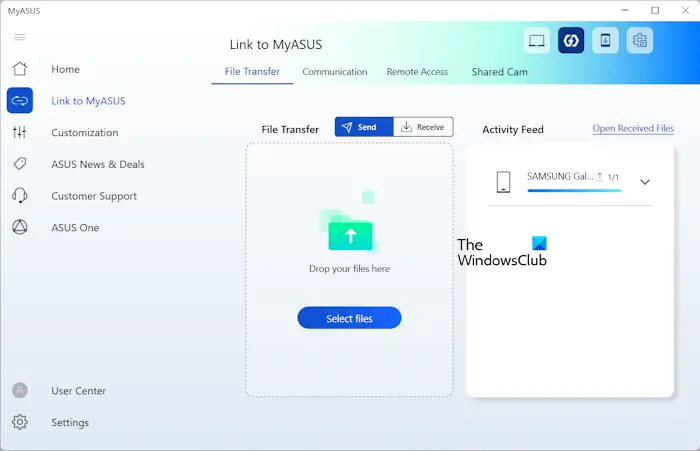 Now, open the Link to MyASUS app on your phone and tap on Receive button in the Transfer section. You will see a QR Code and a 6-digit device pairing code. The 6-digit code changes automatically after every 5 minutes.
If you have selected the second option (written above), you have to enter the 6-digit code (displayed on your phone). The process to transfer file(s) from your smartphone to your ASUS computer is the same as explained above.
Communication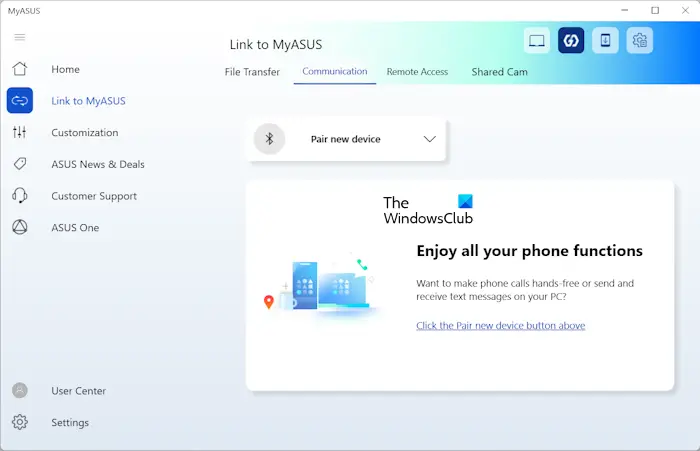 Here, you can connect your smartphone to your ASUS computer via Bluetooth and enjoy all your phone functions on your computer. You can make phone calls directly from the MyASUS app on your computer, manage your call logs from your computer, etc. If you want to remove your paired phone from the MyASUS app, you have to remove it from the Bluetooth & devices page in Windows 11/10 Settings.
Remote Access
MyASUS Remote Access allows you to access the files stored on your PC from your phone. The files stored in the following folders on your PC can be accessible from your phone: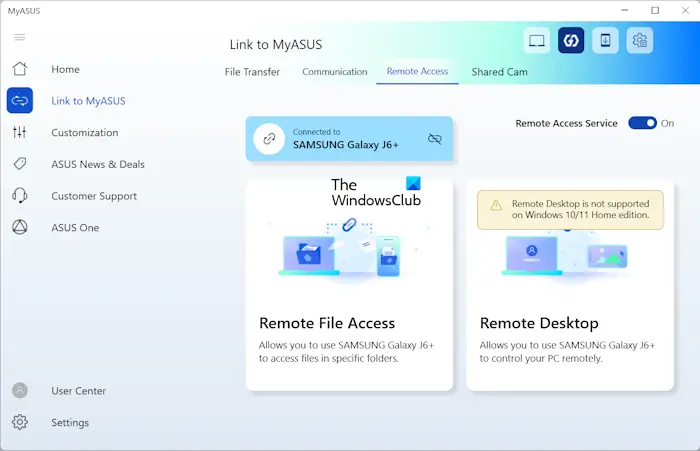 Desktop
Documents
Downloads
Music
Pictures
Videos
The Remote Desktop allows you to control your computer remotely from your phone. But this feature is not available on Windows 11/10 Home Editions.
Shared Cam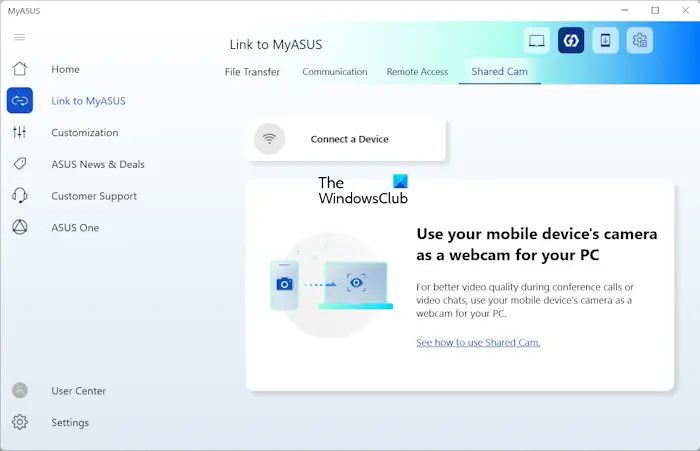 You can use your mobile device's camera as a webcam for your PC.
3] Customization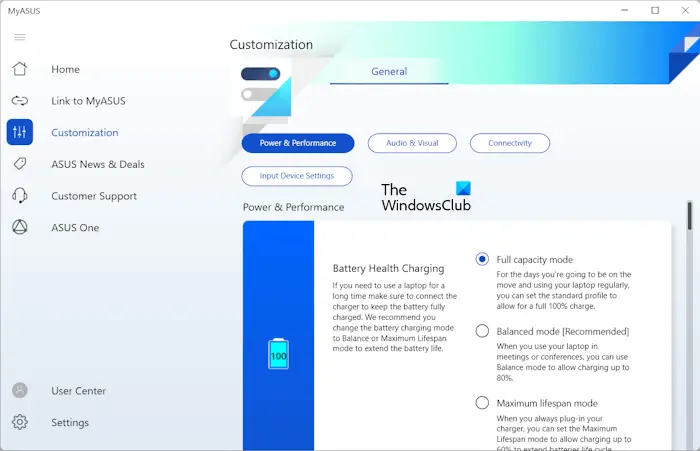 Different customization settings are available here that you can use to manage your ASUS computer. Here you can change the battery charging mode, your computer's Fan profile, enable, disable, or customize the AI-powered Noise canceling feature, enable or disable the touchpad lock and function key lock, etc.
4] ASUS News & Deals
This section shows news and app deals from ASUS.
5] Customer Support
Here you can diagnose your ASUS system, check for live updates, and perform backup and recovery actions on your device.
System Diagnosis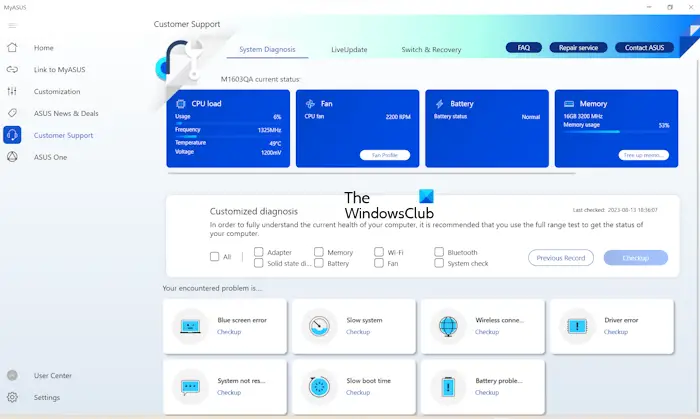 You can view statistics regarding your CPU load, fan, battery, and memory. The Customize Diagnosis option is also available here which allows you to perform a system check, battery check, memory check, etc.
If you experience a Blue Screen error, driver error, slow system performance, freezing issues, etc., you can also run a checkup to fix that particular issue.
LiveUpdate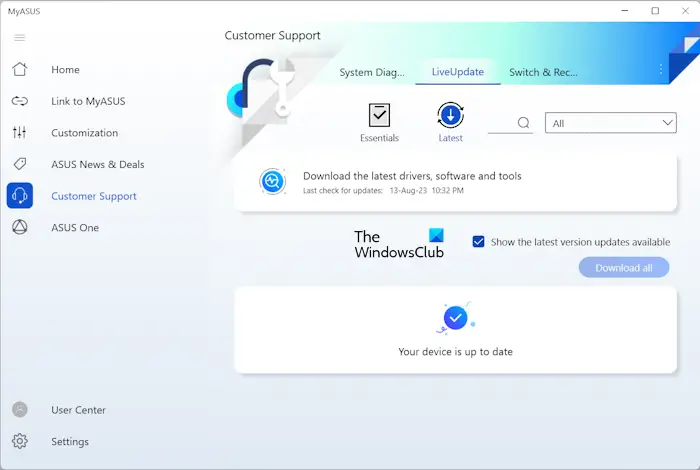 If any update is released from ASUS, it will be available here. However, you can also check for updates manually.
Switch & Recovery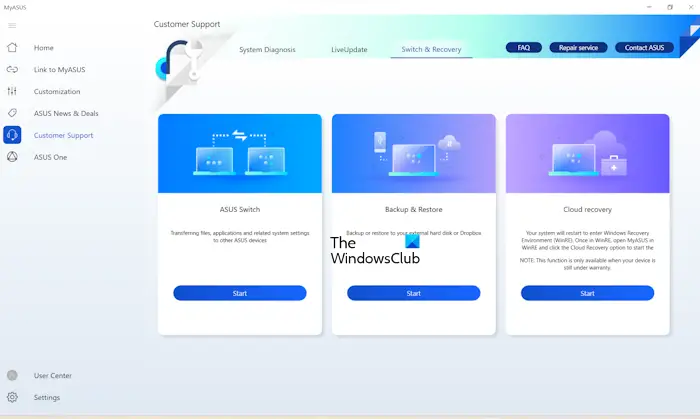 Here you can perform different recovery actions, like cloud recovery, backup & restore, etc.
6] ASUS One
Here you can access and launch ASUS apps, access ASUS display, and ASUS router.
Download MyASUS app
You can download and install MyASUS app from asus.com. The Download button on this website will take you to Microsoft Store from where you can install MyASUS on your PC.
Read: Dell SupportAssist software, helps keep Dell PC up to date & running efficiently.
How to install drivers using MyASUS?
To install drivers using MyASUS, open the app and select the Customer Support category from the left side. Now, go to the LiveUpdate tab and click on the Check for updates button.
Is MyASUS app free?
Yes, MyASUS app is free. If you have an ASUS computer, you can download and install it from the official website of ASUS or Microsoft Store. It will help you keep your system up to date, maintain your system, and optimize its performance.
Read next: How to use HP Support Assistant to update drivers and firmware.