If you have purchased an HP laptop or PC, you have got HP Support Assistant pre-installed on it. HP Support Assistant, as the name implies, is software from HP that helps users update and install drivers and firmware on their HP laptops and computer systems. Apart from this, it also provides users with troubleshooting tools and helps them keep their Windows updated and secure. In this article, we will explain how you can use HP Support Assistant to update your system's device drivers and firmware.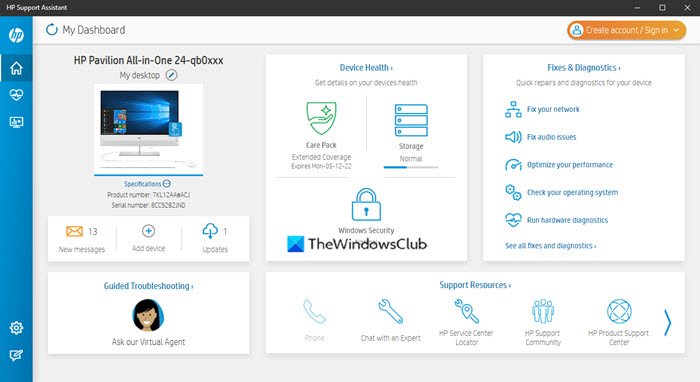 HP Support Assistant for Windows 11/10
Let's see the steps to update drivers and firmware using HP Support Assistant.
1] You can launch the HP Support Assistant by clicking on its icon available on the taskbar. See the below screenshot.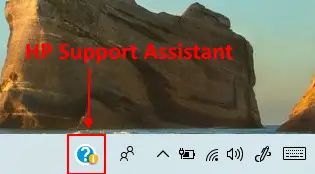 2] After launching it, you will get an interface shown in the below screenshot. Here, you can view your product name, serial number, and product number. To see whether any update is available or not, you have to click "Updates."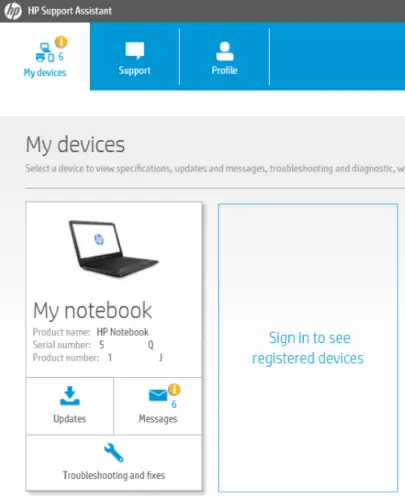 3] After that, the assistant will check for updates and you will see the interface as shown in the below screenshot.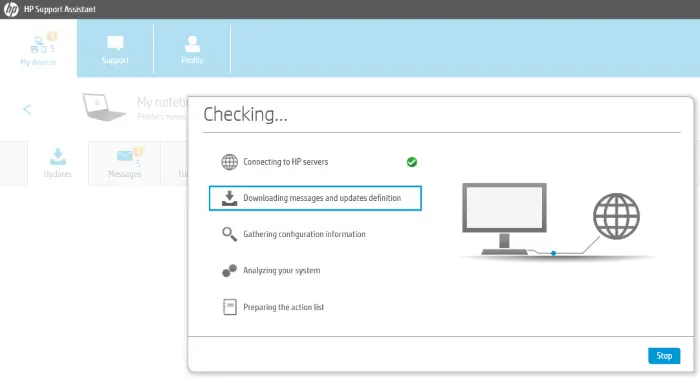 4] You will see all the available updates in the "Updates" section. In my laptop, all the drivers and firmware version was up to date. Therefore, the updates section was empty. Before installing an update, you can check its size by selecting it.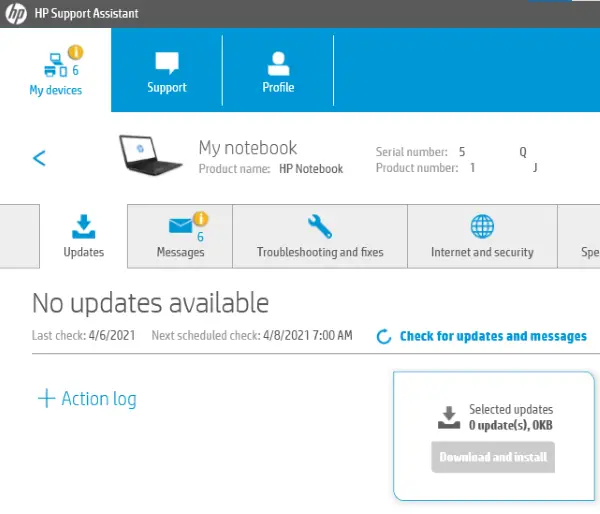 The custom selection feature lets you install either all the available updates with a single click or only the selected ones. The "Action log" lists all your previous activities regarding updates.
This is all about using the HP Support Assistant to update drivers and firmware. Now, we will explore some more features of the Support Assistant. All important information like troubleshooting tips, help on HP accessories, help on PC heating issues, etc., is available in the "Messages" tab.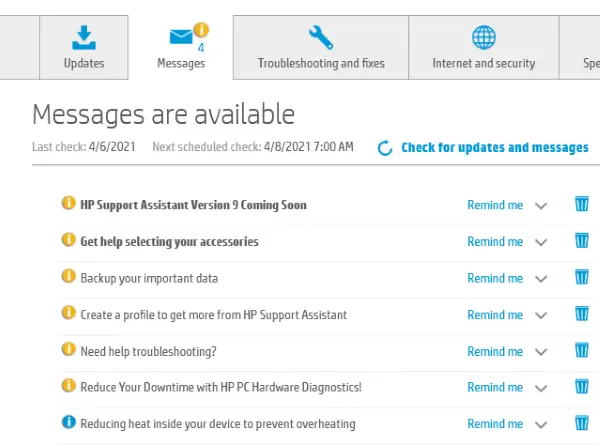 If you are experiencing any issues with your PC or laptop, you can fix it using the "Troubleshooting and Fixes" tab. The tab helps you fix some of the common problems, like the network issue, printer issue, audio issue, etc. You can also run a battery check here and take help from HP virtual assistant to solve your problem.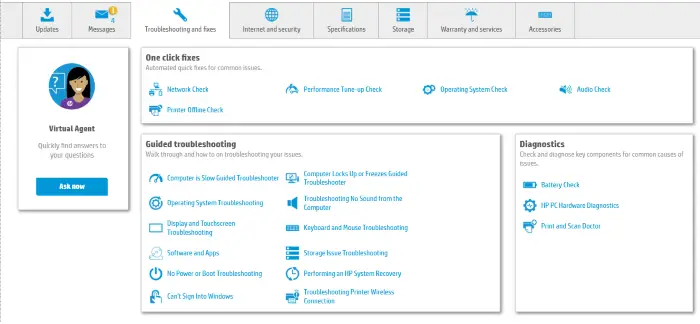 Other tabs include information like the device warranty, internet and security settings, device storage, etc. You can get online support from the company by clicking the "Support" button.
If you do not have a pre-installed HP Support Assistant on your PC or laptop, HP users can download it from HP's official website.
How do I update all HP drivers at once?
You can update all HP drivers at once by using the Optional Updates features of Windows 11/10. In Windows 11/10, when manufacturers release driver updates, these updates are shown on the Optional Updates page. Open Windows 11/10 Settings and go to "Windows Update > Advanced Options > Optional Updates." You can select all the available updates and then install them with a single click of your mouse.
Alternatively, you can also use HP Support Assistant to update all HP drivers at once. We have already talked about how to use HP Support Assistant to install and update drivers on an HP computer.
Does HP Support Assistant download drivers?
HP Support Assistant is a software developed by HP. It helps users update their drivers and firmware. You can download it from the official website of HP. It scans your system for outdated drivers and alerts you for the available updates so that you could take action.
How do I manually update my HP printer firmware?
Many HP printers support printer firmware updates directly from the printer control panel. Connect your HP printer to the internet via WiFi or ethernet cable and open the Control Panel. Now follow the instructions provided below:
Open Settings.
Select Preferences, Printer Maintenance, or Tools.
Now, select Web Services, Printer Update, or LaserJet Update.
Turn on Web Services if you are asked to do so and then click on the Check for updates or another similar option.
That's it. Hope you liked the article. Feel free to add your feedback in the comments section.
TIP: Read next about the HP PC Hardware Diagnostics UEFI.