Windows Update has improved by leaps and bounds the past few years, and it is getting better. The Windows Team is now making it easier for consumers and businesses to locate the driver and optional updates in Windows 11/10.
Microsoft has now made it easier for you to discover the available Windows 11/10 feature updates, monthly non-security quality updates, and driver updates. You will now no longer need to use the Device Manager to search for device driver updates. Consequently, the Device Manager will soon no longer search the internet for available updates. You will be able to use it only if you have the driver update file on your computer.
How to install Driver and Optional Updates in Windows 11
Windows 11 comes with a native feature that lets you check and download updates for device drivers (including the audio driver). You just need to access the Optional Updates menu under the Windows Update category to download and install those updates.
The Settings for Windows Updates have changed a little with Windows 11. Windows Updates has been given a special position in the Windows 11 Settings, and it has a separate menu now.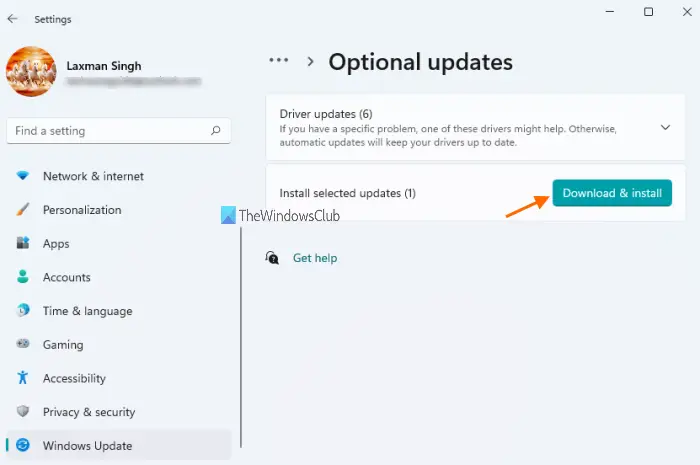 If you wish to install Driver and Optional Updates in Windows 11, then the procedure is as follows:
Right-click on the Start button and select Settings.
In the Settings window, select the Windows Updates tab from the list on the left-hand side.
In the Windows Updates tab, click on Advanced Options.
Under the Additional options menu, you would find Optional updates.
Click on it and select the updates you wish to download.
TIP: You can install Optional Updates automatically in Windows 11 by using Group Policy to configure to automatically receive Optional Updates.
Install Driver and Optional Updates in Windows 10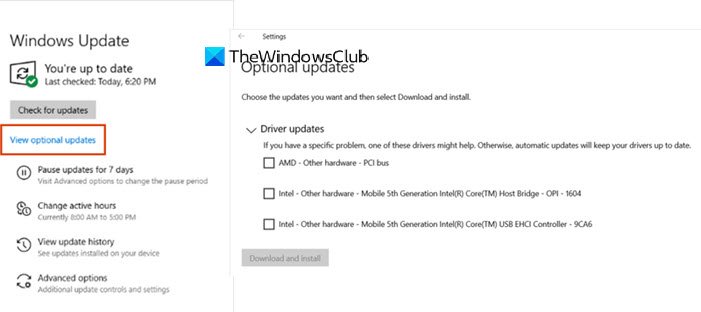 To check the Driver and Optional Updates available to your Windows 10 system:
Open Settings (Win + I)
Navigate to Settings > Update & Security > Windows Update
Right under it, look for a clickable link—View optional updates.
Under Driver Updates, a list of updates will be available, which you can choose to install if you are facing an issue manually.
This feature is useful as you can see all the driver updates available for your system here in one place. If you have a specific problem because of an outdated driver; then, you can choose to install it from here.
Microsoft pushes the latest updated drivers automatically to devices via Windows Updates whenever manufacturers release driver updates. Optional Driver updates should normally be installed only if you encounter problems with your devices.
Read: Should I install Optional Quality Updates in Windows?
The Windows Team also shared that this is not a bypass of the automatic driver installation process. Windows Update will automatically keep your drivers updated, but installing optional drivers may help if you are experiencing an issue.
Read: How to manually install a Driver using a .INF File.
In the current scenario, if you need to check the updates, you will have to click on View update history option, and then expand the driver updates or quality updates to check what updates have been installed.
Read: How to find, download and install Drivers for Unknown Devices or Hardware.
Why are driver updates mentioned as optional updates when they are necessary?
Driver updates will happen anyway. However, they have a timeline and are relatively slow. Should you face an issue with multiple drivers or aren't sure which driver is problematic, you would have to update each driver individually. Even more, later versions of Windows might not have that option.
In such a case, Windows 11 allows users to download driver updates pronto using the mentioned option.
Read: Unable to install drivers on Windows
Why are quality and featured updates optional?
Both of them are optional till Windows decides to push them to your system forcibly. Though for quite some time, they are optional. The reason for keeping them in this section is that they use a lot of internet data. Thus, users can download them when they are connected to a network connection with higher bandwidth and cheaper data.