Windows Optional updates are not compulsory updates but are made available to users when they are available. While many PC users and IT admins choose to install the updates manually, new policies allow them to automatically receive and install Windows Optional Updates on their organization devices. The new feature is available on Windows 11, version 22H2 and later.
With this, administrators can control how monthly non-security preview updates are installed on their enterprise devices.
The new feature is labeled as Enable optional updates, and by using it, one can configure access to optional updates within the organization's systems. After enabling the feature, one can either receive optional updates automatically that might include Controlled Feature Rollouts (CFRs), or you can manually select the option updates you wish to install.
Make Optional updates install automatically in Windows 11?
The new way to control Driver and Optional Updates in Windows 11 will now offer administrators the necessary tools to manage the rollout of new Windows 11 features and fixes before their general release.
The Enable Optional Updates policy has three types of policy settings. These are:
Automatically receive optional updates (including CFRs): This option should be selected to get your device's latest non-security updates and gradual feature rollouts. There is no change to the feature update offering.
Automatically receive optional updates: You should select this option for devices you only wish to get the latest optional non-security updates. However, they will not automatically receive gradual feature rollouts. Also, there is no change to the feature update offering.
Users can select what optional updates to receive: The sentence explains everything. Users will be able to set their own preferences for optional non-security updates. In short, you can manually choose which update to choose. Also, there is no change to the feature update offering.
Now, the question is, how do you enable this policy? To work with this, you will need to make two policy changes. The first is to enable the new optional updates policy, and the other is to configure the Service Provider Policy for Business or Windows Server Update Services (WSUS).
Steps to Enable Optional Updates Policy in Windows 11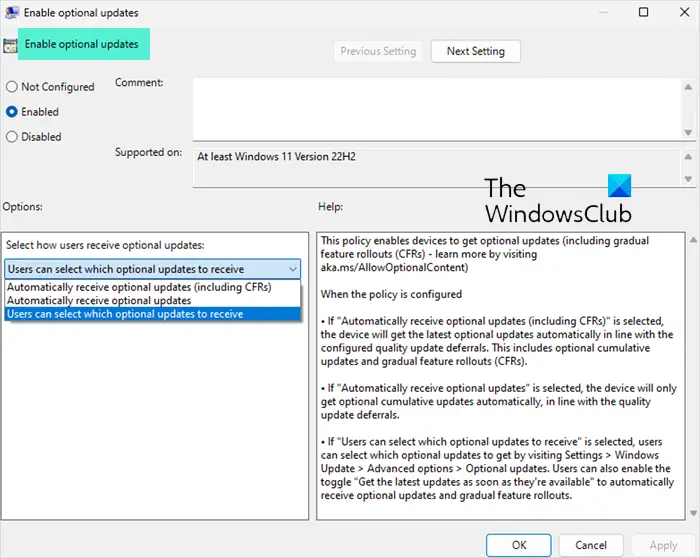 Computer Configuration > Adminstriative templates > Windows Components > Windows Update > Manage end user experience > Enable optional non-security updates.
Over here, select the Enabled radio button under the Enable optional updates policy.
Then click the dropdown under "Select how users receive optional updates" to choose one of the three options.
Once done, click on Apply > OK.
Read: Should I install Optional Quality Updates in Windows?
Configuration Service Provider (CSP) Policy
To configure the optional updates policy, IT admins can follow this path in Group Policy Editor:
Policy > Config > Update > AllowOptionalContent
Once you are done enabling and configuring both policies, Windows devices in your organization need to make a quick change if you decide to configure this policy and enable your users to choose what updates to receive.
So remind users at your organization to make the following changes to receive updates:
First, select which optional non-security updates to get from by going to Settings > Windows Update > Advanced options > Optional updates.
Users can also enable the toggle "Get the latest updates as soon as they're available" under Settings > Windows Update.
This will require a restart of the device.
The new Windows optional updates policy can be an excellent tool for the IT pros, allowing them to control Windows 11 updates. However, before enabling the new policy, make sure to do your own proper research to avoid any mess-ups in the future.
Is it necessary to install Optional Windows Updates?
No, there is no need to install optional updates for Windows. However, you can download and install it if you have a specific driver or other issues. Microsoft sometimes rolls out such updates for special situations. IT admins can also choose to install these updates based on their experience.
Read: Different types of Windows Updates.
What should I disable in Windows 11?
Typically, you should not disable anything right away on Windows. The right way is to go through privacy settings and choose what you want to disable. It is recommended not to disable any services or uninstall anything forcefully because it consumes too many resources.