If you have ever used a Windows device, you might have encountered updates often — just before switching off your computer. Sometimes your device asks you to install critical updates. Then there are six yearly feature updates that are essential too! What are all these Windows Updates? What is the difference between different types of Windows Updates? Let's take a look at them. Before that, let's check out the difference between Windows Updates and Microsoft Updates.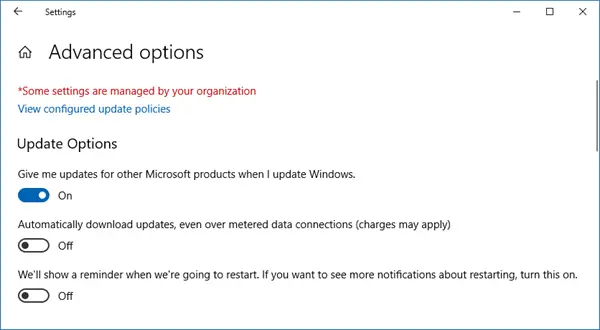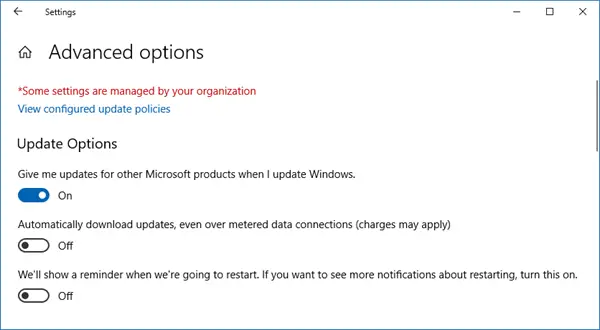 Windows Updates vs. Microsoft Updates
The term Windows Updates refers to the updates and service packs available for Windows operating systems. Microsoft, as a software giant, also keeps updating its other products such as Microsoft Office, Microsoft OneDrive, and such products. Any updates applicable to the entire operating system, MS Office, OneDrive, and other things such as games, etc. are called Microsoft Updates. Updates applicable to only to the operating system are Windows Updates. You can say that Windows Update is a subset of Microsoft Updates.
Updates that affect all software like Office software in entirety or to a particular software (such as Outlook) within it is called Microsoft Update. The delivery pattern of both Windows Update and Microsoft Update depends on the types of Windows Update. For example, if the monthly updates are applied on every second Tuesday of each month.
Read: Terms used by Microsoft to describe the various software updates released by it.
We'll talk about types of Windows Updates now.
Types of Windows Updates
You might have encountered the following types of Windows Updates when working on Windows devices.
Critical Update: It is a worldwide release update for any specific issue that is not related to the security that the operating system offers; such updates are released to address a critical but non-security issues
Definition Update: Definition update is a Windows update that adds or modifies the definition database of Windows operating system; A definition database is a database that is built into the operating system to help it identify malicious code, phishing sites, and junk mail
Update: An update addresses a noncritical, non-security-related bug.
Driver Updates: are the ones that affect the working of one or more device drivers
Security Updates: Updates that address security-related issues in an operating system are called security updates; These Windows Updates are generally issued after some security organization finds a fault in any operating system and notifies Microsoft; Microsoft creates a patch (update), asap or within a fixed period, to fix those issues; The update is then released worldwide; often users are also notified via email to download these security updates
Feature Pack Updates: Are updates that make changes to specific features of the operating system; such updates are released as and when available to a selected set of users; if that set of users provide good feedback about the changes in operating system features, Microsoft includes the changes into the next big release of Windows Operating Software; Currently, you get two feature updates every year if you are using Windows 10
Monthly Rollup: Among the different types of Windows updates, you also get monthly rollup as an update on every second Tuesday normally; this update includes all the updates rolled out previous month plus additional definitions of malware
Service Pack: It is a cumulative set of all hotfixes, security updates, critical updates, fixes, and updates. It is a set of Windows Updates that were released between two successive versions of Windows operating system. The age of Service Packs is over now.
Tool updates: These are updates to the built-in utilities and tools.
Update rollup: A cumulative set of hotfixes, security updates, critical updates, and updates that are packaged together for easy deployment
Full updates: They have all the necessary components and files that have changed since the last feature update.
Express updates: They generate differential downloads for every component in the full update based on several historical bases.
Delta updates: They include only the components that changed in the most recent quality update, and will only install if a device already has the previous month's update installed.
Security Quality Update: It contains all the previous updates.
Security Monthly Quality Rollup: It contains only the current month's updates.
Preview of Monthly Quality Rollup: These preview releases contain only non-security updates, and are meant to provide testing of the planned non-security updates targeted for the next month's Update Tuesday release.
Service Stack Updates: They are kept separate from the regular cumulative updates because these Cumulative Updates add new and more optimized files to the operating system.
These are some of the different types of Windows Updates.
You might want to also read about the Windows Update Expiration Policy.
Also read: What is the difference between Windows Update and Upgrade.