Are you looking for info on the latest updates? Learn how to check for updates in Windows 11. See how to get the details about the Windows Updates. While Windows 11 updates automatically, this post will help you if you want to check for, download, and install Windows Updates on your Windows 11 PC.
What you need to know about Windows Update
Windows 11 operating system periodically checks with Microsoft to see if any updates are available and if any are. It will offer to download them in due course and install them for you automatically. You can choose to do this manually if you do not want to wait to install the latest updates right away in fear of potential system-breaking bugs.
How to update Windows 11 manually
When it comes down to checking for updates in Windows 11, the steps below are all you need to follow in order to ensure your computer always has the latest version of the newly released operating system.
Open the Start Menu
Navigate to the Settings menu
Click on Check for updates
Pause updates
View your update history
Change how updates are received
1] Open the Start Menu
OK, so the first thing you will want to do here is to fire up the Start Menu. You can do this by clicking on the Windows key located on the taskbar or press the Windows key on your keyboard.
2] Navigate to the Settings menu
After opening the Start Menu, you must now click on the Settings icon to launch the menu. Alternatively, you can bypass the Start Menu altogether and simply click on the Windows key + I to open the Settings window.
3] Click on Check for updates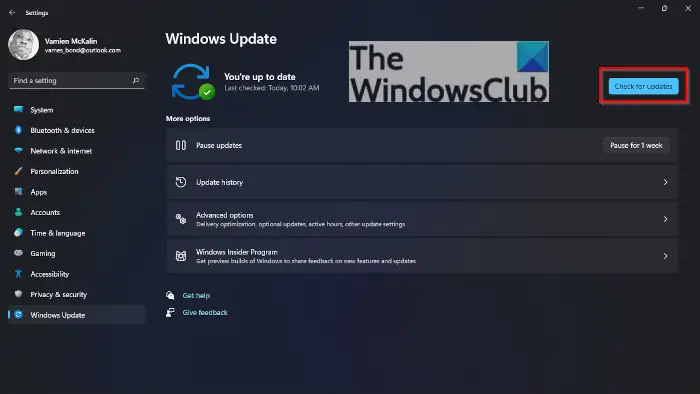 Once the Settings menu has appeared, you can then move ahead select Windows Update, and from there, be sure to click on the Check for updates button. Right away, the system will check if there are any new updates to download and install.
4] Pause updates
Similar to Windows, users have the option to pause updates on Windows 11. From the Pause updates section, you can choose to pause updates for one week. If you decide to get this done, the system will check for updates one last time, and from there, you will have to wait until after the week is completed.
The good news is you can select the Resume updates button to get things back to normal.
5] View your update history
If you want to see a list of updates you've installed on your Windows 11 computer throughout its lifetime, we suggest clicking on Update history. Types of updates will be categorized here, and if you want to uninstall a particular update that might be causing unforeseen problems, you can do that.
6] Change how updates are received
For those who may want to customize how their Windows 11 powered computer receives updates, you should click on Advanced Options. From here, you can choose to Receive updates for other Microsoft products, download Optional Updates, Configure update policies, and more.
TIP: This post will show you how to download Windows Updates manually in Windows 11/10.