If you cannot install drivers on Windows 11/10, then you are at the right place. This post will give you some of the best solutions to resolve your issue. Before we go ahead, the first thing you need to check is whether the driver has a compatibility issue or not. You can quickly check the OEM website with its driver version and compatibility. Suppose you find the drive has a compatibility issue. You can fix it using several methods, like uninstalling the driver or changing the compatibility mode settings.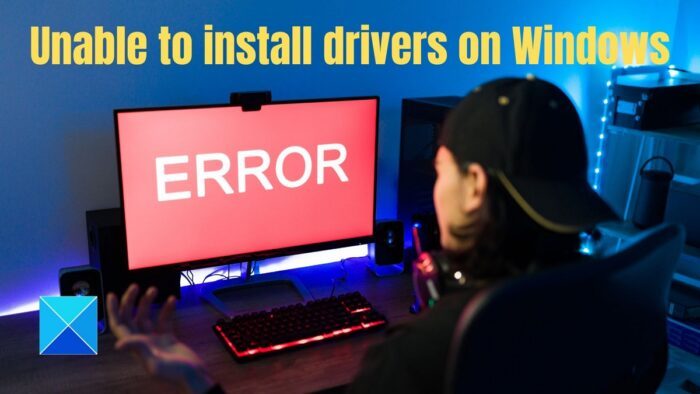 Unable to install drivers on Windows 11/10
In this part, we will share some of the most effective fixes for being unable to install drivers on Windows 11/10, so follow the post till the end.
Install in Clean Boot State or Safe Mode with Networking
Install the driver in Compatibility Mode
Disable Driver Signature Enforcement
Run Hardware and Devices troubleshooter
Temporarily Disable Security Software
Install Driver using Windows Update
Follow the exact steps below to perform these fixes properly for the best result. You will also need an admin account to resolve this.
1] Install drivers in Safe Mode with Networking
If you fail to install the driver on Windows 11/10, you need to install the driver in a Clean boot state or Safe mode with Networking to resolve this issue. Follow the below guide to understand the whole process.
To successfully perform a clean boot on Windows 11/10, you must log on as the administrator and now follow the given steps below.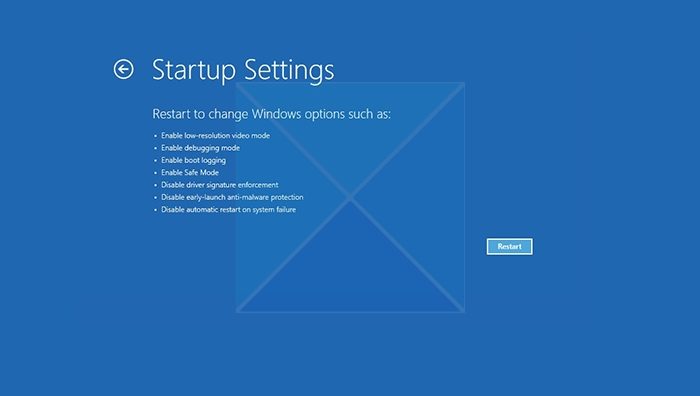 Open Windows Setting using Win + I
Go to System > Recovery
Click on the Restart button next to Advanced startup.
After your PC restarts to the Choose an option screen, select Troubleshoot > Advanced options > Startup Settings > Restart. You may be asked to enter your BitLocker recovery key.
After your PC restarts, you'll see a list of options since you'll need to use the internet, press F5 for Safe Mode with Networking.
After following all these steps, you will have a clean boot environment. Now check and try whether you can install drives or not on your Windows PC.
Read: Windows encountered a problem installing the Driver software for your Device
2] Install the driver in Compatibility Mode
Compatibility mode allows you to install on an older version of Windows when the driver has not been updated. For example, most Windows 10 drivers work on Windows 11, but since the driver installer has not been updated, it doesn't allow users to install it. In  that case, you can follow these steps: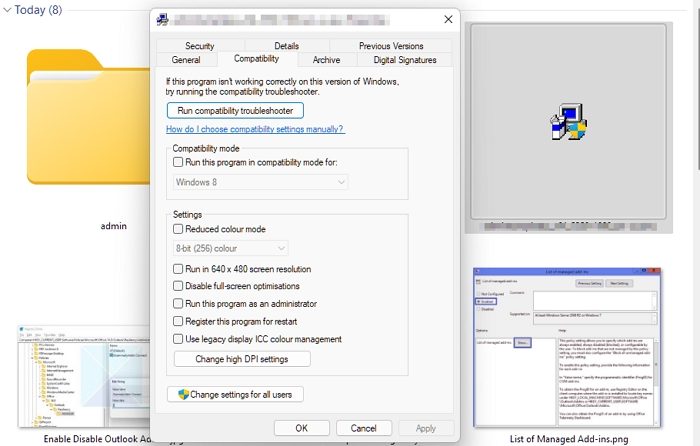 Right-click on the program icon, and click on Properties.
Click the Compatibility tab.
Check the Run this program in compatibility mode for the box and select the Preferred Windows.
Click on Apply and click the OK button.
3] Disable Driver Signature Enforcement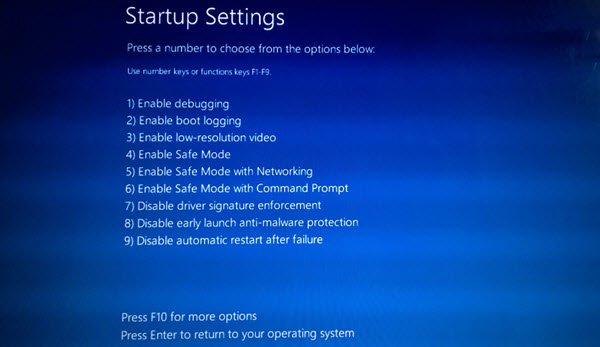 While you should never install a driver without a valid signature, you can follow these methods if you need to do it for a driver you can trust. It is also specifically useful when you get the error message – Windows requires a Digitally Signed Driver, even from a driver with the signature. There are three ways to do this.
Use Advanced Boot Menu
Enable Test Signing Mode
Disable Device Driver Signing.
Please read our detailed guide on these methods and how you can disable Driver Signature enforcement to install Drivers. These are advanced methods, so ensure you have a clear idea about these and that you are using an administrator account.
4] Run Hardware and Devices troubleshooter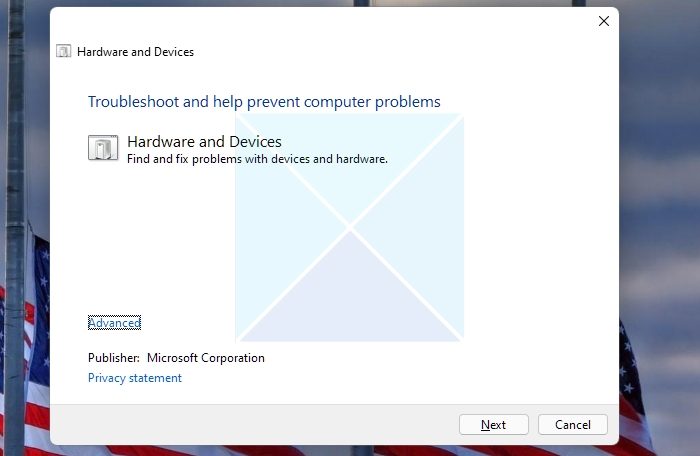 Since it is no more a part of the Windows troubleshooter section, you can invoke it directly from the command line or Windows terminal.
Open the Run prompt using Win + R
Type msdt.exe -id DeviceDiagnostic and press the Enter key
It will launch the Hardware and Devices troubleshooter and press the Next key
Once the wizard completes the process, make another attempt to install the driver.
The reason to run this troubleshooter is to ensure a temporary issue with the hardware will resolve, and you can install the driver. Sometimes, the hardware gets stuck, and the issue persists until the troubleshooter runs.
5] Install Driver using Windows Update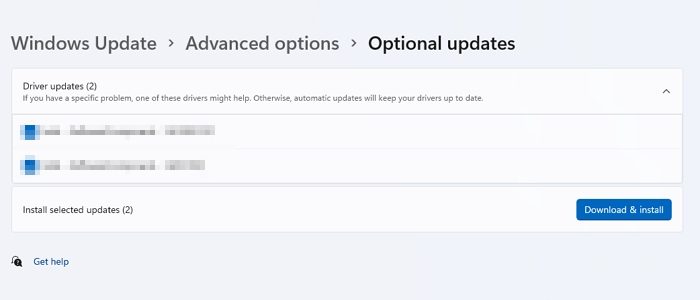 If you cannot install drivers on Windows, try to install drivers via Windows Update. Follow the exact steps given below to perform the entire process properly.
Open Windows Settings using Win + I on your keyboard
Navigate to Windows Update
Click on the Check Updates button. (Ensure you are connected to the internet).
Windows Update will download all the essential drivers for your PC, if available, with the Microsoft servers.
To install the drivers, you need to go to Windows Update > Advanced Options > Optional Updates > Driver Updates.
Please select the driver that is available and then choose to install it.
Read: How to manually install a Driver using a .INF File
6] Disable Security Software
If you are facing driver installation failure, it may be because of Security software. Usually, security software checks new PC files, whether malicious or not; when installing new drivers, they undergo solid inspection.
In such conditions, security software doubts the drivers to be malware because most of these drivers are installed on low levels, so it keeps checking each of them; as a result, users face an installation block. To resolve this issue, temporarily disable the security software available on your PC and try installing drivers on your PC again.
Read: How to install Drivers using PnPUtil Command-line
If you have been following the post till now, then hopefully, you got all those solutions to fix the most common issue unable to install drivers on Windows 11/10. It is an annoying issue that can cause interruptions in ongoing work. I hope these solutions help you fix that.
How do you check if I have corrupted drivers?
If any devices listed in the Device Manager have a yellow exclamation, there is a driver issue. You can go to the properties section and check if there is a message that explains the error. You can then search for it and then resolve the error.
Can reinstalling Windows fix driver issues?
Yes, reinstalling Windows fixes driver issues. When you reinstall Windows, it will automatically replace all the previous drivers (if there are any defected or corrupted drivers); as a result, it fixes all the diver issues from your PC.