What is Clean Boot State in Windows 10/8/7? How to perform Clean Boot? What is the difference between Safe Mode and Clean Boot State in Windows 10? Well, most of us are familiar with the Safe Mode in Windows. When you restart your Windows computer and start pressing the F8 key on your keyboard, you will enter the Safe Mode. The Safe Boot mode uses a minimal pre-defined set of device drivers and services to start the Windows operating system.
Clean Boot State in Windows 10
On the other hand, there is also the Clean Boot State which is used to diagnose and troubleshoot advanced Windows problems. If your computer is not starting normally, or if you receive errors when you start the computer that you cannot identify, you could consider performing a "clean boot."
What does a Clean Boot do?
When you start the computer in clean boot, the computer starts by using a pre-selected minimal set of drivers and startup programs, and because the computer starts with a minimal set of drivers, some programs may not work as you expected.
How to perform Clean Boot
To enter Clean Boot State, type MSConfig in start search and hit Enter to open the System Configuration Utility. Click the General tab, and then click Selective Startup.
Clear the Load Startup Items checkbox, and ensure that Load System Services and Use Original boot configuration are checked.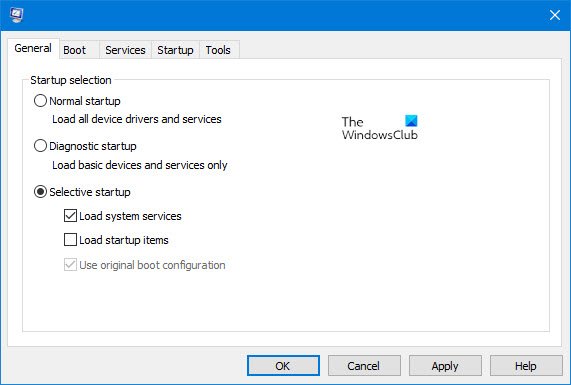 Next, click the Services tab. Select the Hide All Microsoft Services checkbox. Now click Disable all.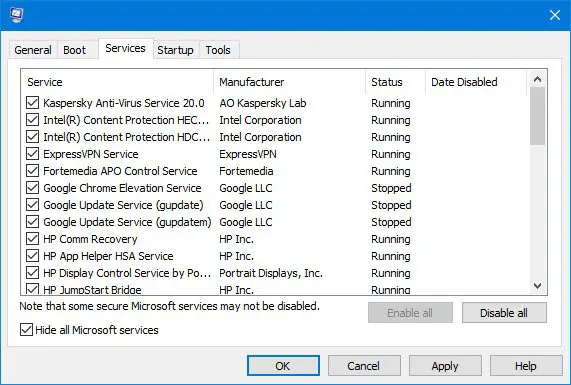 Click Apply/OK and restart the computer.
This will put Windows into a Clean Boot State.
If the clean boot helped you fix the error, fine! Else in the General tab, also click to clear the Load System Services checkbox, click Apply/OK and restart.
To configure Windows to use the normal startup state, simply undo the changes.
What to do after Clean Boot; How to troubleshoot in Clean Boot?
Clean-boot troubleshooting is designed to isolate a performance problem. To perform clean-boot troubleshooting, you must take a number of actions, and then restart the computer after each action. You may need to manually disable one item after another to try and pinpoint the one that is causing the problem. Once you have identified the offender, you can consider removing or disabling it.
Before you perform Clean Boot, you need to ensure the following:
In the System Configuration Utility:
Select Hide all Microsoft services
Then select Disable all.
Click Apply/OK.
Once you enter Clean Boot State, you may find that your problem has gone away.
Then you need to enable one Service after another and reboot into Clean Boot, till the problem reappears.
In this way, you will be able to identify the process that is causing problems.
Best to always create a system restore point first.
See this post if the Use original boot configuration is greyed out in Windows 10. You might want to also read about Hardware Clean Boot.