System Configuration Utility, popularly known as MSCONFIG, allows you to configure the startup behavior of Windows. It allows users to troubleshoot the load time, stability, and performance problems. It has been reported that Windows 11/10 gets stuck in Selective Startup, which means few things will never load as the computer starts. If you are facing this issue, then this post may be able to help you resolve the problem.
Cannot switch from Selective startup to Normal startup in MSCONFIG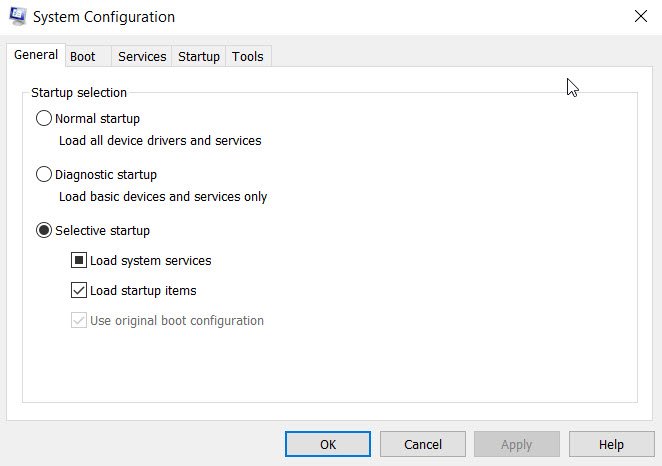 Windows 11/10 stuck in Selective Startup
MSConfig offers three modes—
Normal startup,
Diagnostic startup, or
Selective startup.
When Windows gets stuck in selective startup, then even when you select the Normal startup option, the option may change to the Selective startup option when you restart your computer.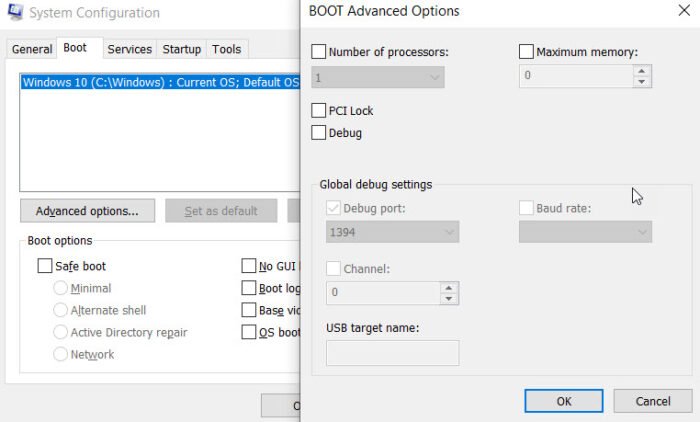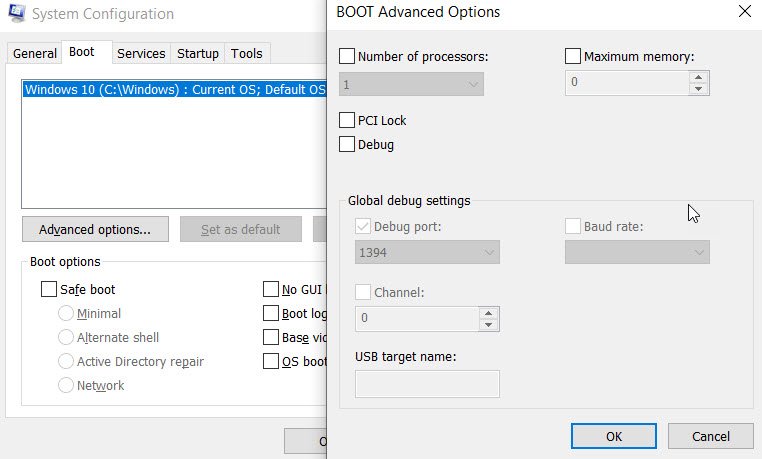 If Normal startup reverts to Selective startup as MSCONFIG cannot select or save settings after reboot, then try this:
Type MSConfig in the Run prompt (Win +R)  and press the Enter key.
Switch to the Boot tab
Click on the Advanced Options button.
Clear all the that is selected there
Click on the OK button.
Restart the computer, and now everything should boot normally.
MSCONFIG startup selection reverts from Normal to Selective startup
Microsoft mentions that the Normal startup option reverts to Selective startup if you select any of the options in the Advanced Boot Settings dialog box in MSCONFIG. This behavior is by design.
Additionally, if any of the System Services have been disabled or changed from their default value, the computer will set the startup type as Selective. Switch to the Services tab, and then check if you have anything disabled under the Date Disabled column, and enable it.
If this does not help, you may boot Windows in Safe Mode and try to make the changes and see if that works.
Selective Startup is not a bad thing. Most of the time, many services start as the computer starts, and this diminishes the system performance. It helps you troubleshoot. If you are facing a problem, you may have to go through the list one by one, and check if the particular service or option is disabled or checked, and change it.
I hope the post helped you understand why the startup mode kept changing, and now you can boot normally.
Cannot boot Windows into Selective startup
If your problem is the other way round, where you set your Windows to boot into Selective startup mode, but the settings are reversed and you boot into Normal startup mode, then we suggest you boot into Safe Mode, then set MSCONFIG to start in Selective startup mode and reboot and see.