The Safe mode in Windows, start the computer with a limited set of drivers and system files. Startup programs, add-ons, etc. first, do not run in Safe Mode, and only the basic drivers needed to start Windows 10/8/7 are started. This mode is quite useful for troubleshooting Windows problems.
If you want to restart and boot directly into Safe Mode, you have to watch the computer reboot, watch the various BIOS messages, select which operating system you want to boot with, and then press F8 at the exact moment to enable the Advanced Boot menu. In Windows 10/8, of course, things are a bit different. You have to first enable F8 key if you want to use it to boot in Safe Mode.
Read: What are the different types of Safe Mode?
Reboot in Safe Mode
But you wish you can directly reboot into Safe Mode. To do this, open Run box, type msconfig and hit Enter to open the System Configuration utility.
Select the Boot tab, and under Boot Options, check Safe Mode. The Minimal option will get selected automatically. If you need other Safe Mode options like Networking, etc.on, you can select those.
Click on Apply > OK. You will now see a prompt. Click on the Restart button, and the computer will initiate the process to reboot your computer directly in safe mode. So before you click the Restart button, make sure that you have saved all your work.
Do note that, if you reboot again from Safe Mode, you will again reboot back into Safe Mode. So once you have completed your work in Safe Mode, again run msconfig and uncheck the Safe Boot option, Click Apply, and then restart your computer. This will bring you back to your desktop, after the restart.
Shortcut to reboot in Safe Mode
If you need to reboot in Safe Mode frequently, you can create its shortcut. Right-click on your desktop, select New > Shortcut. In the Location field, copy-paste the following path:
C:\Windows\System32\msconfig.exe -2
Click next and name the shortcut as, say, Restart Options.
BootSafe
Alternatively, you can download and use a simple .exe utility called BootSafe.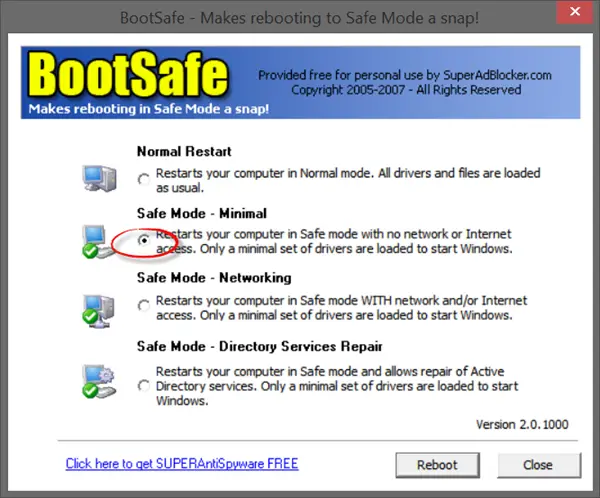 However, when you want to leave Safe Mode and return to Normal mode, you need to use this program again to get a reboot into Normal mode.
See this post if your PC is stuck and cannot exit Safe Mode.
These links too are sure to interest you: