If you been using Windows for long, I am sure you know about the Advanced Recovery mode. The blue-colored screen which offers options to troubleshoot, recover, restore, command line option, etc. That's the screen Microsoft calls Windows RE or Windows Recovery Environment. In this guide, we will share more on Windows RE, and how to boot to the Windows Recovery Environment.
What is Windows RE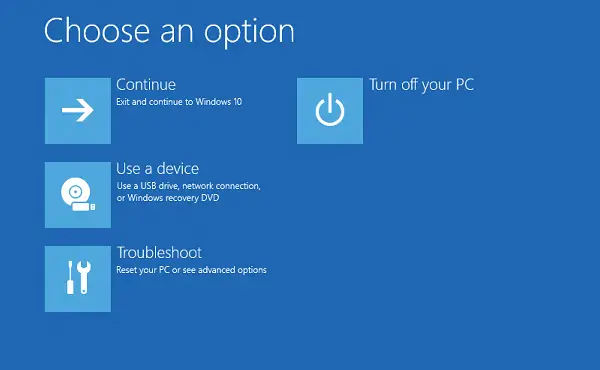 Windows RE can repair common issues that cause an unbootable operating system. Microsoft has also made it possible for the IT admin to customize it. They can add additional drivers, languages, diagnostic tools and can also include parts of Windows PE (Windows Preinstallation Environment). It is available on all Windows 10 and Windows Server installations.
Windows RE is preinstalled on the OS, so you don't need to create a bootable USB or ISO when troubleshooting.
Can I delete Windows RE tools partition?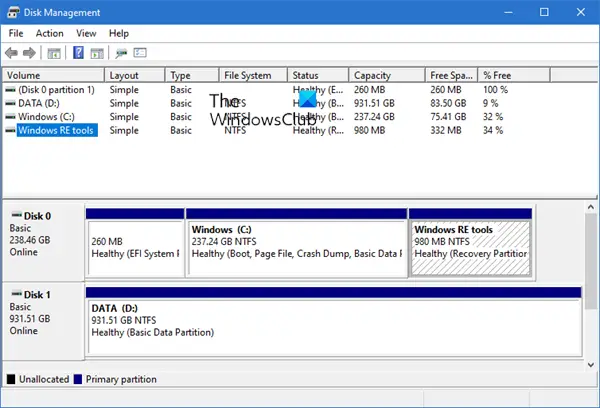 If you open Disk Management Tool, you may see a Windows RE tools partition. This is the Windows Recovery Environment and you should not delete it as you never Know when you may need it.
What can Windows RE do?
Automatic repair and troubleshooting.
Complete reset for Windows 10 for desktop editions
System image recovery for Windows Server 2016, Server 2012 R2 and Server 2012 only.
And more!
How to boot into the Windows Recovery Environment
Since Windows RE is preinstalled in Windows 10, you can boot into it. There are multiple ways to do it.
If you are stuck on the login screen, click on the Shutdown button, and then choose to Restart holding down the Shift key.
When inside Windows 10, go to  Start > Settings > Update & security > Recovery > under Advanced Startup, click Restart now.
You can use a recovery media to boot into Windows RE.
Some OEMs offer a hardware recovery button or combination to boot directly into Windows RE. It is useful when you are facing a BSOD, and you don't have a recovery media.
After following any of these, you will have two options in the Boot Menu. The first is to boot into Windows RE, and second to boot normally into the Windows OS.
In Windows 10, the local copy of Windows RE gets an update as part of the OS updates. Usually, a newer version of the Windows RE image replaces the existing one.
Read: Could not find the Recovery Environment in Windows 10.
Windows RE can launch itself in emergency cases:
There are specific scenarios where the boot process can identify an issue. When it does that, it will boot the computer directly into Windows RE. They are:
Two consecutive failed attempts to start Windows.
When the computer abruptly shuts down more than twice and within two minutes of the boot process.
Secure Boot error.
BitLocker error on touch-only devices.
These tips should help you boot into the Windows Recovery Environment.
See this post if Windows RE is not working as expected and you receive Could not find the Recovery Environment message in Windows 10.
Now read: What is Windows PE?