It is always advisable to create recovery media when you are trying to install a new operating system or upgrading the existing one. Because, in the event of a system failure, you can always boot the computer with the recovery drive or media and try to fix the system. Earlier, in Windows 7, you only had the option to create a recovery media using optical media (CD-RW or recordable DVD) but this changes with Windows 10/8. Now, you can use a USB Flash Drive too!
The Recovery Drive can be used to help troubleshoot problems with your Windows PC even if it cannot start. If your PC came with a recovery partition, you could also copy it to the recovery drive so that you can use it to Refresh your PC or Reset your PC.
Create a Recovery Drive in Windows 11/10
As highlighted above you can use both, USB-based recovery media, as well as disc-based media. We will use a USB-based recovery media here. First, you need to find the Windows Recovery Media Creator.
Recovery Media Creator
To access it, type 'recovery drive' in Start Search. There, a 'Create a recovery drive' option will be visible to you. Click on that option. The Recovery Media Creator is a desktop-based wizard that guides you through the process of creating the recovery drive.
Click on 'Next, ' and you will be asked to connect a USB Flash drive with the following notification – The drive must be able to hold at least 256 of MB, and everything on a drive will be deleted. The wizard will also provide you with the option to create a system repair disc with a CD or DVD instead. Choose what works best for you.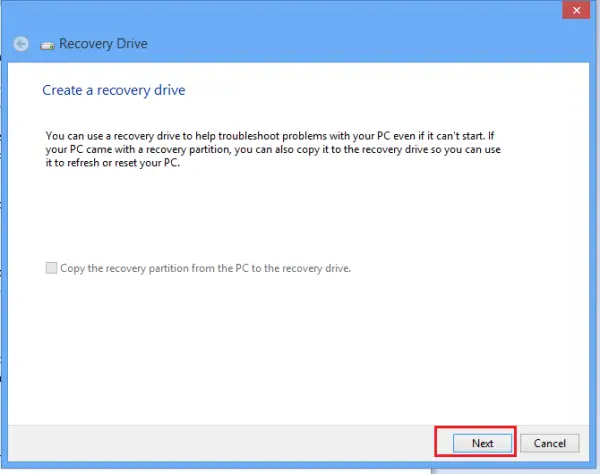 Select the drive and click Next. See the screenshot below.
Do note that the Drive must be able to hold at least 256 MB and once you create the recovery drive, everything on it will be deleted. Click Create. Your drive will be formatted.
You will see the process of formatting in progress. Wait for some time!
Once formatted, the wizard will transfer all the essential contents that makeup as the recovery material.
You can also always use the link offered there to create a System Repair DVD or CD, should you wish to.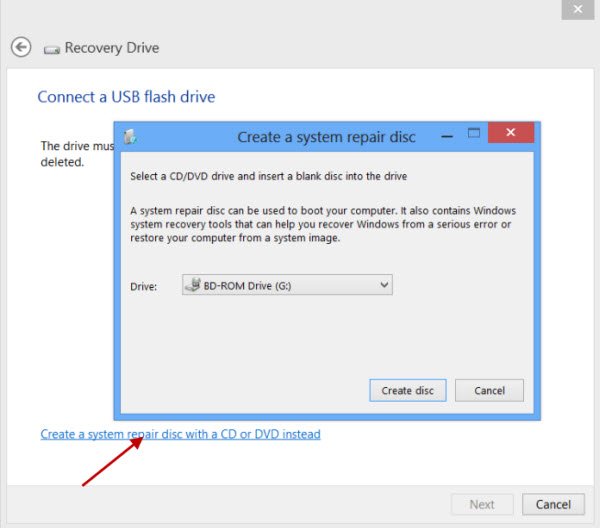 Now whenever you encounter a problem, or there is a system failure, you can fix it from the recovery media which contains several useful tools.
If you haven't created one yet, you want to create one right now…just in case you need to restore your Windows computer using this Recovery Drive.

Now Read: