A System Image in Windows can be considered as a replica of the hard drive required for running Windows. In the event of an unfortunate, when the hard drive fails to function, a System Image allows restoration. It is recommended that you create a System Image of your computer periodically as a part of your backup plan. This post shows how to create a System Image in Windows 11/10/8.1, without switching to third-party tools – and also how to restore the System Image. Using this post, you can move Windows 11/10 Installation to another HDD or SSD.
Create or Restore System Image in Windows 11/10
Connect your external hard drive to your computer and then open Control Panel > System and History > File History. In the left pane, you will see System Image Backup. Click on it. Another way to do it is to type sdclt.exe in Start search and hit Enter. To open the Backup and Restore (Windows 7) applet and click on Create a system image link on the left side.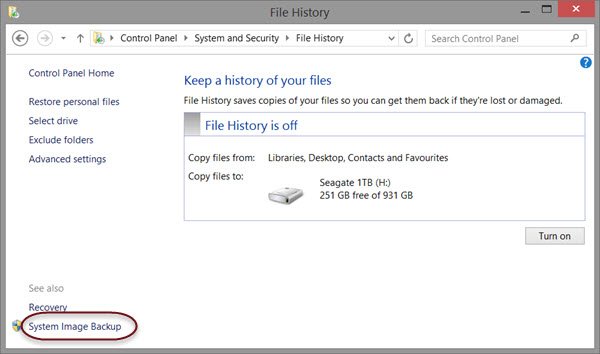 A Create a system image wizard will open. A System Image is a copy of the Drives required for Windows to run. It can also include additional drives. This image can be used to restore your computer if your hard drive or computer ever stops working; however, you can't select individual items to restore.
You will have to select the location where you want to save the system image.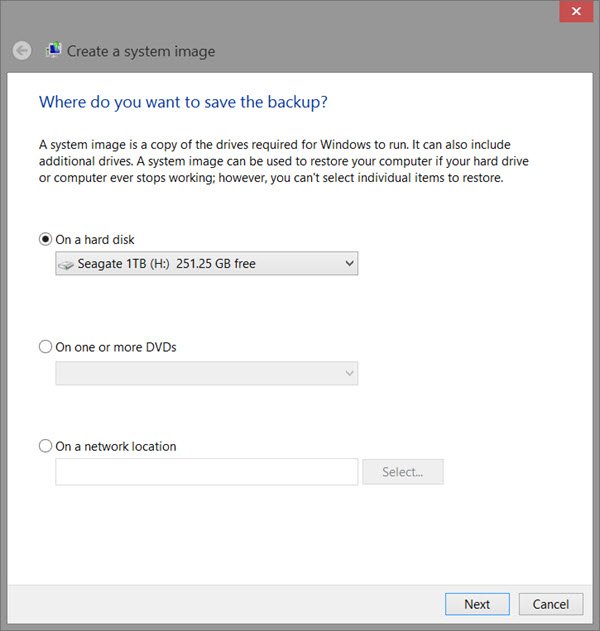 An external USB/Media/Hard Drive with adequate space is recommended. Make your choice and click Next.
Now select the drives you want to include in the backup and click Next.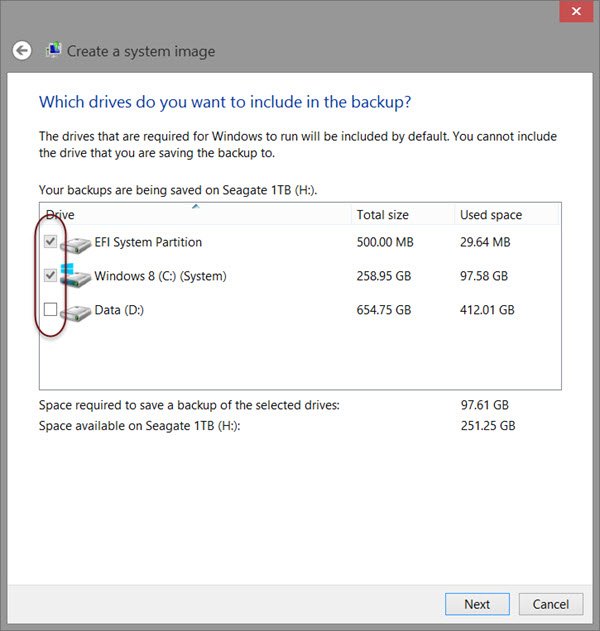 Including system drives and partitions in recommended. After you have clicked Next, you will be asked to confirm your settings.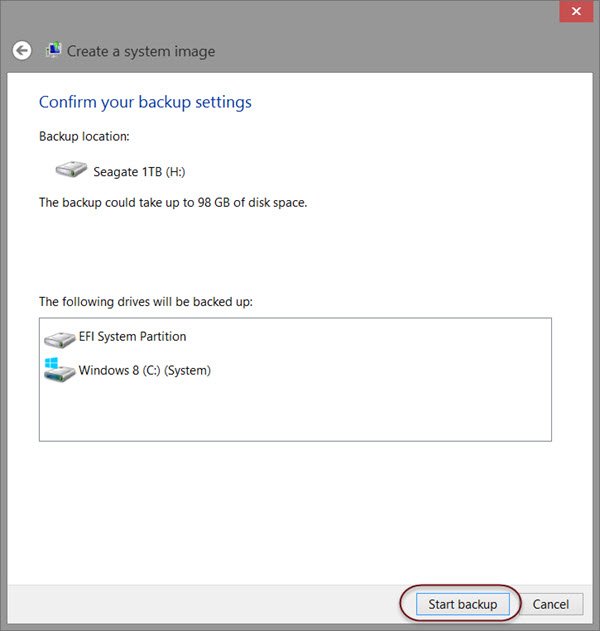 Review them and click on Start backup. The image file, after some time, will be saved in the drive you selected earlier.
After this procedure is completed, Windows will offer you the option to create a System Repair Disc. A System Repair Disc can be used to boot your computer. Create it and keep it in a safe location.
You can also create a System Image in Windows using Powershell. The procedure to create a system image in Windows 7 is however a bit different.

Read:
System Image Recovery
If your Windows computer fails to boot, then this System Image can come in handy as it can help you get back control of your computer, as you can restore it, using Advanced Startup Options. To restore the System Image, power on your computer, and when it is booting, keep pressing F8 to see the Advanced boot options screen.
Select Repair your computer and press Enter. Next select System Image Recovery and then follow the on-screen instructions.
You can also use the Windows 8.1 installation media to restore the System Image. Insert the media and start your computer. When you get to the Install now screen, you will see Repair your computer link in the bottom left corner.
Click on Repair and ignore the other Install Now option. Upon being directed to the Advanced Startup menu, select Troubleshoot > Advanced options > System Image Recovery option. Follow the on-screen instructions to restore your System Image.
Related: How to transfer Windows to an external hard drive.
Related reads: