In this post, we will see what is Safe Mode in Windows and what are the different types of Safe Mode – like Safe Mode, Safe Mode with Networking & Safe Mode with Command Prompt and what they mean.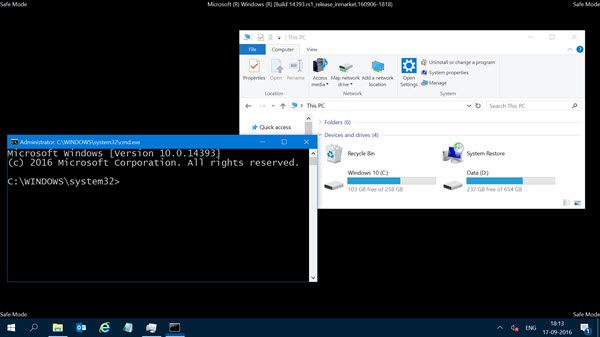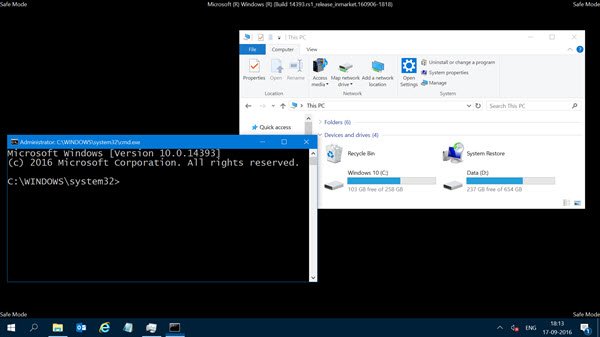 Most Windows users may be familiar with the Safe Mode, as it is often required when you need to diagnose or troubleshoot Windows problems. We have already see how to start Windows in Safe Mode and how to directly reboot Windows in Safe Mode. Now let us take a look at what Safe Mode means and the types of safe Mode that Windows OS offers.
Safe Mode in Windows 11/10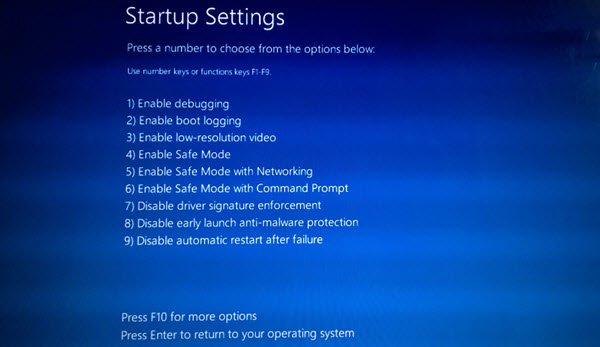 When you start Windows 11 or Windows 10 in Safe Mode, the operating system only loads those minimum set of Drivers, files, and applications that are required for it to load.
There are three different types of Safe Mode:
Safe Mode
Safe Mode with Networking
Safe Mode with Command Prompt
Let us take a look at these three in details.
Safe Mode
When you boot in Safe Mode – the very basic configuration is loaded. You boot into a black desktop, and you may find that your fonts and icons look big and are not sharp. This is because only the very basic drivers are loaded. You will have access to your Start Menu, as well as Mouse and Keyboard, and you will also be able to access your files. You will also see Safe Mode written on all four corners and your Windows version number in the top center. If you wish to use System Restore or run your antivirus scan to remove malware, which is often the case with most home users, this is the best mode to boot into. Apart from this function you also get access to other built-in Windows tools, like Command Prompt, PowerShell, Computer Manager, Device Manager, Event Log Viewer, etc.
TIP: You can add Safe Mode to Boot Menu options in Windows 10.
Safe Mode with Networking
When you boot in Safe Mode with Networking, you are taken to your desktop. One extra set of drivers – and those are the networking drivers that get loaded. This allows you to connect the computer to your network or the Internet. It is recommended that one not surf the web in Safe Mode as your system is in a vulnerable and unprotected state.
Read: Windows crashes or freezes even in Safe Mode.
Safe Mode with Command Prompt
When you boot into Safe Mode with Command Prompt, you do not boot in the Windows GUI. You are directly given access to an open Command Prompt window. Since you do not get access to your desktop and start menu, usually only experts who need to carry out some advanced troubleshooting use this mode.
There are some other posts about the Safe Mode on this website. Do take a look at them too.
Hope this answers your questions about the Safe Mode in Windows OS.