When you try to boot your Windows OS in Safe Mode, but find that the Windows Safe Mode is stuck at Please wait or Loading files screens or while loading classpnp.sys, disk.sys, amdkmpfd.sys, aswardisk.sys, etc files, then this post offers suggestions that may help you get out of the problem.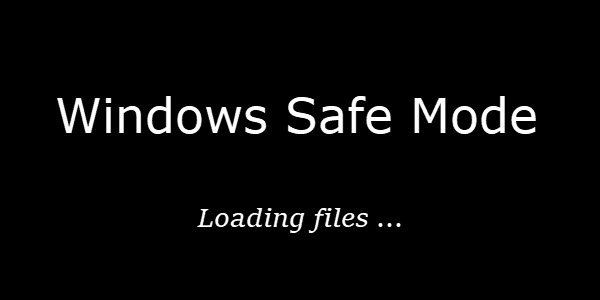 Windows Safe Mode stuck
This Safe Mode error can occur due to several reasons including hardware failure, software corruption, corrupt files in the system, corrupt drivers, and issues with the BIOS. When your Windows 10 PC is stuck on some screen or message or it means that the OS is unable to locate and load the system files that are required for the process to complete. They could be system drivers or OS files – eg. classpnp.sys, disk.sys, amdkmpfd.sys, aswardisk.sys, etc files. For instance, classpnp.sys is a Microsoft Windows SCSI class system file that comes as part of the Windows OS.
Related: Windows is stuck in an endless reboot loop.
The chances are that since you cannot boot into Safe Mode, you will not be able to boot in Clean Boot State or Normal Boot as well.
Well if you are in this situation, try the following suggestions and see if something helps.
Disconnect your external hardware
Before you begin, disconnect your external hardware – eg USB mouse, external hard drive, Bluetooth dongle for a wireless mouse, external cooler and any other device to your laptop or PC.
Boot into Advanced Startup Options
To boot you into the Advanced Startup Options screen, press Shift and click Restart. Does this work? If so, good. If you cannot then you need to use the installation media.
Now, since you cannot enter Safe Mode, then you have to boot into Windows 10 with your Windows Installation Media or Recovery Drive and select Repair your computer to enter Troubleshoot > Advanced Startup Options.
Once here, you can now use CMD to run commands. You may use a Windows 10 DVD or a bootable USB drive, or you can burn Windows 10 ISO to a USB drive using another computer and then use it.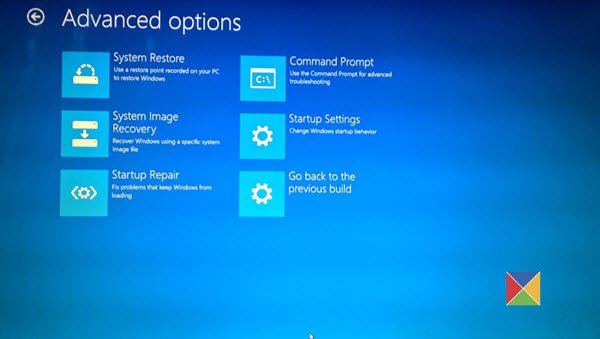 Once you have accessed the Advanced Options, you can use several options offered below to resolve the issue.
Run Startup Repair
Run System Restore
Run Windows Update
Run System File Checker using CMD
Change Startup settings
Reset BIOS
Update BIOS.
1] Run Startup Repair
From the Advanced options screen, open Command Prompt and Run Startup Repair.
2] Run System Restore
If the problem started recently, you can run Run System Restore and see.
Read: How to get out of Safe Mode in Windows
3] Run Windows Update
From the Advanced options screen, open Command Prompt and run Windows Updates from the Command Line.
4] Run SFC and DISM scan
From the Advanced options screen, open Command Prompt and run System File Checker. It allows users to scan for corruptions in Windows system files and restore corrupted files.
5] Change Startup settings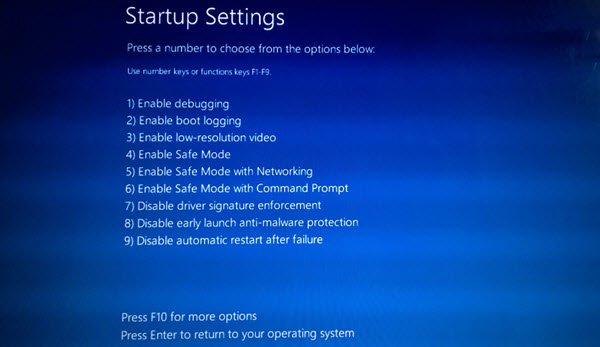 Click on the Change Startup settings and restart to temporarily disable these two settings:
Disable driver signature enforcement
Disable early-launch anti-malware protection.
Once the issue is resolved, remember to reverse the changes made.
Related: Safe Mode not working; Cannot boot in Safe Mode.
7] Reset BIOS
If you have recently made any change in BIOS and then started facing this problem, maybe this is the time when you revert the change or reset BIOS settings to default values. To open BIOS settings, you need to restart your computer and keep pressing F2 or F9 (based on the motherboard manufacturer). Once there, find out the corresponding option and reset BIOS to default settings.
6] Update BIOS
If you're still experiencing the issue, then you can try updating the BIOS on your system by creating a Bootable USB.
Related read: PC stuck and cannot exit Safe Mode.
Hope something here helps you.