If you receive Windows encountered a problem installing the Driver software for your Device error message while updating a driver, here is a simple solution to fix this problem. The error message will be accompanied by an additional message – Windows found driver software for your device but encountered an error while attempting to install it.
The accompanying message could be: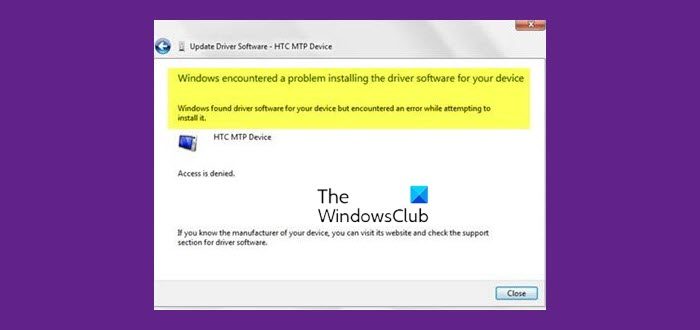 Windows encountered a problem installing the Driver software for your Device
The only solution to this problem is that you need to either update the driver or if that does not work, uninstall and reinstall the device driver.
For that, you have to use Device Manager. You will be able to open it via the WinX Menu, ie, after right-clicking on the Start button.
Once the Device Manager is opened, locate the driver that is giving the error.
Right-click on that driver and select Update Driver. You should get a window like this:
Select the Browse my computer for driver software. Now click the Browse button and select the driver path. This is of course if you already have the driver file or have downloaded the driver setup file from the manufactures website.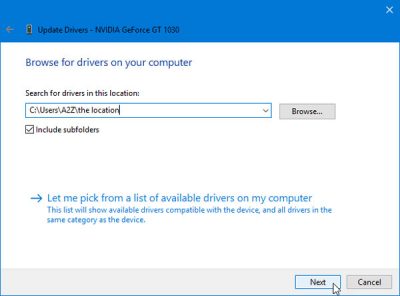 Hit Next to start the find and installation process. It should fix the problem within moments.
If you do not have the driver setup file, then in the Location field, use the following path:
C:\Windows\WinSxS
The WinSxS folder, stores multiple copies of dll, exe and other system files in order to let multiple applications run in Windows without any compatibility problem. If you browse inside, you will see what looks like a lot of duplicate files, each having the same name. These are actually, different versions of the same files which are being stored; as different programs may require different versions.
Windows will search for the driver in the WinSxS folder and install it. This should help.
If you still cannot install the driver, you may want to consider disabling Driver Signature enforcement and then completely uninstalling and then reinstalling the problematic device driver, after downloading the setup file from the manufacturer's website.
Other suggestions you could follow:
Run USB Troubleshooter.
All the best!