If you find that your Windows 10/8/7 computer is facing some hardware or device issues or problems, you can run the Hardware and Devices Troubleshooter. This automated troubleshooter will try to identify and then resolve the issues that it finds.
Hardware and Devices Troubleshooter
Windows 10/8/7 comes with this troubleshooter in-built. If you recently installed a new driver or some hardware and find some things are not working as you'd like them to, use this troubleshooter.
To do so, open Control Panel > Hardware and Sound > Configure a device.
On Windows 10, you can also open Settings > Update & Security > Troubleshoot and click on Hardware and Devices.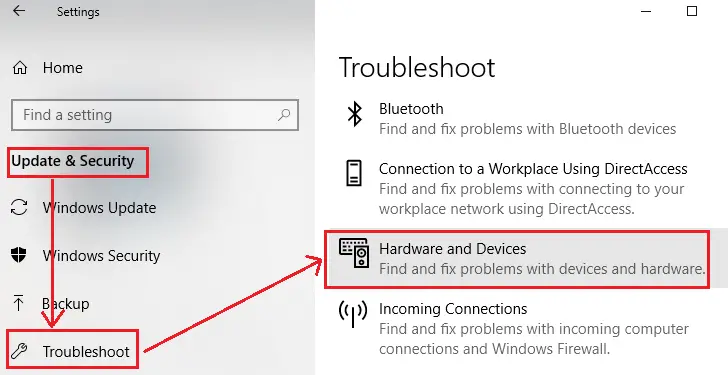 The Hardware Troubleshooter will open. You can set it to fix the detected problems automatically or select and opt to fix only the one's you want.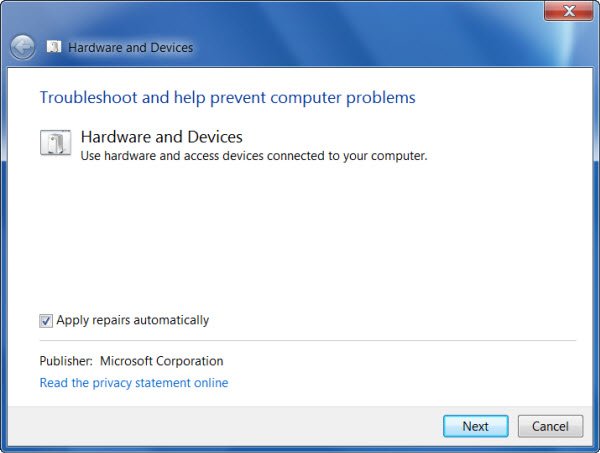 Click on Next to run the Hardware and Devices Troubleshooter. Once the scan is completed, it will present you with a report.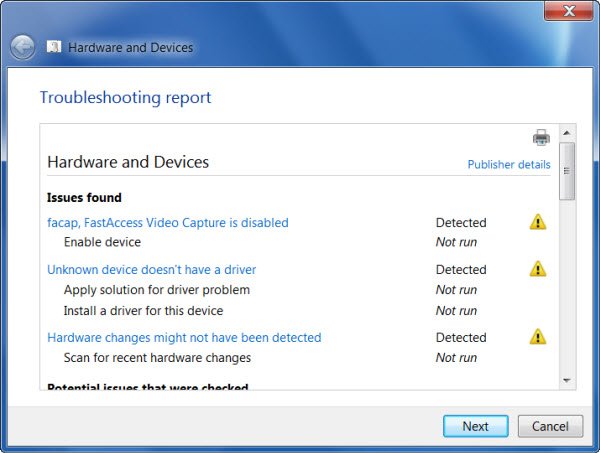 Choose the ones you want to fix and click on Next.
The Hardware and Devices Troubleshooter will try to fix the problems for you.
Hardware and Devices Troubleshooter missing
You can also run the Troubleshooter using the command line. To invoke the troubleshooter, all you need do is to launch the command prompt, then type or copy and paste the command below and hit Enter.
msdt.exe -id DeviceDiagnostic
This post tells you what to do if SD Card Reader not working in Windows 10.
These links may also interest you: