I use Windows on a Dell laptop. Wanting to check and download the latest drivers for it, I decided to visit the Dell website. This was when I came across the Dell Support Assist software, which is available as a free download. The Dell SupportAssist software & Dell PC Checkup are Diagnostic Tools that help keep Dell PC up to date & running efficiently.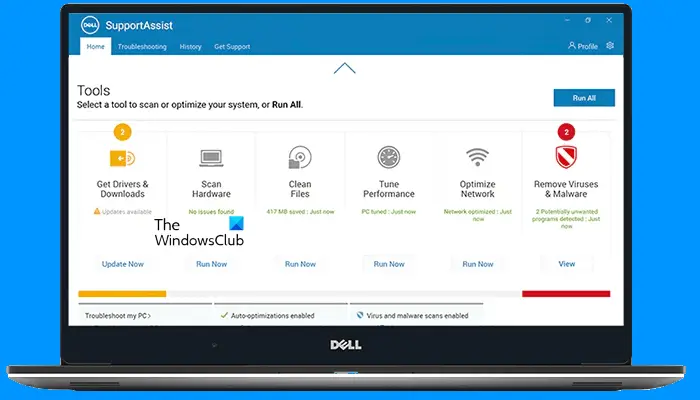 NOTE: Dell Support Centre has been renamed twice to My Dell and now Dell SupportAssist.
Dell SupportAssist for Windows 11/10 PC
Dell Support Assist is a software that will help keep your Dell PC up to date & running efficiently. It scans your Windows system and checks if any updates are available for drivers and software. The Dell PC Checkup's troubleshooting and diagnostic tool will scan and test your system hardware, provide automated fixes for common configuration issues and create detailed reports that can be used by Dell agents to help resolve any issues quickly.
I was pleasantly surprised by all that this free software offered. It offered a PC checkup, which looked like a genuine checkup, a UI that lets you easily access all the built-in Windows tools and features – just like our freeware Windows Access Panel, a Drive Space Manage which shows you visually how your disk space has been used. The System History module lets you view a calendar of all the system events and changes over a period of time. And the most important I felt was the Blue Screen Troubleshooter.
How to use Dell SupportAssist
Dell SupportAssist is the best overall support software for Dell laptop and desktop users. The features added to Dell SupportAssist by Dell handle all your needs. Under the Home tab of Dell SupportAssist, you can check for driver updates and install the updates (if available), scan your system's hardware, clean up your files, tune the performance of your system, optimize your internet connection, and remove viruses and malware from your system. You can run all these tools one by one or run them all by clicking on the Run all button.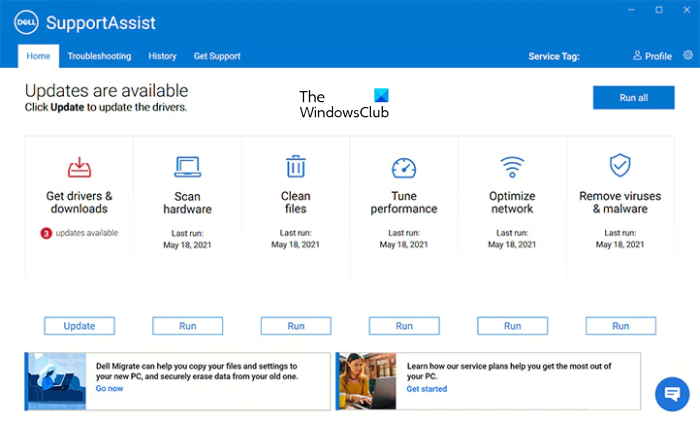 The History tab gives you the details of Dell SupportAssist events performed on your PC. The Troubleshooting tab helps you to get solutions quickly. You can also access the YouTube videos of Dell tech support directly from the Troubleshooting tab. Under the Get Support tab, you can locate your nearest Dell Service Center or start a Dell RemoteAssist session in which the Dell technical support assistant will help you resolve your issues.
If you are a Dell computer user, I think you will find the Dell Support Assist software rather useful.
You can download it from Dell.com.
What is Dell SupportAssist and do I need it?
Dell SupportAssist is a complete support software developed by Dell for Dell users. It helps you troubleshoot issues on your Dell system, update your system's drivers, tun your PC's performance, optimize your network, etc. If you are experiencing a problem on your Dell PC, you can directly contact the Dell technical support assistant by using the Dell SupportAssist app.
If yu are a Dell user, you should install it on your system as it will help you troubleshoot issues on your system.
Does Dell SupportAssist run automatically?
The apps that run automatically every time you start your system are called startup apps. You can manage such apps under the Startup tab of Task Manager. If Dell SupportAssist runs automatically, you can view it in your System's Tray. If you do not want it to run by itself, you can disable it under the Startup tab in Task Manager.
Dell users can download or update Drivers using Dell Update utility.