One safe way to download or update your existing Device Drivers for your Windows 11/10 PC, is to visit the manufacturer's website and download drivers from the website directly. This way you are sure that you are getting the latest drivers, delivered safely to your device. We have already seen how to make Windows download Drivers & realistic Icons automatically from the Microsoft website. Now let us see how you can automatically download or update Dell Drivers directly from the Dell website.
Dell System Detect
Dell offers several tools for its computer users, including the Dell Support Center software to help you keep your Dell running smoothly. As far as identifying the drivers required is concerned, Dell automates the whole process. It will detect the model and make of your device and components and see which drivers are required for it.
To do this, you will have to visit the Dell website and install Dell System Detect. This tool was in the news earlier this year, as it had a vulnerability that put PC users to risk. This was, of course, patched quickly.
To begin, visit the Dell.com website. Here you can enter your Service Tag, which is found at the bottom of the laptop, browse for a specific product, or auto-detect your product by installing the Dell System Detect. Click on the Detect Product button to install Dell System Detect. Once you do this, the tool will download and install itself on your computer.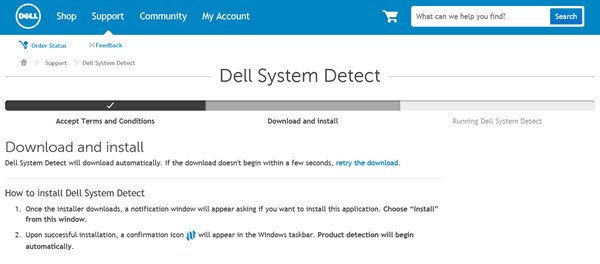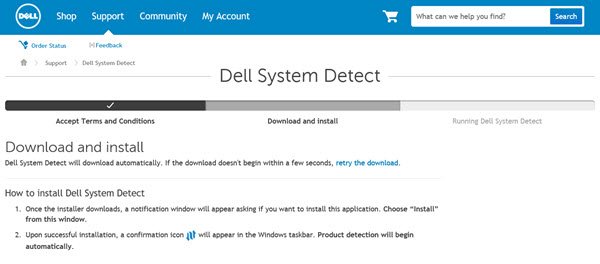 Once the scan is completed, it will identify your device and offer you several options.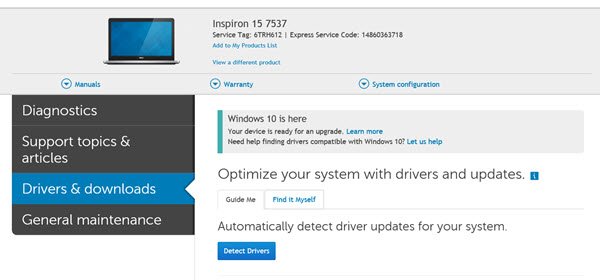 Dell Update application
Clicking on the Detect drivers button will allow Dell to scan your PC by installing Dell Update application. Dell Update is a small tool that automatically updates critical fixes and important device drivers when they become available. It is also available as a direct download here at Dell. This tool will offer you only those drivers that are required for your computer. This ensures that your PC has the most critical updates without you having to check online and install them yourself.
Once the tool completes its scan, it will offer a list of drivers for which updates are available. Carefully go through the list and select the ones you want to install.
I have used Dell as an example since I use a Dell laptop, but I am sure other leading manufactures like HP, Lenovo, Asus, Samsung, Toshiba, Acer, etc, too have similar solutions.
Read: Where to download drivers for Windows 11/10.