One of the many notable features of the Windows operating systems is its straightforwardness in reporting errors. A rare error you could encounter on your Windows is the All TAP-Windows adapter on this system are currently in use message when using a VPN.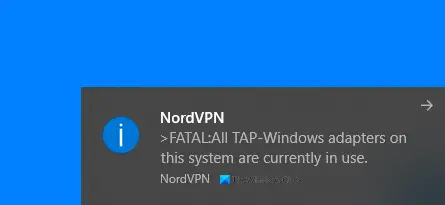 This error indicates that there is an issue with the virtual Turn/Tap network adapter used by OpenVPN on Windows. It usually shows up when you try to add more client configuration to another connection while having a misconfigured VPN connection.
All TAP-Windows adapters on this system are currently in use
If you encounter this error, re-enabling or reinstalling the adapter will suffice. Follow these steps:
Confirm that the latest version of your VPN software is installed.
Reinstall the TAP driver.
Re-enable the Network adapter.
Let's go into more detail on the above methods for fixing the error.
1] Confirm that the latest version of your VPN software is installed
Before using any solution here, check if you have the full and latest installation of the VPN software. Check for updates and ensure.
2] Reinstall the TAP driver
TAP devices are virtual network kernel devices supported entirely in software – and not backed up by hardware network adapters. TAP drivers are used for TAP devices to work and they are designed with low-level kernel support for Ethernet tunneling.
You don't need to install TAP-windows separately, as your VPN installers include it and install it automatically along with the VPN software.
The TAP-Windows driver comes in two types:
NDIS 6 (TAP-windows6, version 9.21.x) for Windows 10/8/7/Vista.
NDIS 5 driver (TAP-windows, version 9.9.x) for Windows XP.
Read: What is TAP-Windows Adapter Driver?
You need to also ensure that the latest versions of the TAP Drivers are installed.
Do this by opening C:\Program Files\TAP-Windows. Navigate to this directory. Here, look at the version number that you have installed. If your version of OpenVPN is outdated or absent, you may have to reinstall the TAP driver.
If you don't have the latest or a full installation, you need first to uninstall the version you have, go to C:\Program Files\TAP-Windows.
Right-click on the executable file and select Uninstall device > Run as administrator.
Go to the Community Downloads then download and install its latest version.
Alternatively, go down on the page and get the TAP-Windows package for your PC, then download and run the installation.
Ensure that you select a TAP Virtual Ethernet Adapter.
Reboot your PC to complete the network driver installation.
3] Re-enable the Network adapter
The third possible fix is to re-enable your network adapter. Follow the instructions below to do that.
Right-click on the connectivity icon on your taskbar and select Open Network and Internet settings.
Click on Change adapter options.
Go through the description of the network adapters available to locate the TAP-Windows Adapter.
Right-click on the adapter and hit Disable.
Finally, right-click on it again and select Enable.
The solutions above should solve the error.
Strike the Windows key, then type in TAP. Select Add a new TAP virtual ethernet adapter and select Yes to the User Account Control (UAC) dialog. The administrative command prompt then adds another network interface to your system. Enjoy.