In this post, we will show you how to update Bluetooth Drivers in Windows 10. You can use Device Manager, Windows Update, or third-party software. Updating drivers via Microsoft or the manufacturer's website is a good idea as it can help improve the system's performance. If Bluetooth is not working on your device, it might be a good idea to update your Bluetooth drivers.
How to update Bluetooth drivers in Windows 10
Right-click on the Start button to open the WinX Menu.
Select Device Manager to open the following tool.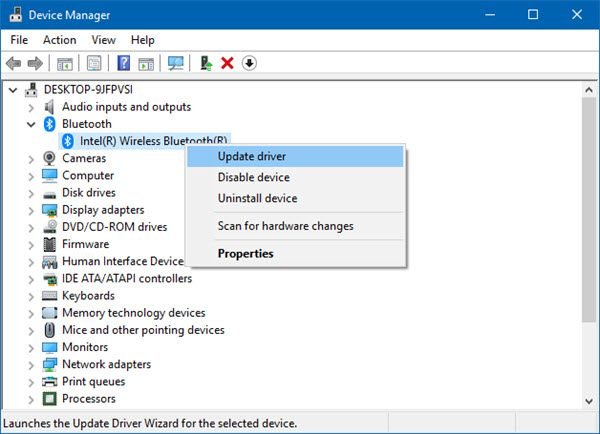 Here you can uninstall, disable, rollback or update Device Drivers.
Locate Bluetooth and double-click on it to expand it.
You will see the Bluetooth driver/s installed. Select the one you want to update and right-click on it.
The menu will show you the option to Update driver. Select it to open the following wizard.
You may opt for either one of these:
Search automatically for updated driver software
Browse my computer for driver software.
If you have the driver file on your computer, you can select Browse my computer for driver software.
Browse to and select the driver software file on your hard disk and click OK to proceed.
It is recommended to select Search automatically for updated driver software and let Windows identify, download and install the driver.
If an update is found, Windows will download and install it. But if no update is found, you will see the following screen.
You may click on OK and exit or select Search for updated drivers on Windows Update.
In this way, you will be able to update your Bluetooth driver.
There are several free Driver Update software available that will help you update all drivers at the same time, we do not recommend this method, as things have been known to mess up. In any case, should you opt to use this method, do create a system restore point first.
These posts will show you how to: