If you are facing performance-related issues like Non-responding programs, freezing, system crashes, sluggishness, etc. , on your Windows PC quite often, then you can try a few of these suggested tips. They may help you resolve such issues by tuning-up Windows.
Optimize and improve Windows 10 performance
Here are a few steps you can take:
Run Selective Startup
Update Drivers
System Maintenance
Windows Update
Cleaning Junk Files
Virus Scanning
System Integrity Check
Hardware Diagnostic
Windows Boot Performance Diagnostics
Disk usage issues.
1] Selective Startup
Most of the time a Startup service may cause issues that affect the performance of the System. A Clean Boot can resolve and pinpoint which Service is causing the problem. To identify this, we can use the System Configuration Utility to find it.
Go to Start and under search type in MSCONFIG and hit Enter.
First, in the General Tab uncheck "Load Startup Items" then go to Services Tab.
Then check on "Hide all Microsoft services" and click on "Disable all". Click Apply and Restart the Computer.
Once the computer restarts, see if you have your issue resolved. If so, go back to MSCONFIG and first go to Startup Tab and enable the first Startup item and reboot the System. You have to do the same procedure until you find which service or startup item is causing the System to crash.
I know it might take a while to find out which one is it but it's not advisable to run the System in Selective Startup all the time. Because Selective Startup is not a fix; it's a troubleshooting step, to find the culprit that's causing System inconsistency.
Trust me, most of the performance-related issues can be resolved by this step!
2] Update Drivers
An outdated driver can cause the System to crash and go to non-responding at times. So it's a good step to keep the device drivers up to date. You find the exact model of your device drivers and check the version and driver date you could use the MSINFO32 file.
Go to Start and under search type in MSINFO32 and Hit Enter.
This is how the MSINFO32 looks like then select each non-Microsoft device, and on the Right side panel, you'll find the model of your device, driver date version, etc.
Once you find the driver name, date, and version go to the manufacture's website go to the appropriate section and download the driver and install it.
Don't use Windows Update or any lesser-known third-party application to auto-update the drivers because in my opinion most of the time Windows Update or any of these third-party applications won't find the best drivers, which may, in turn, cause the system to crash with a Blue Screen.
TIP: I have seen a lot of cases where a Display driver is a cause for lagging or performance-related issues it's best to update or reinstall the Display related drivers.
3] System Maintenance
System Maintenance is a crucial system while troubleshooting performance-related problems.
Open an elevated Command Prompt, type the following and hit Enter to run the Performance Troubleshooter.
msdt.exe /id PerformanceDiagnostic
This troubleshooter helps the user adjust settings to improve operating system speed and performance.
Alternatively, Open ControlPanel  > All Control Panel Items > Troubleshooting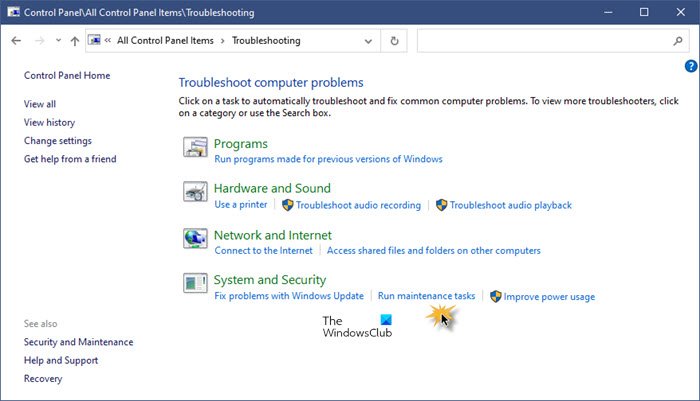 Click on Run maintenance tasks to open the Performance Troubleshooter.
Run it and see if it helps.
Read: Beginners tips to optimize Windows for better performance.
4] Windows Update
It is important to update your Operating System on a regular basis, as there will be some updates that could resolve performance issues and increase system security.
If you have some errors while updating or if the update is failing, run the Microsoft "System Update Readiness Tool". Microsoft released the System Update Readiness Tool to resolve certain conditions that could cause installing updates and other software not to work. You do not have to manually run this tool. This tool is offered automatically through Windows Update to computers that have a condition that the tool could resolve.
5] Cleaning Junk Files
It may not look like a great step to resolve such issues but trust me there are lots of situations where this step used to do the trick. There is a built-in cleanup tool in Windows that would help you in removing the Temp files etc., but I would recommend a freeware called CCleaner.
This will remove unused files from your system – allowing Windows to run faster and freeing up valuable hard disk space. It also cleans traces of your online activities such as your Internet history.
You may or may not want to use the Registry cleaner portion of it or any registry cleaners. The decision is, of course, yours to take!  Check out one of our posts for more information Do Registry Cleaners & Defragmenters really help?
6] Virus Scanning
Most of the times Malware or Trojan infection can cause an unstable behavior to your operating system. Run a complete virus scan to make sure your computer is clean. There are a lot of freeware out there. I would recommend Windows Defender – it has a very low footprint and less false positive. Then download the free versions of Malwarebytes or Emsisoft Anti-malware and run a complete scan in Safe Mode.
7] System Integrity Check
 SFC /SCANNOW command (System File Checker) scans the integrity of all protected Windows system files and replaces corrupted, changed, or damaged versions with the correct versions if possible.
Go to Start and under search type in CMD then Right Click on it and click on Run as administrator.
Then type in SFC /SCANNOW
This article will help you analyze the SFC logs.
8] Hardware Diagnostic
The next step I would recommend is to run Hardware scans to see if some hardware failure is causing the system to crash.  First, check your RAM follow our thread that would explain to you the process Advanced Memory Diagnostic on Windows with Memtest86+ then run a Hard Drive Diagnostic. Each manufacturer would have its own diagnostic tools check this thread for the list HD Tools.
9] Windows Boot Performance Diagnostics
Use Windows Boot Performance Diagnostics to troubleshoot long boot times.
10] Disk usage issues
See this post if you frequently receive a 100% Disk Usage message.
Last but not least use a legit version of Windows. An illegal or torrent copy may look convenient, but you're putting your data security at risk, and this may cause a lot of issues to your operating system.