Over time, your Windows 11/10 PC does tend to become sluggish; and when this happens, you know that it is time to tune-up your PC. Today, in this post, I am going to share some basic tips and software that can help your PC run in good condition.
Tune-up Windows 11/10 PC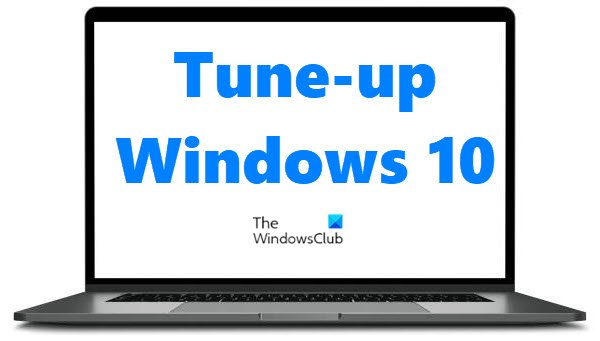 You too can have an error-free Windows experience if you follow these basic tips, say on a monthly basis. I have linked to relevant, useful links within the post that will give you additional tips on the subject. Follow these basic suggestions and you will have a tuned-up & optimized computer running fast.
Uninstall unwanted and unused software
Disable Startup programs you don't need
Reduce visual effects for best performance
Use a good security suite.
Restart PC regularly
Occasionally run SFC, Defrag and ChkDsk
Use a good free PC tune-up software.
Let us take a look at each of these suggestions in detail that will help you keep your OS running at its best. It goes without saying that your OS, device drivers, installed apps & software, BIOS, and firmware should also be updated to their latest versions for optimal performance.
1] Uninstall unwanted and unused software
Windows 10 usually comes with lots of preinstalled apps that you don't need always on your computer. Even out of all the installed applications on your computer, there might be multiple apps that you hardly ever use. These unwanted programs and software take up unnecessary space, causing slow down your PC performance. If you think that might be the case, remove the unwanted programs, pre-installed Windows Store apps, and features you don't use.
Read: What can I delete from the Windows folder?
2] Disable Startup programs you don't need
If your computer is taking a long time to boot then it is possible that lots of programs are simultaneously running on startup, making slows down the performance. In this situation, you will have to disable the startup programs you don't need. Follow the below suggestions if you find this problem in your device:
Press the Ctrl+Shift+Esc keyboard shortcut to open the Task Manager.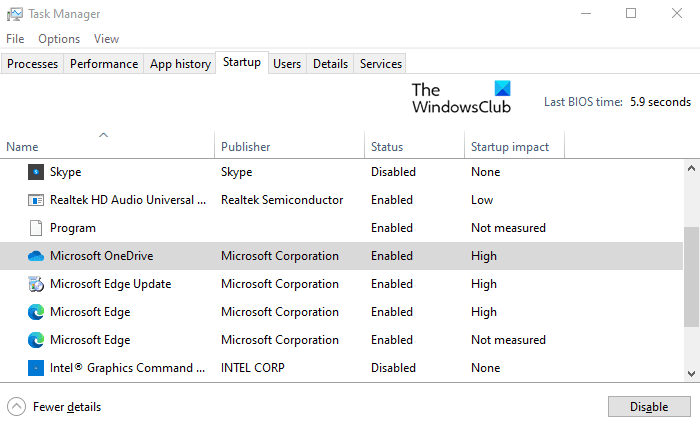 Click on the More details drop-down button to expand it.
Now go to the Startup tab and disable the programs you don't need at startup.
Read: Tips to maintain Windows 11/10 in good running condition.
3] Reduce visual effects for best performance
Windows 11/10 includes some special effects and visual features like animations and shadows which take up processing power. If your computer is running slowly, you may want to reduce some of the visual effects to improve your PC performance.
Read: How to fix Performance issues in Windows 11/10.
4] Use a good security suite
If your Windows 11/10 PC does tend to become sluggish, possibly it might be the cause of malware impacts that have not to get identified in your device. Having a good security suite installed can help protect your Windows against such malicious programs and other threat attacks as well. Some solid free security suites and antivirus software are available that you would want to try out.
Read: Optimize Windows PC for gaming.
5] Restart PC regularly
No matter how you care about keeping your Windows clean and up-to-date, it is important to do a fresh boot regularly. Restarting your computer shuts down all the programs running unnecessarily all the time. Besides, it closes those applications that might have been launched by different programs and never stopped.
Read: Beginners tips to optimize Windows for better performance.
6] Occasionally run SFC, Defrag, and ChkDsk
Running the System File Checker occasionally might be a good idea to ensure that all your OS files are in their best shape. You may use our FixWin to run it with a click.
You don't need to run the Disk Defragmenter or ChkDsk Utility now unless you are facing errors. While Windows 10 defragments disks automatically, you might want to occasionally run the built-in defragger and the ChdDsk utility too to ensure that your hard disk is in good health.
Read: Speed up Windows and make it run Start, Run, Shutdown faster.
7] Use a good free PC tune-up software
Some of you might want to use a good free Windows Tune-up and Optimizer software. CCleaner is the most popular of them all but there are some others too.
Using our portable freeware Ultimate Windows Tweaker to fine-tune the OS is also something you could consider.
TIP: You can use Windows Boot Performance Diagnostics to detect Windows Boot Performance problems.
What else do you do to tune-up your Windows PC? Any suggestions?