PC gaming can seem a bit complicated to some, especially if they are first-timers. This is one of the reasons many folks have decided to buy a console instead of a gaming PC. And why not? Consoles are as plug and play as they come, while PC gaming requires a hands-on approach.
This post offers tips to improve gaming performance and optimize Windows 11 or Windows 10 for gaming.
Optimize Windows 11/10 for gaming
Well, let's be fair, it doesn't always require a hands-on approach due to improvements in drivers and Windows in the past couple of years. However, the issue of not being as straightforward when compared to a console is still there. Here are some tips that will show you how to improve gaming performance on your Windows 11/10/8/7 laptop or PC.
Improve gaming performance on Windows 11/10
If you're new to PC gaming, or a veteran who is having problems with performance, the following tips might turn out to be a major help in tuning-up Windows.
1] Update graphic card drivers
The two main graphic card companies today are NVIDIA and AMD. It is widely known that several games tend to perform better when an NVIDIA card is installed, while AMD users have to sit back and wait for a driver update to get things to where it needs to be.
It's not a big issue anymore, but problems still persist. This is why drivers are still being released regularly, especially after the release of newer games. We've seen it time and time again when a new game hits the market, it doesn't work as well until after a driver update from Nvidia and AMD.
Update the video adapter driver and the sound card driver is important as sometimes a simple driver update can improve the performance of older games as well.
You may make use of Intel Driver Update Utility or AMD Driver AutoDetect.  Here are some other links to help you download Drivers for your computer: GEFORCE Drivers | AMD & Radeon Drivers | Intel Drivers.
2] Get your software optimized
When playing video games on a console, one doesn't have much to worry about seeing as the underlying software gets out of the way once the game is active. This isn't necessarily the case with PC gaming, and as such, it can become a challenge.
When a game is launched, whatever software is active in the background will continue to be active until something is done about it. An active software takes up precious resources that could improve the performance of your game. We suggest launching the Task Manager and closing every active non-system process that is not important.
Is your web browser up and running with many tabs? Close them all. Are you encoding a video? Pause it, or finish the encoding process before launching your game.
We should point out that not every game requires a lot of resources to run, but for the ones that do, please allow it access to the resources it needs.
3] Select High-Performance Power Plan
Open Control Panel > Power Options. Here select the High-Performance plan to increase laptop performance. You may also consider enabling and using the Ultimate Performance Power Plan.
4] Improve multiplayer performance
To improve multiplayer performance in games, reduce the number of players who can play the game when you set up a LAN or Internet multiplayer game.
Related: How to configure the best FPS settings for gaming on a PC
5] Play around with game settings
Here's the thing, most video games come with their own settings area. This is where the player gets to tweak the game to get a better output or something less that is more in line with what their graphics card is capable of handling.
The software usually selects the best graphic setting for a game, and for the most part, it works. However, there are some instances when the software reverts to the lowest setting, even if the graphic card is capable of running the game on the highest settings available.
At a time like this, one needs to jump in and make the changes to gain more performance.
It's not ideal for everyone to do this seeing as many have no idea what is anti-aliasing or super-sampling.
6] Check your Hard Disk for errors
Run ChkDsk and set the tool to Scan for and attempt recovery of bad sectors as well as Automatically fix file system errors.
Read: How to improve Windows 11 performance.
7] Adjust PC for best performance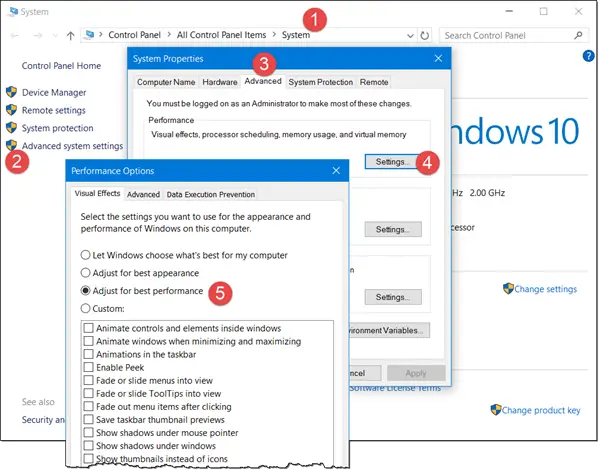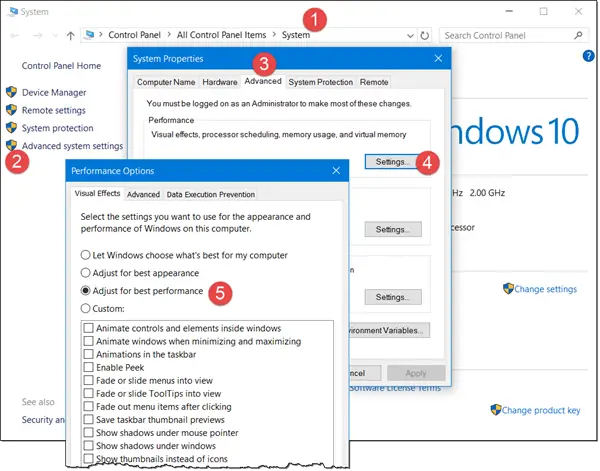 Open Control Panel > System > Advanced system settings > System properties Advanced tab > Performance Settings > Visual Effects. Select Adjust for best performance and click Apply and exit.
Gaming Lag & Low FPS in games has been explained here in this post.
You may also take a look at the Gaming Settings in Windows 11 and in Windows 10 and tweak them.
8] Try some free gaming boost software
Not everyone is willing to dig in and manually make changes, so this is where video game boost software comes into play.
We recommend trying GBoost, a program that shuts down unwanted services to grant more resources to your game.
ToolWiz Game Boost is another program that is designed to improve gaming performance. It acts in similar ways to GBoost, so it should be just as easy to understand.
Fusion Utility for AMD Desktops can help you optimize your PC for Gaming.
Read: How to optimize Windows for Online Gaming.
9] If all else fails, upgrade your hardware
Sometimes one only needs to upgrade their hardware to get the performance they need. Older hardware tends to struggle with newer games, so consider upgrading your graphic card, processor, and RAM. In most cases, only one of the three needs to be replaced, but if you haven't upgraded in years, then all might need an upgrade.
All the best!
Read next: TruePlay anti-cheat feature in Windows 11/10.