Windows 11 and Windows 10 have many Services to make sure that the operating system functions smoothly. While it is best to leave the Service configuration at their default values, there are some performance & tweak enthusiasts who want to make their Windows run even smoother. If you are wondering which Windows 11/10 Services are safe to disable, then this guide will help you. We strongly recommend that you create a System Restore Point first and also make notes of the changes you make to your Services configuration.
Before we go ahead, it's a good idea to understand the Windows Services section. Type services.msc in the search box and hit Enter to open the Windows Services Manager. Once the Services window opens, you can see the complete list of services, both from Windows OS, and the installed applications which are running on your system.
Every service has Name, Description, Status, Startup Type, and Log On As. Double click on any Service to look at its Properties.
Startup Type: Some services are set to Automatic or Automatic (Delayed), while others are Manual and Disabled.
Service Status: It is the current status of the service.  Action buttons are available for you to change it.
Dependencies:  Many services depend on other small and big services. Some other functions can also rely on it. If that's the case, you will be warned if you choose to disable it.
You will notice that many services which set to Manual. These services are started only when they are needed. They might be kept running or set to stop mode when not needed anymore. Services with Startup Type as Automatic start with Windows. Applications like the AntiVirus program need to be available as soon as Windows starts.
The best strategy to disable Windows Services
Many want to disable services because they might help to speed up their computer. It is best to look at services that are in Automatic mode. They are the only ones which increase computer boot time. In the services list, click on the Startup Type header to list all automatic services.
Now click on the Service, and check if you can change status. Sometimes none of the buttons are enabled including Stop. If that's the case, skip this service and move to the next one.
When you find a service that can be stopped or set to manual, make sure to read about the service and check on dependencies. If you see any service is depending on this one, do not disable it. If it's a stand-alone service, check to what the service is related to.
For example, the Bonjour Service is needed by applications from Apple like iTunes. You can choose to disable it or choose Automatic (Delayed).  On the contrary, services like IP Helper should not be disabled if you use IPv6. It is essential for 6to4, ISATAP, Port Proxy, and Teredo, and IP-HTTPS.
It's best to leave Windows 11/10 Services as is
Any service which is from Microsoft, i.e., Windows 11/10 "ONLY" Services, should be kept as is. It's not easy to understand for a general consumer to understand the impact it will make when you disable a service. While many websites and blogs would suggest services that you can disable, we don't support that logic.
If there is a service that belongs to a third-party application, you can choose to set to Manual or Automatic (Delayed). That will help to boot your computer fast. Even better, make sure to remove the application from the Startup List.
Which Windows Services are safe to disable?
Nevertheless, if you still want to see what you can disable, then it all depends on your system:
Are you a single PC home user?
Do you use the Internet?
Are you connected to a network or domain?
Are you using a desktop or a laptop?
And so on.
The following Windows Services can be safely disabled. Instead of setting the Startup type to Disabled, you may set it to Manual, to be on the safe side.
AVCTP service – Disable it if you do not use Bluetooth Audio Device or Wireless Headphones.
BitLocker Drive Encryption Service – disable it if you do not use BitLocker storage encryption.
Bluetooth Support Service – Disable it if you do not use any Bluetooth device
Computer Browser – This will then disable Network discovery of systems on the local network
Connected User Experiences and Telemetry – Disables Feedback, Telemetry and Data Collection
Diagnostic Policy Service
Diagnostic Tracking Service – Turns off Telemetry and Data Collection
Distributed Link Tracking Client – If your PC is not connected to a network
Downloaded Maps Manager – If you don't use the Bing Maps app
File History Service – If you never use Windows Backup or System Restore
IP Helper – (If you don't use IPv6 connection)
Infrared monitor service – If you never use File transfer via infrared devices.
Internet Connection Sharing – An old service that can be disabled
Netlogon – Disable it if you are not on a domain controller environment.
Program Compatibility Assistant Service – This will hinder your running in the Compatibility Mode though
Print Spooler – If you don't use a Printer
Parental Control – If you do not use the Parental Control feature.
Remote Registry – Best to disable it. No one will be able to access your Registry remotely.
Secondary Logon
TCP/IP NetBIOS Helper – If you are not a part of a Workgroup network
Touch Keyboard and Handwriting Panel Service – If you do not have a touch device
Windows Error Reporting Service – If you don't want to save or send error reports
Windows Image Acquisition – If you don't use a Scanner
Windows Camera Frame Server – If you never use a webcam or an integrated camera
Windows Insider Service – Disable it if you are not a part of the Windows Insider Program.
Windows Search – Do it only if you never use Windows Search but instead use a 3rd-party search software.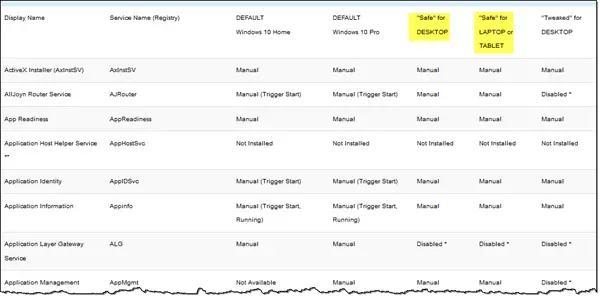 So you see there is no one-shoe-fits-all scenario, and so it becomes imperative that you know your system and what you want.
Is it safe to disable Services in Windows 11/10?
It entirely depends on the service you are talking about. For example, if you can easily disable the Windows Update service, but disabling the DNS Client or DHCP Client may cause various issues on your computer. Do not disable a service if you do not know about it completely.
Which Windows Startup Services can I disable?
Although it depends on the apps you have installed so far, you can safely disable various cloud storage apps, instant messaging apps, email apps, etc. However, it is not recommended to disable any security or firewall app if you have any.
If you need good advice, then the Black Viper's Windows 11/10 Service Configurations is one resource advanced users may want to look at.
Windows 7 users may want to look at this Windows 7 Services Optimization Guide.