PC gamers can optimize Windows 11/10 to improve gaming – and for gamers on Windows 11, there are a couple of gaming settings you need to know and tweak for an even better experience. In this post, we take a look at why your games are crashing on your Windows PC and also offer suggestions on how gamers can mitigate the usually unexpected occurrence of this issue.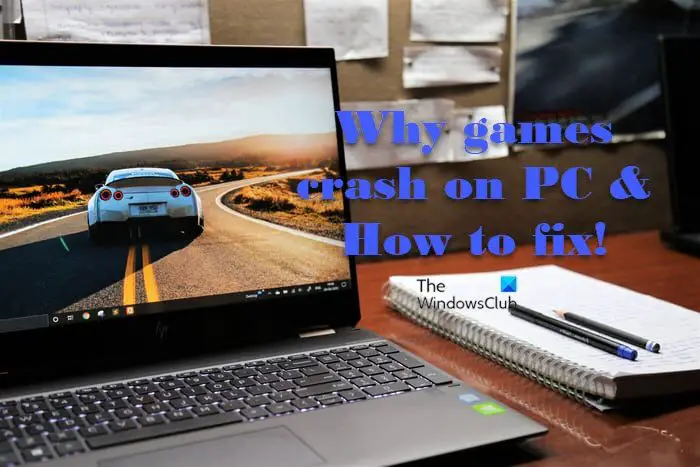 To proffer concrete remediation to games crashing on PC, you need to identify the main factors that are the culprit. Below are the most common causes of this issue:
Gaming PC doesn't meet minimum specs
PC has been overclocked
Incorrect or wrong game settings
Graphics adapter consumimg too much power
Windows operating system is outdated
Outdated device drivers
Poor or slow network connection
Digital Rights Management (DRM) issues
Games are running in the wrong mode
Security software interference
VPN issues
Too many open browser tabs
Why are games crashing on my PC
As we have identified the most reasons why games crash on PC, we can now proceed to outline measures PC gamers can apply or put in place prevent this occurrence at the barest minimum. In no particular order, the following are suggestions you can try to prevent or fix game crash issues on your Windows 11/10 gaming rig. We suggest you give your gaming system a restart as this simple action can fix game crash issues, assuming there are no serious underlying issues with your hardware or OS.
Check system requirements
Stop overclocking
Check game graphics settings
Check the power supply unit (PSU)
Make sure Windows is updated
Make sure drivers and games are updated
Check network/internet connection
Enable Game Mode
Check and adjust security software settings
Reinstall game
Let's see these in detail.
1] Check system requirements
The main and obvious reason why games crash on PC is, the gaming system spec doesn't meet the game's minimum requirements. So, when buying games online from Steam and similar services, make sure to review the game's description for the system requirements. If you're buying the physical copy of the video game from a brick-and-mortar store, you'll find the minimum and recommended system requirements on the back of the video game packaging.
You can always check the game vendor site for this informations. If your PC meets these requirements, you shouldn't have any issues installing and running the game. Otherwise you will need to upgrade your PC before you can play the game – this could require you to simply upgrade the hardware components (like RAM, storage disk etc) on your rig or purchase a new gaming PC.
Read: Farming Simulator 22 crashing or freezing on Windows PC
2] Stop overclocking
Although with good ventilation and cooling, CPU overclocking and GPU overclocking can significantly increase performance as many gamers still engage in this practice. However, it isn't a perfect method as games can still crash. So, if you have overclocked your PC, you can simply reverse the change depending on the overclocking software in use. Generally, launch the software and look for the option to stop the overclocking or uninstall the software altogether. This basically will reset your processor (and GPU, if appropriate) to default settings. Once done, restart your computer and see if the crash issue is resolved. Otherwise, the issue is caused by something else.
Read: Diablo 3 keeps crashing or freezing on Windows PC
3] Check game graphics settings
To help you get the most out of your game, most games, especially those with high system requirements, have a dedicated video settings screen. Games tend to boot with a configuration designed for your system hardware, but this can cause game crashes sometimes. In this case, you can troubleshoot by lowering the game settings in the video configuration screen. You can keep adjusting the settings until you hit the right mix of performance and graphics. If you graphics card is unable to handle high resolutions, you will have to upgrade to a more powerful graphics hardware.
Read: How to enable Optimizations for windowed games in Windows 11
4] Check the power supply unit (PSU)
If the graphics adapter installed on your Windows 11/10 gaming PC is drawing more power than is available on the PSU, you're likely to experience game crashes. The only solution as it applies in this case, is to upgrade to the best PSU capable of providing enough power to play the game. Before swapping out the PSU, check how much power your PC needs. Also, make sure there's no dust or particles build-up on the graphics card and PC interior to prevent high PC temperature which can lead to performance issues and possibly system crash.
Read: How to measure your PC's total power consumption
5] Make sure Windows is updated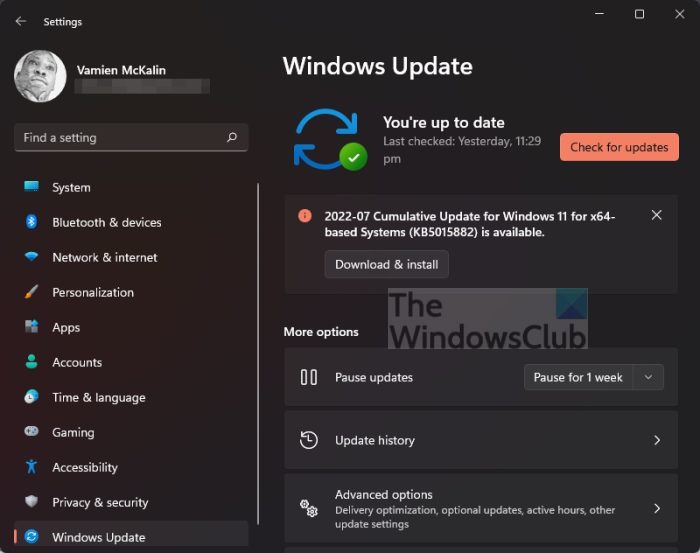 Your game's system specification should list the correct operating system and version required to run the title. Most AAA games are designed for 64-bit systems and is expected to run without issues on newer versions of Windows. Generally, the issues of operating systems and hardware are interlinked – in the sense that older hardware running Windows 11/10 may be suitable for running the most up-to-date video games. But your games will likely crash if you play on an old or outdated operating system. So make sure Windows is updated to the latest build/version to keep up with game improvements and requirements for the best gaming experience.
Related: Games loading slow on Windows PC
6] Make sure drivers and games are updated
If games are crashing on your PC, before you try forking out money to purchase a new gaming rig, you should first update drivers and the game itself; assuming you are running the latest version of Windows on your rig.
Games can crash for reasons beyond (but not unrelated to) unsuitable hardware and operating systems. Video drivers, for instance, should be up-to-date, as should the game itself. Although some games will automatically check for updates and install them before they load, you can manually check for patches and updates for the game in question at the publisher's website
Depending on your PC, manufacturers have made available special driver download software for their brands that you can use to update update drivers and firmware:
You can also use a third-party free driver update software or you can download the latest version of the device driver you need from the hardware manufacturer's website.
7] Check network/internet connection
Especially with online gaming, you may experience game crashes when slow or poor network delays the game client being updated by the remote server. To prevent this issue, make sure that your network speed is suitable for playing games. Check your internet device and disable other internet applications to ensure that only the game receives data. For the best online gaming experience, you can connect your PC directly to the router via Ethernet and avoid using WiFi where possible. You may have to use a Powerline Ethernet Adapter to overcome any architectural limitations.
In some cases, network issues can contribute to Digital Rights Management (DRM) affecting a game's performance or the remote server status causing the game to crash. In this case, you can play offline if the option is available for the game. This will prevent the DRM from checking with the remote server for suspicious activity in the game or account.
Still on network issues causing games to crash, your VPN/GPN software can also cause games to keep closing on your PC, particularly online games. This can occur if the VPN server is down, or if the VPN client isn't able to maintain a connection. Distance can also play a part, as you'll have to deal with latency when playing on a specific game server located at another region. In any case, the applicable solutions here, is to switch to a faster and more stable VPN, invest in a faster internet connection or disconnect from the VPN when accessing a specific game server.
Read: How to optimize Windows 11/10 for Online Gaming
8] Enable Game Mode
Interference by other open and running apps while gaming on your Windows 11/10 computer can cause the game to crash. So, close all other apps before launching the game you want to play, as this will even free up more system resources for the game to run smoothly. This also applies to your browser as well – so make sure not to open multiple tabs than necessary. You might need voice chat software like Discord or Game Bar; beyond that your PC resources should be focused on running the game.
In addition, you can enable Game Mode to reduce and limit other activity so that your game can freely run with sufficient system resources.
9] Check and adjust security software settings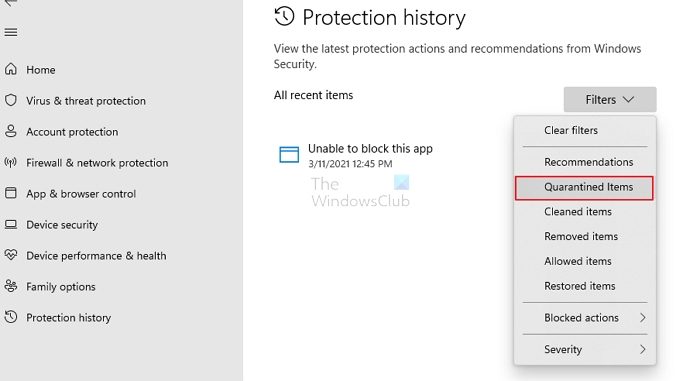 Apps, processes, and services running in the background can impact the performance of gaming, and your security software is not an exception. Your AV is actively looking for suspicious files. Sometimes, these files are scanned, which can cause the PC to hang or freeze, and then crashes due to security scanning. The game in play can also crash because a legitimate game file is identified as harmful and quarantined. In this case, you can either reduce the level of (or disable) file scanning when gaming, replace your security software with one that has "game mode" option, or temporarily disable (if possible) the security software for the duration of your gameplay.
On the other hand, games can crash on your PC if infected by a virus/malware. So be sure to keep your AV updated and manually scan your system periodically.
10] Reinstall game
Other things being equal, this is a viable solution to the game crashing on PC, because it could be that the issue is caused by corrupted or damaged game files or even a botched game installation that is missing crucial game files. In this case, you can uninstall the game (preferably, use uninstaller software), reboot PC, and then download and reinstall the latest version of the game on your Windows 11/10 PC.
I hope this post is informative and helpful enough for you!
These posts might interest you:
What causes games to crash on PC?
The game may close, generate an error, or crash during start or during play if your Windows 11/10 computer does not meet the system requirements of the game or because of outdated drivers. This can also happen if your PC is infected by a virus.
Why do all of my games keep crashing?
There could be a number of reasons why apps or games freeze or crash, especially when you consider the wide range of chipsets, screen resolutions, custom skins on Android smartphones. One reason could be low memory or a weak chipset. Apps can also crash if they are not coded properly.
How do I fix a crashed game?
To fix a crashed game on Windows 11/10 computer, you can try the following suggestions:
Install the latest drivers
Install the necessary software
Make sure the PC doesn't overheat
Disable background programs
Disable the onboard sound device
Scan for malware
Check your Hardware
Read: Lost Ark keeps crashing on Windows PC
Can RAM cause games to crash?
RAM can sometimes cause specific problems on your PC. Some gamers report that games keep crashing after adding new RAM. This usually occurs when trying to run high-speed DDR RAM or if you have installed the memory component on an unseated module or the RAM itself is bad which needs to be replaced.
Why are my games closing by themselves?
Poor memory management is one of the most common reasons for app or game crashes on mobile devices, especially for low-end mobiles and tablets. There may insufficient storage space for apps to run smoothly, especially if you have multiple applications running at the same time in the background.