Complaints of Lost Ark crashing are circulating among gamers and have reached us. The game is crashing and leaving the gamers frustrated. It may or may not pop up with error messages or codes, but the end result is the same. So, if Lost Ark keeps crashing on your Windows 11/10 PC, then in this article, you are going to find what to do to tackle this issue.
Why does ARK keep crashing on my PC?
There are many reasons that cause Lost Ark to crash, such as corrupted files, outdated Graphics Drivers, etc. But first of all, you have to check Lost Arc's System Requirements that we have mentioned hereinafter. If your system meets the minimum requirement, then you can continue working on troubleshooting the error with the given solutions.
System Requirements to run Lost Ark
These are the System Requirements to run Lost Ark.
OS: Windows 10 (64-bit only)
Processor: Intel i3 or AMD Ryzen 3
RAM: 8 GB
GPU: NVIDIA GeForce GTX 460 / AMD Radeon HD 6850
PIXEL SHADER: 5.0
VERTEX SHADER: 5.0
FREE DISK SPACE: 50 GB
DEDICATED VIDEO RAM: 1024 MB
Make sure that your computer matches the given requirements in order for you to play the game.
Fix Lost Ark keeps crashing on PC
Users have complained that Lost Ark keeps crashing on both Windows 11 and Windows 10. Our solutions cater to both these versions of Windows, but first of all, you need to make sure that you are running the latest build of these Operating Systems. So, check for updates, and keep your PC updated.
Solutions are written here, select the one best for you.
Repair game files
Kill background programs
Update your Graphics driver
Check your Antivirus
Turn off Overlays
Well, let's get to the point.
1] Repair game files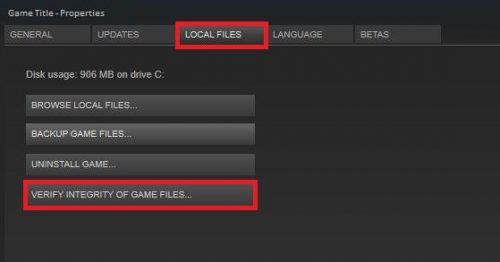 Corrupted files are repeated causes for game crashing issues. So let's verify and repair the problem to get the game back on track.
Open Steam and search Lost Ark in your LIBRARY.
Right-click Lost Ark and go to Properties.
In the LOCAL FILES tab, select VERIFY INTEGRITY OF GAME FILES.
This procedure may make you wait. However, if there are corrupted files then Steam will automatically replace them for you. At last, relaunch the game and see whether it is still affecting your game or not.
2] Kill background programs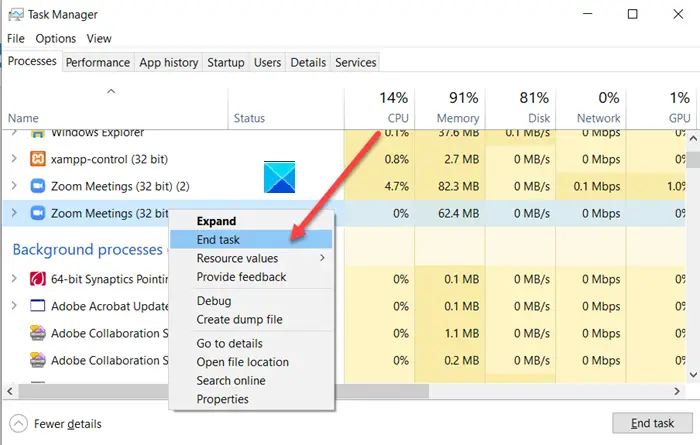 Sometimes the programs interfere with the games' functioning and lead to crashing. Other times, they can eat your RAM, giving less RAM to the game in question. It's best to kill these programs before starting the game.
1. Open Task Manager by clicking Ctrl+Shift+Esc.
2. In the Processes tab, see the programs that are taking up resources.
3. Right-click on it and select End Task.
Now relaunch the app and see if it still persists.
3] Update your Graphics Driver
Don't go looking for fixes, start with checking the status of your Graphics Driver. If you have not updated it in recent time then update your Graphics Driver. Then restart your computer, restart your game, and see if the issue persists.
4] Check your Antivirus
Your Antivirus is an active participant in leading the game to crash. It mostly happens when your antivirus software detects game files as viruses. So what you can do is either enter the steam client as a whitelist in antivirus or temporarily disable the software. To do the former, you can follow the steps prescribed below.
Search out "Windows Security".
Go to Firewall & network protection.
Click Allow an app through the firewall.
Allow Steam through both Public and Private networks
Now, open the game, and see if it's still crashing or not.
5] Turn off Overlays
Maybe the game is crashing because of overlays. To prevent this you can try switching it off and see whether it is still crashing or not.
There are two scenarios here, check whether all the games in Steam are crashing, or only Lost Ark is crashing. So, choose which one situation.
For the former, open Steam and then go to Steam > Settings. Go to the In-game tab, and untick Enable the Steam Overlay while in-game. If only Lost Ark is crashing, go to Library in Steam, right-click on Lost Ark, select Properties, then untick Enable the Steam Overlay while in-game.
Why is ARK crashing when I load single player PC?
There are mainly three reasons why ARK is crashing on your PC. First, if you do not have enough storage to load the game on your computer. It could also arise due to having a low amount of RAM. Second, if your game is corrupt or has some corrupt files, you can encounter the same issue. Third, if you have an outdated graphics driver, you can come across the same issue.
Hopefully, you are able to resolve the game with the mentioned solutions.
Also check: Games crashing after upgrading to the latest version in Windows 11/10.