Windows 11/10 brought many improvements to the overall operating system, but it also came with a few problems. This is definitely a problem no PC gamer wants to experience, but don't worry, there are some ways to fix the problem until Microsoft comes up with a permanent patch.
Some users have been experiencing a problem where their favorite video games were crashing on Windows 11/10 more often than not.  This issue is a significant problem for gamers, especially professionals who prefer to play online games.
What is the cause of games crashing on Windows 11/10?
From what we have gathered thus far, this issue affects those who have recently upgraded to Windows 11 or the newest version of Windows 10. A recent upgrade or update can, from time to time, affect drivers; therefore, you may have to reinstall your graphics card driver.
In some instances, you may come across problems where you cannot speak to your team in a multiplayer game. This suggests an issue with your microphone set up on Windows 11/10, but worry not because we have the sauce.
Fix Games crashing in Windows 11/10
Before you begin, do the following:
Make sure you are using the latest version of the Game
Make sure that your Windows 11/10 is fully updated
Perform a Clean Boot and see if any 3rd party process is causing the game crashes.
If this does not help, proceed.
In this situation, the first thing you should do is run the Program Compatibility Troubleshooter on Windows 11/10. If it fails, then look at the other solutions and test them out in hopes they'll free your mind.
Search for troubleshooting
Go to Other Troubleshooters
Locate the Program Compatibility Troubleshooter option
Troubleshoot the affected program
Run the affected game in Compatibility mode
Reinstall the Graphics Card driver
1] Search for troubleshooting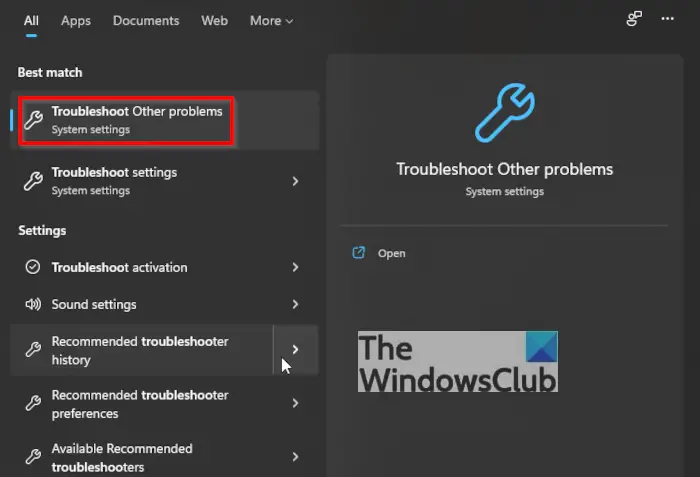 OK, so we will begin by going to the taskbar and click on the search icon. From there, search for troubleshooting. You should now see Troubleshooting Settings via the search results. Please select it promptly in order to move to the next step.
2] Go to Other Troubleshooters
After you've launched the Troubleshoot Settings area, your next step is to seek out Other Troubleshooters and click on it. You can easily find this option under System> Troubleshoot at the bottom.
3] Locate the Program Compatibility Troubleshooter option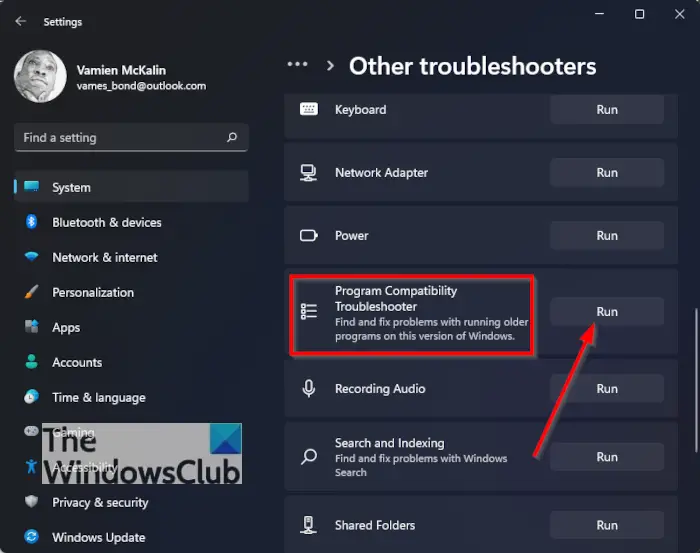 From the next screen, scroll down until you've come across Program Compatibility Troubleshooter. You can find it below Power and above Recording Audio.
4] Troubleshoot the affected program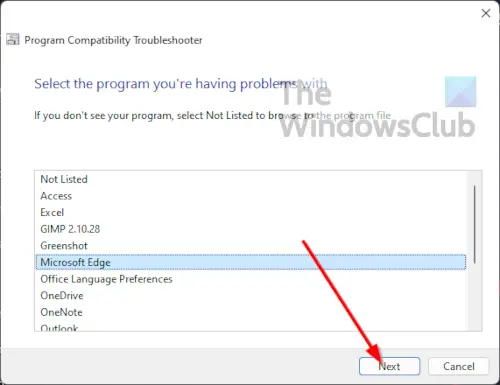 To the right of Program Compatibility Troubleshooter, click on the button that reads, Run. A new window will appear, and within a few seconds, you should see a list of programs you may want to troubleshoot. Choose the correct one, then hit the Next button, and that's it.
Simply wait for the System to troubleshoot the program, and you're done.
5] Run the affected game in Compatibility mode
If the above solution has failed to work, then how about running the game in Compatibility mode? That might do the trick.
Go to Properties: First, right-click on the game's execution file, then select Properties via the Context menu. Alternatively, you could click on the game icon, press ALT + Enter to fire up the Properties section.
Run the Compatibility troubleshooter: Waste no time by clicking on the Compatibility tab, and from there, Run the Compatibility troubleshooter by selecting the button of the same name. Wait for the tool to complete the scan to find out if there are ways to solve this problem from this method.
Run in Compatibility mode for a different version of Windows: Return to the Compatibility tab and be sure to tick the box close to Run this program in compatibility mode for, then choose your preferred version of Windows. Finally, hit Apply > OK, and you're done.
Go ahead and check if the game works as it should.
6] Reinstall the Graphics Card driver
The best thing to do when a problem like this arises, you'll need to reinstall your graphics card driver. You can do this by visiting the official manufacturer's website. From there, locate the driver download section, and be sure to search for the correct driver for your particular graphics card.
You're basically performing a clean install of your graphics card driver, a move that may very well only work for a few days before reverting back to the state of crashing.
After you've reinstalled the driver, go on ahead and reboot Windows 11/10, then check if the game is working correctly.
Microphone not working in games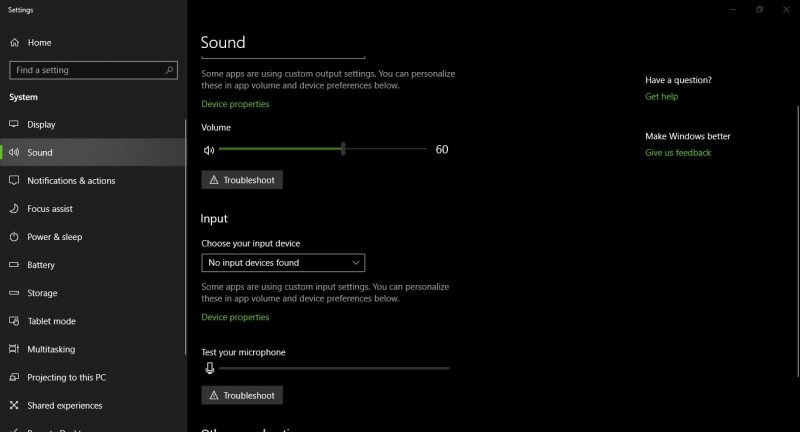 So you're playing a game2, but unable to speak with your co-op partner? Worry not, for there are ways to return your microphone to normalcy.
The first step is to check if your microphone is accessible by the games you're playing. Go to Settings > Privacy > Microphone, then make sure the option that says "Let apps use my microphone" is checked.
Another step is to check if your microphone is muted. Do this by right-clicking on the sound icon found on the taskbar. Click on Open Sound Settings, then check if your input device is set to the mic you're using.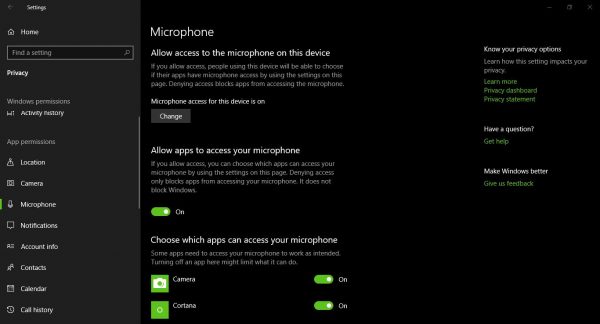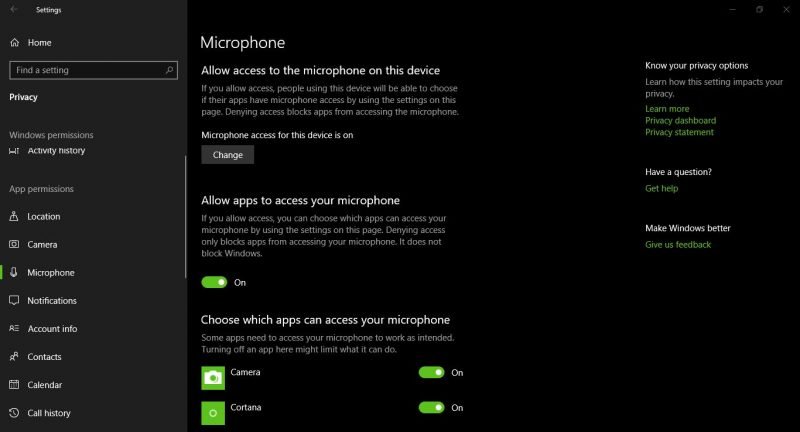 The option is also there to test your microphone to make sure it's working.
Games are stuttering on PC
Stuttering games are nothing new. Gamers have been suffering from this issue for years, therefore, we have an idea how to fix it. Usually, games stutter when they overwrite standby memory, so to keep things under control, gamers must limit the number of applications running in the background at the same time.
When this is done, the chances of all resources being directed towards the game you're playing is high, which could then eliminate any stuttering for the time being.
Hope this helps!
Related read: Computer crashes while playing games.