Diablo is a big banner game, and people enjoy playing it – but it is not without its share of problems. If Diablo keeps crashing, freezing, or disconnecting on your Windows 11 or Windows 10 computer, then this post will help you resolve the issue.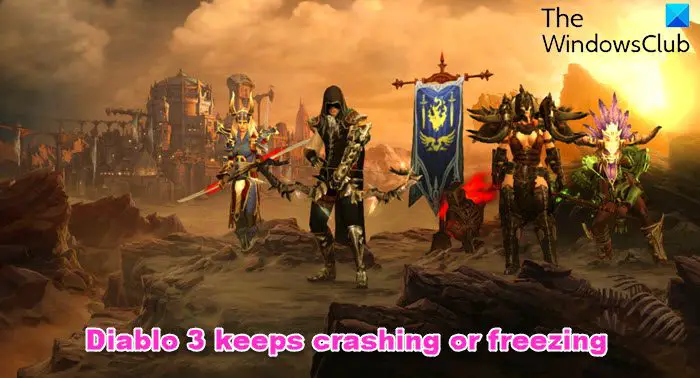 Why does my Diablo keep crashing?
A game might crash on your computer because of many different reasons, such as an outdated Graphics Driver or some glitch that's stopping it from running on your system. You should also check whether the game files are corrupted. There are multiple reasons that can corrupt your files, such as improper or pending restarts. Even if they get corrupted, there is a way by which you can repair them; we are going to see how to do the same.
Also, check whether the game is compatible with your system or not. To do that, check the system requirements and make sure that your computer is meeting them. There are some other workarounds and solutions that we are going to see later in this article.
Diablo keeps crashing or freezing on PC
If Diablo keeps crashing on your computer, then start the troubleshooting process by checking for Updates. Make sure to run the latest version of Windows. It can not only resolve some of the errors but also improve your system's performance. Once it's done then try these fixes to solve the issue.
Update your Graphics Driver
Restart your computer
Run your game as an administrator
Repair your game files
Install the latest patch
Reset In-Game settings
Delete the game cache files
Disable Discord Overlay
Reinstall the game/or the Blizzard Batlle.net app
Let's get to work.
1] Update your Graphics Driver
First thing first, check your Graphics Driver. The latest version of Graphics Driver helps in maintaining smooth gameplay. Generally, the Graphics Driver is updated along with Windows. However, if it is not updated automatically, try updating your Graphics Driver manually. You can also use freeware to update drivers. So, go for the method you like, but update your Graphics Driver. After doing that, check if the issue persists.
2] Restart your computer
Programs in the background can definitely interfere with the game and Blizzard Battle.net. You can close them and restart your computer. This will close all the processes that are running in the background, and they will not interfere with your game. So, do that and check whether the issue persists.
3] Run your game as an administrator
Giving administrator privileges can solve the crashing issues if the game is not opening because of a lack of permissions. To do that, right-click on your game and select Run as administrator. The only problem with this method is you have to do this procedure every time you want to play. But there is a way to always open an app as an administrator. Follow the given steps to do the same.
Right-click on the shortcut of Battle.net or the game.
Click on Properties.
Navigate to the Compatibility tab.
Tick on Run this program as an administrator.
Click Apply > Ok.
Open Diablo and check whether your program is free of the issue or not. And if it doesn't, then move to the next fix.
4] Repair your game files
There's no doubt your game will crash with corrupted files. So you can repair game files with the launcher's aid to resolve the issue.
Click on the Blizzard Battle.net app.
Select Diablo and then navigate to the Options button.
Click Scan and Repair.
Select Begin Scan.
This will clear the issue for you. However, if it persists the next fix is awaiting your attention.
5] Install the latest patch
According to some users, installing the latest game patch in itself can resolve the error. You can install the latest patch from the Blizzard Battle.net app.
Launch Blizzard Battle.net.
Select Diablo and then go to Options.
Click on Patch Notes.
After it's installed, relaunch the game and test the program.
6] Reset In-Game settings
In-game settings other than Default settings are consistently the factor responsible for demanding games like Diablo to crash. Sometimes, you amp up the graphics or change the setting in such a way that it loses compatibility. Therefore, you can switch it to default settings by resetting the In-game Option. Follow the given steps.
Launch the Blizzard Battle.net
Click Blizzard > Settings.
Go to the Game Settings tab.
Click Reset In-Game Options.
Click on Reset > Done.
Launch Diablo and check for any issues.
7] Delete the game cache files
Corrupted cache files are one of the main culprits responsible for the error in question. Deleting the game cache files can simply stop Diablo from crashing on your system. But, we wouldn't recommend you just go ahead and delete the files, there is a proper procedure you must follow. The following are the steps you should be following if you want to delete game files.
Press Ctrl+Shift+Esc to open Task Manager.
Go to the Processes tab and right-click on all the tasks related to Battle.Net and select End Task.
Click Win + R to open the Run Dialogue box.
Type the following
%ProgramData%
Click Ok.
Remove the Blizzard Entertainment and Battle.net folder.
Hopefully, this will resolve the issue.
8] Disable Discord Overlay
If you are running Discord alongside your game then chances are it's crashing because of Discord Overlay. You are not the only one, there are thousands of people suffering the same issue, so, you should disable the option and see if that works. Follow the given steps to do the same.
Launch Discord.
Click on the Cog button to go to the Settings.
Now, click on Game Overlay from ACTIVITY SETTINGS.
Then turn off the toggle of Enable in-game overlay.
Finally, restart your computer and check if the issue persists.
Also Check: Discord Overlay not working in Windows: How to Fix It 
9] Reinstall the game/or the Blizzard Batlle.net app
If nothing works, reinstalling the game is your last resort. However, you should first remove the files (steps are mentioned in the 7th solution) and then uninstall the game. Then, re-download and reinstall a fresh copy of Diablo. Also, try reinstalling Battle.Net if the game continues to crash.
Hopefully, you are able to resolve the issue with the help of the given solutions.
You can also check our guide to troubleshoot the Diablo Resurrected crashing issue.
System Requirement for Diablo
Given below are the system requirements your computer must have to run Diablo:
Minimum
CPU: Intel Pentium D 2.8 GHz or AMD Athlon 64 X2 4400 or above
RAM: 1 GB RAM (1.5 GB required for Windows Vista or 7 users)
OS: Windows XP or above
GRAPHICS CARD: NVIDIA GeForce 7800 GT or ATI Radeon X1950 Pro or better
DISK SPACE: 12 GB
DEDICATED VIDEO RAM: 256 MB
Recommended
CPU: Intel Core 2 Duo 2.4 GHz or AMD Athlon 64 X2 5600+ 2.8 GHz
RAM: 2 GB
OS: Windows XP or above
GRAPHICS CARD: NVIDIA GeForce 260 or ATI Radeon HD 4870 or better
DISK SPACE: 12 GB
DEDICATED VIDEO RAM: 512 MB
If your system is matching these requirements, but your game is crashing, then you should check the solutions we have mentioned.
Windows Game Settings and tips that you must know: