Discord is one of the most popular tools used by gamers worldwide, and for excellent reasons. The overlay brings many good features to the table, but there are times when this overlay fails to work properly.
This problem tends to happen when gamers are playing Among Us, PUGB, and Fortnite. We're not sure if the Discord app has a direct issue with the games mentioned, but folks should not worry about whatever the problem may be because this particular problem is fixable.
What is the Discord overlay?
Not everyone knows what the overly on Discord is all about, so if you fall in that category, then let us open your eyes a little bit.
OK, so the overly is designed to allow users to take advantage of some features of Discord while their games are running. For example, while playing your favorite video games, it is possible to use voice and text chat without needing to have Discord fully open.
If you do not see the overlay, press Shift + ~ to bring it up and press it again to send it back into hiding.
Why is Discord Overlay not working?
If Discord Overlay is not working, make sure that you are using the latest version of the software and also that the Overlay feature in Discord is enabled.
Read: How to enable and use Text-to-Speech feature in Discord.
How do I enable Overlay on Discord?
You can enable Overlay on Discord via its Settings or from the Game Activity section.
Turn on Discord overlay via Settings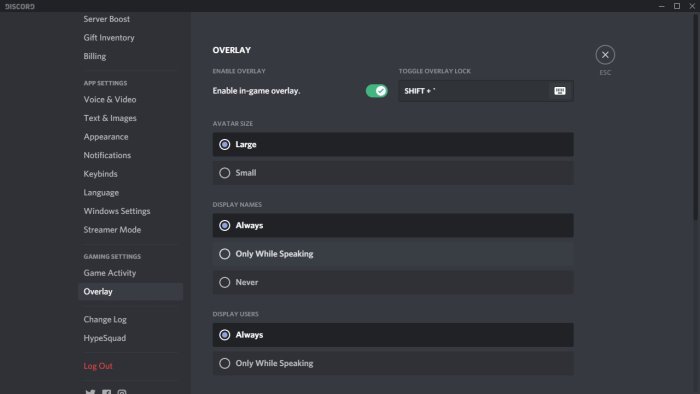 Maybe the overlay has been disabled, so as it stands, the best thing to do is to enable it from the Settings menu.
To make the changes, open the Discord app, then navigate to User Settings. From there, go to App Settings and be sure to select Overlay. When you see the option that reads, Enable in-game overlay, click the toggle button to turn it on.
Read: How to reduce Discord CPU usage in Windows 10.
Turn on Discord overlay from Game Activity section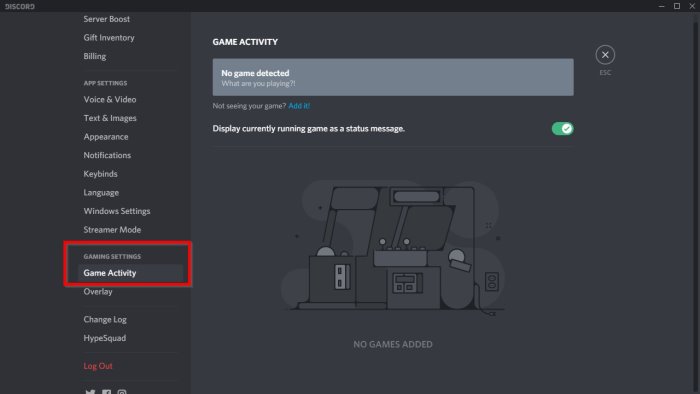 If the above option fails to work here, the next best thing is to activate the overlay via the Game Activity section in Discord.
Fix Discord overlay not working
If Discord overlay is not working do this:
Return to the User Settings section of the Discord app
Go to Game Activity after scrolling down to the bottom
When all of that is done, you should see a green box with the name of the game you're currently playing.
To the right of the game, you should see an option to turn on or off the overlay.
Click here, then choose what happens.
Read: Discord streaming not working in the browser.
Disable hardware acceleration if it's on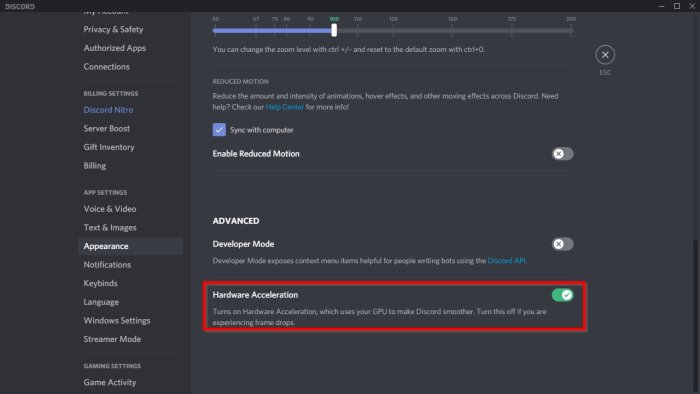 We've found out that one of the primary causes of the missing overlay option has much to do with hardware acceleration.
At least, it affects some systems, so not everyone will face an issue with it, ever.
In order to get things moving in the right direction, return yet again to the User Settings in Discord, and be sure to venture off to Appearance, then go to Hardware Acceleration. Click the toggle button to the right in order to turn it off.
If nothing helps, you may need to reinstall the Discord app.
Let us know if this helped.
Read: Best free Discord alternatives for Windows 10.