Discord is a well-known voice and text app that is used by a huge crowd of professional gamers and people who want a VoIP service. However, many people are looking alternative for a Discord due to a lack of good end-to-end encryption and amateur UI. In this article, we can see some of the best free (0 costs) Discord alternatives for Windows 10.
Free Discord Alternatives for Windows 10
Here are some of the best free apps to replace Discord:
Element
Tox
Skype
Steam Chat
Teamspeak.
Let's get to know them in detail.
1] Element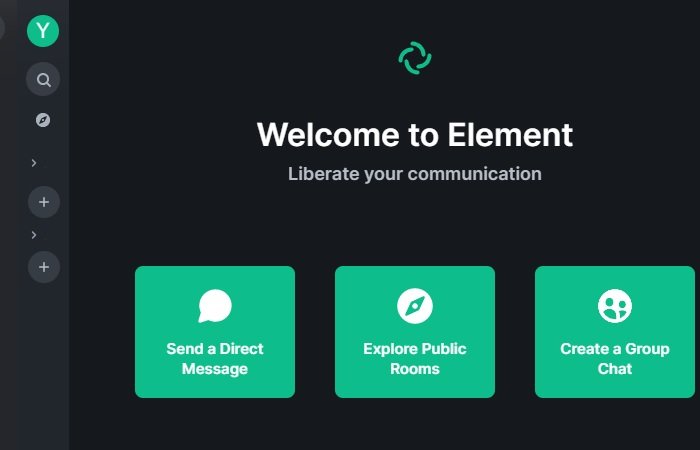 If you are a person who likes to protect their privacy then check out Element as it safeguards your privacy by providing end-to-end encryption along with a smart UI that you can't find on Discord.
It allows you to have effective communication with every single person on the Matrix.org ecosystem due to the Matrix protocol and is a perfect free Discord alternative.
For sure, it wasn't purposely made for gaming but it works fine and can be used on Windows, macOS, Linux, Android, iOS. This Discord alternative is free but its pro plan starts with $2 a month. However, we won't recommend you going for the pro plan as the free version is more than enough.
You can use Element as a web application or download it on your computer from their official website.
2] Tox
Tox is a non-gaming alternative to Discord. It is simple to use and a great tool if you weren't Discord VoIP service for gaming purposes.
It has one thing that can force you into using this application, that is its military-level encryption. It is more secure than any application on our list. However, it comes with some compromises. The major one being an outdated UI. But if you can look past it, there are some nice features such as video calling, text, screen sharing, etc.
You can download Tox from their official website.
3] Skype
Skype is a well-known application but what most don't know is that it can be a Discord alternative as well. Even though it is not as feature-rich as Discord, it has some great minimal functions and comes with no gimmicks.
It is not as optimized for gaming as it is for professional work. Since It works solely on system resources, it may cause obstacles in gaming. It is a highly recommended app for professional purposes as it has some important features such as screen-sharing and video chatting facilities.
It is one of the best free Discord alternatives that are accessible on Windows, Android, macOS, and iOS.
You can download Skype from its official website.
4] Steam Chat
Steam Chat is one of the best Discord Alternative that any gamer should check once in their Discord alternatives' search.
It is considered to be the same as Discord. If you are a gamer then you must check Steam Chat. It has a perfect UI and has all the bells and whistles that a gaming enthusiast wants.
Steam chat is one of the best free Discord alternatives that can be accessed on Windows, macOS, and Linux. You can download the software from their official website.
5] Teamspeak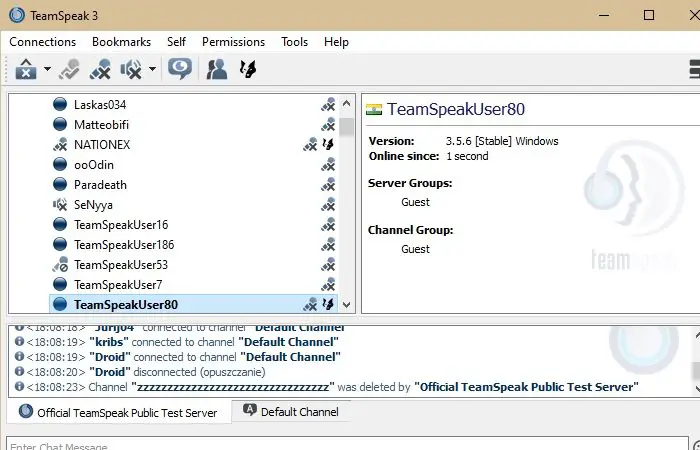 Teamspeak, in general, can be considered as Discord's carbon copy as you can find a similar type of UI in both. It executes low latency calls with the help of the Opus codec.
In terms of protection and privacy, it is on top of its game because of AES encryption. In Teamspeak, multiple group communication can take place as it let you have a dedicated server.
You have to download TeamSpeak on your device to access it and it is a free app but requires spending a dime while setting a brand new server. It is one such best free Discord alternatives that can be accessed on Windows, Android, macOS, Linux, as well as iOS.
It is cost-free on Windows, macOS, and Linux but you have to remove dollars from your wallet if you want to access it on Androids, and iOS. But since we are talking about the best alternatives for Windows, it makes our list.
You can download TeamSpeak from its official website for free on Windows 10.
Hopefully, this has helped in finding the best free Discord alternative for Windows 10