Unwanted parts of files, folders, and registry keys are many times left behind, even after you uninstall a program using the Control Panel, Settings, or the program-specific uninstaller on your system, thereby leading to clutter. Moreover, they cannot scan the system for leftovers and over time, the clutter may build up and lead to system errors.
Free Uninstallers for Windows 11/10
If you are looking for a better program uninstaller for your Windows computer, you might want to check out these free uninstaller software for Windows 11/10 PC.
1] IObit Uninstaller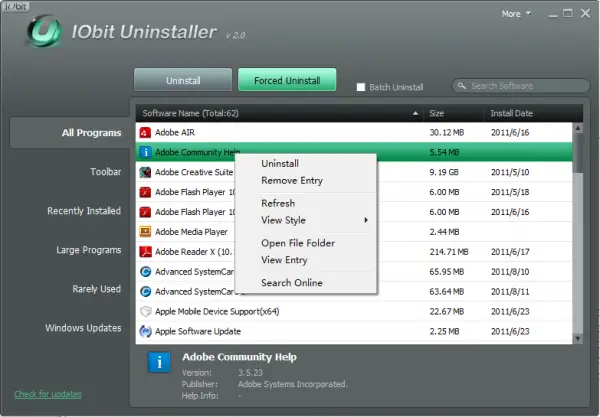 IObit Uninstaller is well-known for its one main characteristic – speed! The program is incredibly fast in execution and populates the programs list immediately.
It not only uninstalls programs from Windows efficiently but even removes the leftover files, folders and registry keys belonging to the uninstalled program. You can even Bulk Uninstall Programs and Apps using this tool.
Before the above action, all programs to be removed get listed with their name, size and installation date in a sortable column. Then, a simple right-click on any entry in the program listing displays a context menu with the following options:
Uninstall the program.
Remove Entry from the listing. (this option is useful when the program has already been uninstalled but still hides in the listing as leftover
Open File/Folder or search for the program online.
2] Revo Uninstaller Freeware
One of the best-known and popular uninstallers available for Windows, this un-installation utility, provides a speedier and alternate interface for the standard Windows Add/Remove software dialog. Revo first shows the icons and titles of all the programs installed on your machine. Then, it scans your system before uninstalling an application and also after completing the process. Besides, it includes many additional cleaning tools.
Even if you have an unfinished/broken installation saved, the program scans for an application's data on the hard disk drives and in the Windows registry. Later, it proceeds and displays all detected files, folders, and registry items so you can delete them.
Revo Uninstaller Free completely removes desktop software as well as Microsoft Store apps. It works on Windows 11/10/8/7/Vista.
3] Comodo Programs Manager
Comodo Programs Manager helps users to remove unwanted programs, drivers, services and Windows components. The program is smart enough to monitor and record every change that a program makes to your computer so that it can just reverse those changes when it's time to uninstall.
Comodo Programs Manager provides all the guidance and information in the form of a modern looking interface, which is quite intuitive and helps users easily identify important information through placement, colors, and easily recognizable icons.
One highlight of the program is that it creates a backup of the files, folders, data and registry entries when a program is uninstalled, thereby allowing you to easily restore any program you uninstalled by mistake.
Comodo Programs Manager Features:
Streamlined user experience
Remove locked files
Non-intrusive alerts
Malware info
Manage windows updates
Update applications.
Download it here.
4] ZSoft Uninstaller
The program offers one of the best and easy ways to uninstall stubborn programs. It improves upon the normal Windows un-installation methods which help you remove all traces of the installed program, including registry changes and leftover files. The program can analyze installations. So a user just needs to scan his computer before and after the installation for uninstalling a particular program.
In short, a user is required to create a before/after system snapshot. It then lets you know exactly where a new file is added, or from where a file was deleted. ZSoft Uninstaller is even available in a portable version.
5] Glarysoft Absolute Uninstaller
As the name suggests, Glarysoft Absolute Uninstaller is a program that uninstalls applications completely which often leave behind broken registry keys and unnecessary files on the hard disk.  It looks very similar to the standard Windows Add/Remove program in action but is more powerful.
Using Absolute Uninstaller, you get the option to uninstall unwanted applications one by one manually, or in batch. You can list the programs by either their names or installation date and easily find out the applications you want to uninstall.
Before deleting applications completely, Absolute Uninstaller backs up the necessary information thereby, making any uninstallation restorable. Download it here.
Wait, there are more! Check these out too!
Try these free uninstallers for Windows 11/10/8/7 and let us know which one you use. They might help you in removing stubborn programs that appear impossible to completely remove.
These links may also interest you: