IObit Uninstaller is a third-party freeware that helps you uninstall software and remove unwanted programs from your PC easily. It is a faster and simpler alternative to the Control Panel of Windows. IObit Uninstaller is a free uninstaller software that you do not need to install on your PC. Just download the program and run it on your computer system. With its powerful scan feature, the program will scan your PC and give you a list of all programs installed in just a few minutes including the toolbars and unwanted plugins.
While we can always use the Control Panel applet to uninstall an unwanted program, using a good third-party app may do it faster and in a simpler way. Moreover, unlike the other such third-party apps, IObit Uninstaller removes the programs completely without leaving any leftovers buried in your PC.
IObit Uninstaller review
Download and run the program. The main overview of IObit displays two panels where the left panel has the categories and the right panel displays the programs under the specific category.
All Programs
The very first category All Programs further includes sub-categories like 'Recently installed programs', Large Programs and Infrequently used. Just select any unwanted program and click on Uninstall. The program takes just a few seconds to uninstall a program. You can uninstall the apps one by one or can delete them in bulk by checking the small box on the top right corner 'Batch Uninstall'.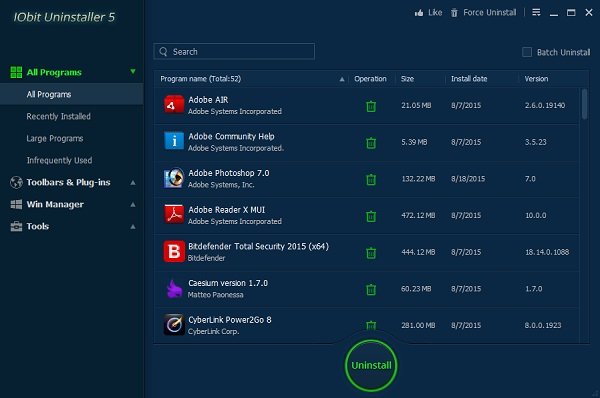 Toolbars & Plug-ins
Toolbars undoubtedly provide quick access to websites and applications, but the unwanted toolbars stored in your PC may hurt the performance of your PC. This category of IObit Uninstaller shows the toolbars and plug-ins stored on your PC. The sub-categories here include 'All toolbars', 'Internet Explorer' and 'Google Chrome'. Here you can check and uninstall the toolbars saved by all your web browsers. Just select a Toolbar or Plugin you want to remove and click on Remove. The program will remove it instantly and update the list.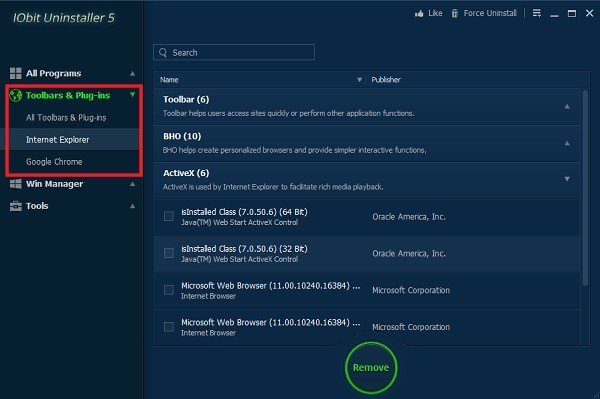 Win Manager
This category includes the sub-categories like:
Windows Apps – where you can see all the Windows app which came pre-installed with your OS or the ones you downloaded from the Windows Store. The program shows all the details about the apps such as the size of the app, date of installation, and the version of the app.
Startup – This sub-category more or less works like a task manager where you can see the applications which launch with the Startup of your PC. You can enable or uninstall them as per your suitability and boost your PC.
Process – Same as we do in the Task Manager of our PC, here you can check the processes running on your computer and end them if you want. Just select a program and click on End Process.
Windows Update – Updates are good but if you find any of the updates useless and want to uninstall them, just select any update and click on the button Uninstall.
Tools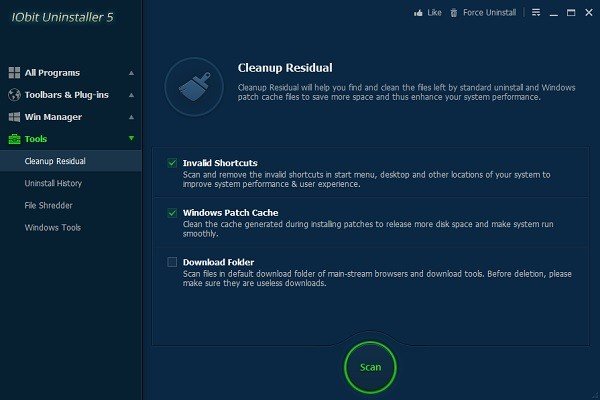 The sub-categories in Tools are:
Cleanup Residual – This feature helps you find and clean the files left by regular updates installed on your PC and the other cache files. These files are stored deep in your PC and daunt your PC's performance considerably.
Uninstall History – Here you can check the entire uninstall history, the files and programs you have uninstalled.
File Shredder – This feature removes the files permanently. As we know that when the files are deleted from a PC, some content still remains in your file folders. File Shredder helps you remove the leftovers and boost the PC performance. The deletion done by the Shredder is unrecoverable.
Windows Tools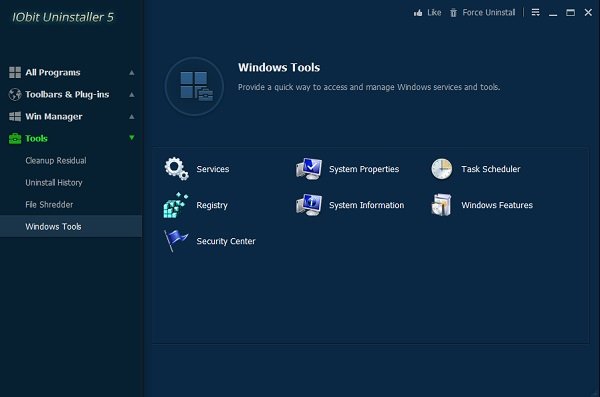 This tab provides you quick access to your Windows services and tools.
Other features:
Batch Uninstall: You can even Bulk Uninstall Programs and Apps using this tool.
Standard and Advanced Uninstall: While Standard Uninstall works as the Windows built-in Add/Remove Programs function, Advanced Uninstall function helps you scan Windows registry and hard drive for any possible installation leftovers.
Without Installation: Look for a pure uninstaller that does NOT need an installation and will not screw your system again? IObit Uninstaller is the answer.
Forced Uninstall: Even a program is not listed in Windows built-in Add/Remove Programs, this feature still can help you automatically find the program's leftovers and traces in your system and remove them completely.
1-Click Toolbars Removal: Annoyed by so many toolbars in your system? Here's the simplest and fastest solution.
Log Manager and Restoration: Easily view what has been changed by IObit Uninstaller. Every time an "Advanced Uninstall" is performed, a restore point image will be automatically set for possible future system restoration.
Overall IObit Uninstaller is a simple and lightweight program that helps you remove the stubborn toolbars, program and plugins from your PC.
Download the program here and make your PC free from residual files and registry entries after an incomplete uninstall.
This may also interest you: AntiVirus Removal Tools for popular AntiVirus programs.