Facing lags, when playing games on your Windows PC can be rather annoying at times! The causes can be many – maybe your computer does not have the hardware for it, or maybe there are too many processes running in the background that is affecting your ability to play smoothly. Even the type of game you are playing also affects the game playing process. Under such situations, you're required to manually disable/quit any running programs not needed for the gameplay or upgrade the graphics card, processor, RAM or a combination of these components.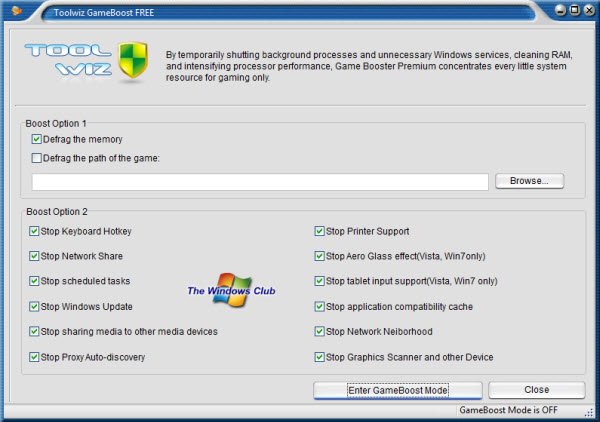 From the makers of Toolwiz TimeFreeze and Toolwiz Care comes to another useful game booster freeware called Toolwiz GameBoost. This freeware lets you exit all the non-essentials processes and focusses all your computers resources for gaming only.
Toolwiz GameBoost allows you to tweak your PC settings to improve gaming experience and Internet performance. The free program is indeed useful as it does not modify your hardware but makes all the required modifications with a single click of a mouse.  By temporarily shutting background processes and unnecessary Windows services, cleaning RAM and intensifying performance the freeware concentrates every little system resource for gaming only.
How to use Toolwiz GameBoost
Download the latest version (1.3.0.0) of Toolwiz Gameboost (File size – 0.6MB) from the link provided at the end of the article
Install the application
Once done, a screen will be displayed prompting you to select the processes that need to be disabled to support uninterrupted gameplay
Once finished, click on 'Enter Game Boost Mode' to apply the restrictions while gaming
Remember, the changes made are not permanent and therefore reversible. They can be undone any moment to release the software control by clicking on 'Quit Game Boost Mode'. The changes are also lost once you restart your computer.
Toolwiz GameBoost features:
Speeds up computer performance while gaming
Disables updates from Windows and other scheduled tasks while gaming
Slows down RAM if it causes excessive pressure
Disables keyboard hotkeys since it decreases the game speed
Stops proxy auto-discovery, printer support
Stops Aero Glass effect for Windows 7, Windows Vista.
Toolwiz GameBoost appears to be a pretty good option for all the hardcore gamers.
Download: Toolwiz GameBoost.
Here are some tips to improve gaming performance on Windows PC.