Game Protector protects any games with a password and when any user tries to open a game it prompts for a password so that only you can launch it. Freeware Games Protector lets you password protect Game on your own PC, protect games executable files from unauthorized runs, both on your computer, and even when you copy it to other computers.
Password-protect PC Games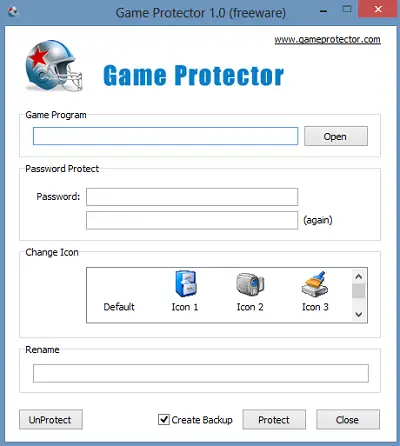 In a way, Game Protector is one useful Parental Control tools for all parents. Are your children playing computer games when they should be doing homework? With Game Protector you can choose to allow or block specific games, protect Game EXE files with a security password on your own PC and you can control what games can be played in Windows.
It can even disguise your personal games by changing its icon and file name. For example, make your World of Warcraft look like a Word document! It can thus have its uses for grown-ups too.
The program is very straightforward and has no complicated menus. When you first download the program and install it, you are presented with a simple window displaying various configuration options.
All you have to do is choose to allow or block specific games. If you would like to block some of them simply protect them with a password.
Open a game from the program's main window and type in a password to block it or password protect it. That's it! You can configure other options like changing the default icon of the program and more.
How do I password protect a game in Windows 11/10?
Game Protector is one of the best apps that help you password protect a game in Windows 11 or Windows 10. It is easy to use, free, and uncluttered. You need to choose the executable file of the corresponding game, password, icon, etc. The best thing is that you can rename the game file with the help of this app as well.
Game Protector free download
You can download Game Protector here. This free software worked fine on Windows 11/10 too.
Here is a list of links to posts that will show you how to password protect documents, files, folders, programs, etc in Windows.
TIP: You can use a Game Booster Software to boost gaming performance.