While Microsoft Updates may do a great job of keeping your Windows, Office, and Microsoft products updated, wouldn't you like to have software that would scan your PC to see if any new versions of the installed software or apps are available?
Software Update Checkers for Windows 11/10
It is important to not just have the latest operating system patches but also to have the latest versions of software or apps installed on your Windows computer. While many software do inform you when there are updates available, some do not. In such cases, it becomes difficult to check for updates for each and every program installed on your PC. This is where a software update checker can help you.
These software update checkers will scan your computer for installed software, check the versions and then send this information to the respective website, to see if there are any newer releases. These are then neatly displayed in your browser for you to download.
All of them are FREE and only take seconds to run! Some of these applications also have portable versions that do not require installation and may be run directly from the desktop or download folder.
Here are a few of the best software updaters I know of:
SecPod Saner Personal Free Advanced Vulnerability Scanner
OUTDATEfighter
RadarSync PC Updater

FileHippo Update Checker

AppHit Software Update Checker

Kaspersky Software Updater

Secunia Flexara Personal Software Inspector – Discontinued
UpdateHub.
We will take a look at UpdateHub below in brief.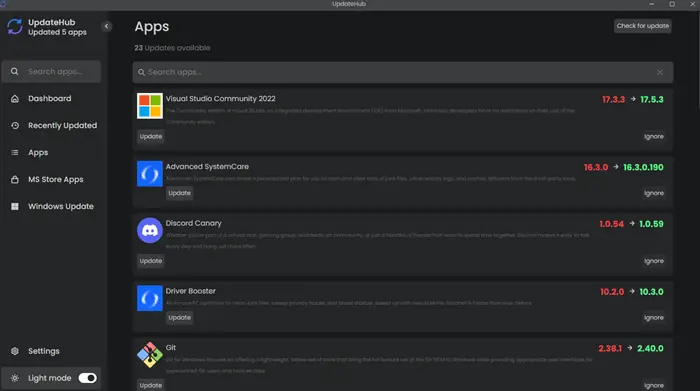 UpdateHub is a free tool designed to streamline the software update process for your computer, installed programs, or apps as well as your mobile device. With this app, you can quickly check for updates for all the software installed on your device, including operating systems and Microsoft Store apps. The app also features a rollback function and this feature makes this tool stand out. You can download it from github.com.
It is always good to have the latest versions installed, as the later versions may come with security as well as performance fixes.
TIP: You can also update installed programs at once using WINGET.
How do I check for Windows software updates?
You can manually open the program, go to its settings and click on the Check for updates link. If any program updates are available they will be downloaded and installed on your Windows PC. Similarly, you can update all the installed Microsoft Store apps manually.
How do I update all the software on my computer?
To update all the software on your Windows 11/10 computer, it is best to use a Software Updater like SuMo, UpdateHub, etc. With the click of a button, they will download the program updates from the official sites and install them.
If you know of any more software update checkers, please do share them below, in the comments.