We have already seen a couple of Software Update Checkers earlier, which scan our Windows PC and see if any new versions of our installed software are available for downloads. I came across a portable freeware called Patch My PC, which worked quite well, when I ran it on my Windows PC.
Check for outdated software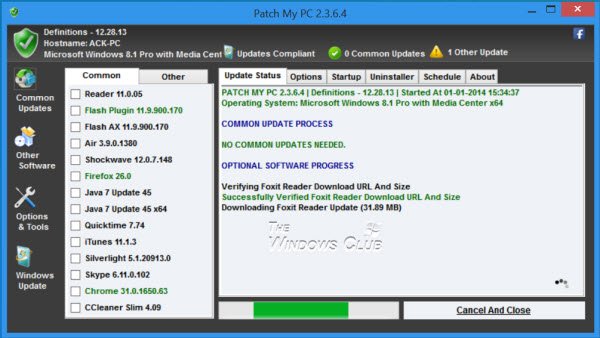 Patch My PC is a small KB file which does not require to be installed. All you need to do is download the executable file from its home page and run it. You don't have to worry about it installing any crapware too.
Once I ran Patch My PC, I found that its scan took just a matter of some seconds on my computer. It did find that I was using an old version of Foxit PDF Reader.
Selecting it and clicking on the Perform update button made Patch My PC download the update from its official home page. The update process also ran very smoothly and within seconds my update was installed without any inputs from my side.
Apart from checking if software updates are available for the commonly installed software like Adobe Flash, Java, etc, it also checks for updates for not-so-commonly installed software like DavMail, FTPRush, etc. The freeware also checks if any Windows Updates are available for your computer.
If you wish to skip update checks for some software, you can do so via its Options & Tools. Under this tab, you will also see a Startup Manager and an Uninstaller module too.
It is always good to have the latest versions installed, as the later versions may come with security as well as performance fixes. So manually checking your installed software for updates often is definitely a good idea – if you have not set your software to inform you of available updates, already.
Patch My PC free download
If you are looking for a portable update checker, Patch My PC may fit the bill. You can download it from here.