There are easy ways to reopen closed browser tabs in most web browsers, should you close them accidentally. But there is no way to reopen folders, files, and other windows in Windows 11/10/8/7, should you close them accidentally. But there are three free software, that will allow you to reopen them quickly.
Reopen recently closed folders, files & applications
You have 3 free tools that can help you reopen recently closed files, folders or programs:
GoneIn60s Tool
UndoClose
ReOpen Tool.
1] GoneIn60s Tool
GoneIn60s is another 1-hour freeware that lets you do the same.  It helps you recover closed applications.
Once you run the tool, its icon will rest in the notification area. To recover and reopen an accidentally closed window, right-click on the icon and select the file you wish to reopen. To recover all, simply double-click on the icon.
Features:
Click the X or press Alt-F4 to close an application

To recover, right-click the tray icon and choose an application

Doubleclick the tray icon to recover all applications

If not restored, it is gone in 60 seconds.
You can download GoneIn60s from here.
2] UndoClose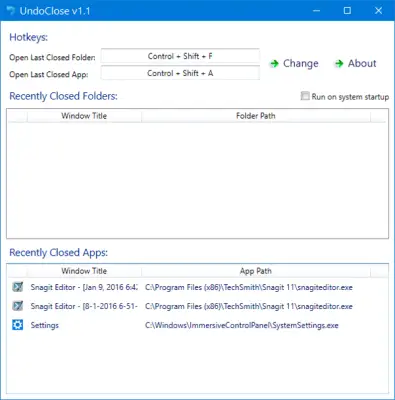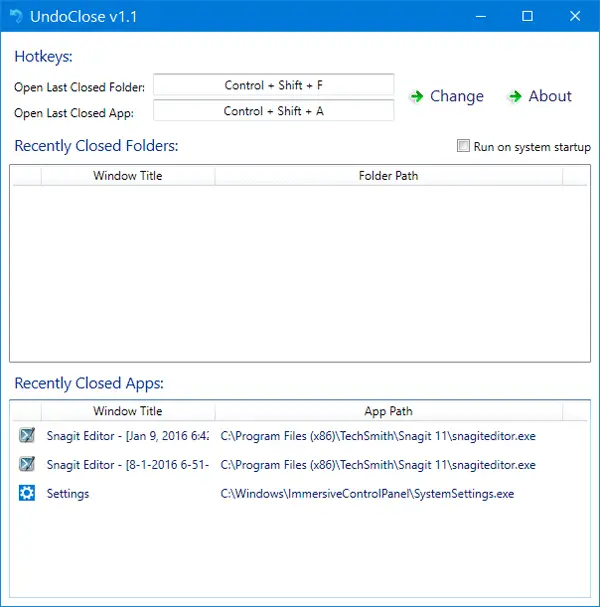 UndoClose for Windows will let you reopen recently closed folders, files and software windows. It lets you do that using keyboard shortcuts.
3] ReOpen Tool
ReOpen is a freeware portable app that sits in your notification area and allows you to re-open recently closed files, folders, and programs with a hotkey, in Windows.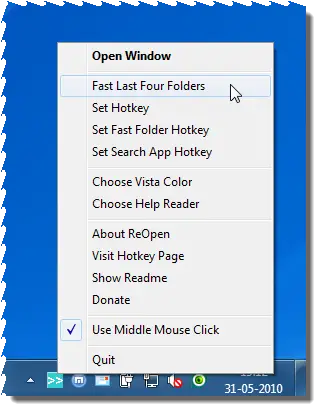 For the automatic monitor to work, the Explorer Folder Options View Settings should have "Display the full path in the Title Bar" and, if available, "Display the full path in the Address Bar" checked.
Also in Windows XP make sure that, under View Toolbars that Address Bar is enabled. After setting these options, remember to push the "Apply To All Folders" button.
You can visit its Home Page. Update – The tool seems to have disappeared from the Internet.